Investors should get out of risky mid- and small-cap stocks and move that money to ETFs now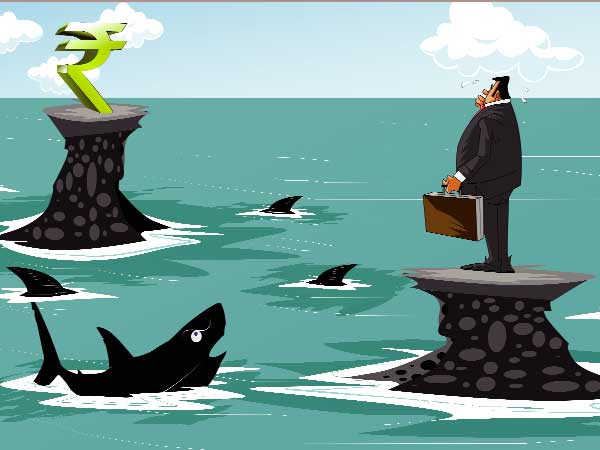 The Sensex has ascended a new high last week. And its peer Nifty is close to accomplishing a similar feat. Still, an investor would find that his portfolio has shrunk by at least 10 per cent in the last five months. This is the best case scenario and for professional investors. Mutual fund net asset values (NAVs) will vouch for this. But the case of retail investors would be woefully different. They would have lost 25 per cent or more of their puny portfolios. The hardest hit would be those who have dabbled into stocks recently and invested in a pair of mid-cap or small-cap stocks.
True, mistakes are part of the deal. No one can boast of never making a bad investment decision. In every phase of the stock market—like bull, bear and neutral—investors and traders commit multiple mistakes. Right from buying into an overheated market based on so-called "tips" to owning stocks of fundamentally weak companies with poor promoter credentials, there is an endless list of errors and blunders that an investor makes.
While buying a bad quality stock at a wro-ng time and at a wrong price is certainly a mistake, the bigger mistake would be to cling on to that stock despite the decline in its price.
In the bullish market conditions of 2017 and early 2018, there was no dearth of investors who thought the equity market would not correct and that prices could only go up. With such firm conviction they bought shares which are now worth zilch.
Even the investors who thought investing in initial public offerings (IPOs) was a safer route were caught on the wrong foot. Most IPO stocks of the boom period are now quoting below their issue prices.
It is not difficult to fathom why investors who have bought the wrong stocks are compounding their mistake by not selling them. It is tough for a person to convince himself that s/he has made a mistake. Selling a stock at a loss is seen as an admission of one's poor acumen. So, s/he will keep that in the portfolio in the 'hope' that prices will improve and that will prove oneself right.
Hope is another reason people keep hopeless stocks in their portfolios. While hope is a virtue to have when investing in a stock market, its application on the wrong stock leads only to losses.
Imagine the fate of all those who had, after the tech boom, pinned their hopes on a revival in stocks like Pentafour Software or DSQ Software. Or after the decline of 2008, held on to a stock like Unitech! This is not to say that all the stocks which have corrected in the last few months will meet the same fate. But the question is, why stay invested in stocks which have any kind of issues with them. History shows most companies with doubtful promoters and poor governance track record rarely come back to the prices they had touched in a bull run. Even if a stock return to its buying price after a couple of years, the inflation-adjusted returns on it would be negative.
So, it would be better for investors who have exposure to mid- and small-cap stocks to sell and book losses on all shares having issues with corporate governance/fundamentals and prices have been reflecting that market fear.
Such a surgical approach is necessary, for two reasons. First, headwinds against mid- and small-cap firms are far stronger than against large firms. Let's take rupee depreciation, for instance. If a mid-cap company is having a negative correlation with a falling rupee, its ability to manage and withstand that is relatively less. In contrast, a large corporate will have the financial muscle to handle a volatile currency and also be having export income to balance adverse impacts.
The second reason is the high valuation. Despite the recent phase of correction, prices of many mid- and small-cap stocks are very high, leaving enough scope for correction.
For a retail investor, the best course, in the current market condition, is to take exposure to mid- and small-cap stocks through index ETFs (exchange traded funds). By switching from individual stocks to an ETF, an investor can still have exposure to mid- and small-cap stocks but with far reduced risk, as an ETF would have a diversified set of companies to take care of unseen risks.
A mid-cap index ETF will have exposure to mid-cap IT stocks and mid-cap banks, which will balance currency risks. Likewise, even when small-cap shares come under pressure, the small-cap index would be able to perform better than individual stocks.
Another advantage of investing in an ETF tracking an index is that one can be sure that the index is going bounce back at some point in the future. But one can't be sure of that in an individual stock. The index may start going up after six months or two years but an individual stock may not.
Despite all the corrections over the years, every index in India has formed a new high. That gives investors a better chance of recovering any losses incurred. The Nifty Mid-cap Index is now moving below its 200-day moving average (DMA). Theoretically, it signifies a bearish phase. But historical evidence shows an investment made when an index is below its 200 DMA usually fetches higher returns in the long-term. At this point, any incremental money that investors want to put in the mid- and small-cap space should be made through a mid-cap ETF so that excessive risks embedded in individual stocks are avoided.
rajivnagpal@mydigitalfc.com
(Rajiv Nagpal is consulting editor, Financial Chronicle)