,

Friday, 20 April 2018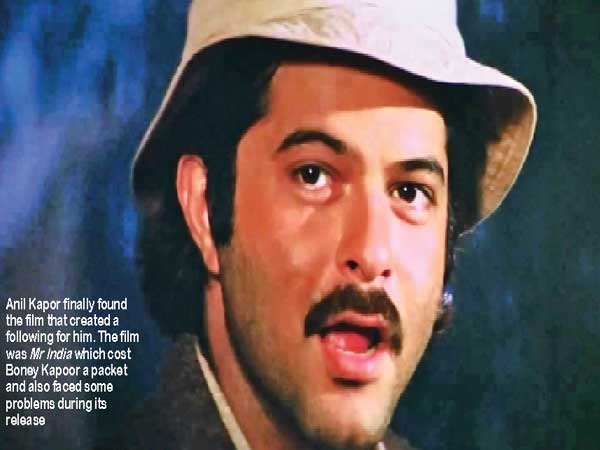 In the early 1980s, a new breed of male actors came on the scene. Sunny Deol made his debut in a family-backed film, Betaab. As was the trend in those days, Betaab was a love story with much emphasis on music. Released in 1983, the film was a hit. Sunny had arrived. The same year, Jackie Shroff made his debut in a lead role with Subhash Ghai's Hero, again a love story and a hit, too. Anil Kapoor, who had been around doing odd films in insignificant roles which included a couple of South films, needed a decent launch. This was provided by his elder brother, Boney Kapoor, with Woh Saat Din, an old-fashioned love triangle which was a remake of the Tamil film, Andha 7 Natkal.
While Sunny Deol got slotted as an action hero with his very second film, Arjun, Jackie welcomed all sorts of roles be it solo hero or more, Anil was mostly cast in romantic or family socials, usually remakes of Southern films.
There was no rivalry as such between these three stars but Boney Kapoor had worked hard to build his brother's career. He wanted nothing but the top slot for Anil. The one who would take over from Bachchan.
In the case of earlier stars, it was left to the moviegoer to decide on their favourite. Also, the other stars did not grudge people's verdict. During the time when Rajesh Khanna or Amitabh Bachchan held sway over the box office, the fellow artistes accepted their status. In the film Guddi, there was even a scene where Dharmendra is seen acknowledging Rajesh Khanna as the reigning superstar.
Yes, there was one actor who believed he stole the thunder from a fellow actor and that was Shatrughan Sinha. Very early in his career, he and Randhir Kapoor together acted inManmohan' Desai's Rampur Ka Lakshman (1972). After the film's first show was over, Sinha was seen standing outside Shalimar Cinema, Mumbai, and boasting to the audience that emerged from the cinema hall: Chhutti kar di na Randhir ki….!
Anil Kapoor needed that one film which would gain him popularity amongst all classes. But all he was getting was moderate successes most of which had another hero besides him. Till then, he had to be marketed well considering the competition from two new entrants. Of course, there were two other young heroes in the running, Sanjay Dutt and Kumar Gaurav. But while Kumar Gaurav had not been able to follow up on his debut film success, Love Story, Sanjay Dutt had yet to be accepted as an able actor; all he had to call a success was the multi-star cast, Vidhaata.
The promotion for Anil Kapoor was planned and executed by Boney Kapoor through trade papers which reached just the target readership needed for a newcomer pitted against two competitors. For example, when a film released and did reasonably well, it did not matter that the film had other heroes in the cast. The trade paper pages would be flooded with praise of Anil. These congratulatory advertisement pages, supposedly issued by the actor's prospective producers, all came and were paid for by one source.
Anil Kapor finally found the film that created a following for him. The film was Mr India which cost Boney Kapoor a packet and also faced some problems during its release; it could not be released in Delhi-UP circuit due to disturbances. The film had a great musical score and was full of fun for kids. Hence, the film went on to become very popular on the video format and, later, on television. The fact was that Anil Kapoor had proved to be a good actor and was here to stay not necessarily as a super star but as an enduring actor.
And, Sunny Deol, Anil Kapoor and Jackie Shroff, all made their own place in the industry eventually.
Other actors did not care much about this sort of promotion. Soon a new crop of actors came on to the scene. Initially, there seemed to be no competition between them.
There were three Khans who accounted for a number of hits. While Aamir Khan got his break with Qayamat Se Qayamat Tak, a hit, in 1988, Salman Khan followed up with the biggest blockbuster of that time, Maine Pyar Kiya, having earlier appeared in the insignificant Biwi Ho To Aisi. Shah Rukh Khan, who was so far doing some popular TV serials, arrived in Bollywood a few years later in 1993 with Deewana, which boasted of super hit music. The film also starred Rishi Kapoor but Shah Rukh reaped all the benefits following the film's success.
There were other popular male actors in Akshay Kumar and Ajay Devgn, who were also delivering successful films. The other Khan, Saif Ali Khan, was not counted among the top stars.
The media, by now, had overcommitted itself to the entertainment industry and mainly films; their idea and interest being limited to stars. They neither cared nor had the sources to determine box office status or the success of any film or star. They went with the figures (usually inflated) meted out by the concerned production house. Everything became commercial. Editorial spaces were available at a price and so were awards. (The awards were outsourced to filmmaker cartels with vested interests!)Stars thought they were manipulating the media while the media thought otherwise.
The outsourcing of awards guaranteed lucrative sponsorships and telecast rights for the award functions because the actors' turnout was guaranteed. But this cost the popular award its credibility. For instance, while Shah Rukh Khan has won the award for best actor from a well-known magazine 12 times, Salman Khan probably has only one or two to his credit.
While the print media had additional supplements to entertainment, electronic media also counted on film stars for TRP and following.
Just when the media was trying to create a Khan vs. Khan rivalry, Hrithik Roshan made his entry. His accomplishments with dance, action and screen presence in general shook up the comfortable set up of reigning stars. The media went to work on concocting stories of insecurity on the part of certain actors.
Aamir Khan, who was so far doing all and sundry films, changed the way he made films. With his home production, Lagaan, in 2001, his choice of subjects became mostly sensible yet commercially viable cinema that would earn him prestige. Shah Rukh Khan took to making his own films or stuck to reputed makers with successful track record like Yash Raj, Karan Johar, and so on. Only, Salman Khan did not change tracks and kept on doing films that failed one after the other. (Surprisingly, his fan following remained unaffected!) In fact, some of his films had such weird titles that no audience would want to watch such a film! In 2009 the romantic/action film, Wanted brought back Salman Khan as an action star. His advantage being, he could play any sort of character convincingly. The lineup of successful action films that followed after Wanted put paid to the King Khan Myth. The box office figures had the final say.
The Khan vs. Khan Contest was possible because Salman Khan was very poor with his PR and his attitude towards the media. He was rude, brash and indifferent while other stars went out of their way to cultivate the media, by celebrating their birthdays, Eid etc with feasts. But their self-praise and self-anointed titles like King Khan and so on did not wash with the public. Along with Govinda, Salman Khan has been the most versatile actor the Hindi film industry has seen in recent times. Both enjoyed a pan-India appeal be it among the elite, gentry or mass audience. And, this is as much a film industry view as it is of the film buffs as it is mine. The field is now open for a new superstar but there does not seem to be one in sight. And, one can't blame the stars when acknowledged filmmakers go and make unappetizing movies like Rangoon, Mona Darling, Trapped, Phillauri, or recent ones like Kalaakaandi, Union Leader, Raid, Blackmail, October, and so on!
@ The Box Office
*Sujit Sircar has given a couple of decent, true to life entertainers in Piku and Vicky Donor. Usually, his away from the routine stories-screenplay by Juhi Chaturvedi, have worked. This once, with October, Juhi Chaturvedi fails him and, as a result, Sircar fails too. October, notwithstanding the convenient title which neither relates to the film nor to its prospective audience, is as forced as rest of the script. These kind of films did not even work in the slow life era of 1960s and 70s when the Film Finance Corporation of India (FFC), later renamed as the National Film Development Corporation (NFDC), wasted lakhs of tax payers monies on financing hopeless filmmakers' dull films.
October, a film about losers, despite the popularity of Varun Dhawan, fails to draw the opening day footfalls; the collections remain poor. Day two, Saturday, showed a symbolic improvement but the day when one expects the family audience to take to the film, Sunday, decides the film's fate as the collections showed no improvement over the Saturday figures.
October ends its opening weekend with Rs 17.4 crore but drops badly as the new week stars and is expected to end its first week with about Rs 22.5 crore.
*The other release of the week, Missing, remains a nonstarter.
*Blackmail follows it opening week collections with a dismal second weekend. It added about Rs 2 crore for its second week four days and should end its two week total with a little over Rs 15 crore. A loser for sure.
*Hichki proves to be a favourable experiment for Rani Mukerjee. The film has managed to add about Rs 4 crore for its third week taking its four week total to over Rs 42 crore. The film should end its run with about Rs45 crore after its four week run.
*Raid, which added Rs 2.5 crore in its fourth week taking its four week total to Rs 97.95 rore, is expected to add another one crore in its fifth week to take its lifetime figures to Rs98.95 crore.
*Baaghi 2 continues to hold on to its good collection even in its third week. The film should add about Rs 11 crore for its third week and take its three week tally to Rs 153 crore.