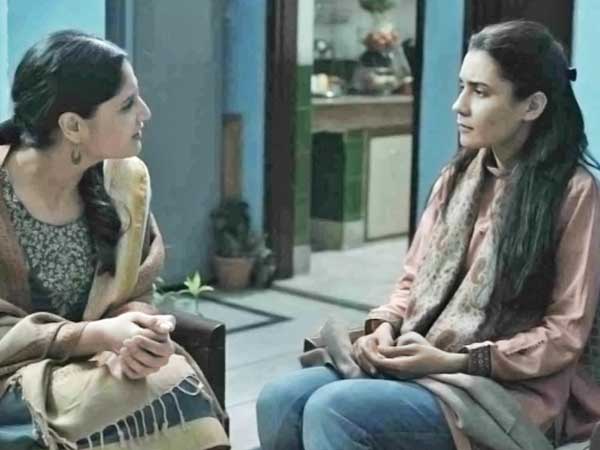 Film buffs can look forward to another very special film — one that makes you think. Definitely a film that will undoubtedly be remembered is 'Soni,' a sure winner!
Young writer–director Ivan Ayr's debut feature film 'Soni' makes its world premiere at the prestigious 75th Venice International Film Festival and will be competing in the 'Orizzonti' section. 'Soni' is the only Indian feature film to be officially selected for the festival, to be held from August 29 to September 8. As part of the 'Work in Progress' section at the NDFC Film Bazaar 2017, 'Soni' has already won two awards — the Facebook Award for 'Best–in-Progress Project' and 'Prasad Di Award' for the best film in the 'Film Bazaar Recommends' section.
Produced by 'Jabberwockee Films,' 'Soni,' Ivan Ayr's debut film, is also a maiden venture for one of the producers, Kimsi Singh (a maiden venture as producer). The other member is Kartikeya Narayan Singh, whose previous credits include director Gurvinder Singh's 'Ankhey Ghorey Da Daan' (Alms For A Blind Horse) and 'Chauthi Koot' (The Fourth Direction).
Ivan Ayr, who grew up in multiple cities across northern India, moved to the United States for his postgraduate studies. After receiving a degree in electrical engineering, he realised that his interest lay elsewhere and decided to study English literature. Screenwriting and film direction came next at the San Francisco Film Society, where he wrote and directed his first short film 'Lost And Found' as an eulogy to his stolen bicycle. Ivan's second short film won the best film award at the San Jose International Short Film Festival.
Now a somewhat seasoned filmmaker, Ayr directed, wrote the screenplay and even edited his first feature film 'Soni.' His film was among the five selected for post-production support in the list of 'Work in Progress' at the NDFC Film Bazaar 2017 and became an official selection at the 75th Mostra Internazionale d'Arte Cinematografica — Venice Film Festival, 2018. In this we may mention that Ayr had the benefit of being mentored by renowned French editor Jacques Commets who won the 'Don Quixote Award' for 'Wajib' at the Locarno Festival 2017 and veteran festival director Marco Mueller (Venice Film Festival and International Film Festival of Rome).
'Soni' is based on the current happenings of violent crimes against women. Soni is a young and fiery policewoman in Delhi and Kalpana is her superintendent. Both are involved in dealing with this very important subject — having collectively taken on the task of following the growing crisis of violent crimes against women. The film explores the ups and downs of this alliance and how their efforts are strained by complications, arising in Soni's personal and professional life. Their alliance suffers a major setback when Soni is transferred out for alleged misconduct on duty. Soni's professional life is further strained by certain developments in her personal life, when she is forced to deal with the sudden arrival of her estranged husband.
Ayr's choice for the two lead roles can also be judged as highly commendable to say the least. Newcomers Geetika Vidya Ohlyan and Saloni Batra manage to bring a true flavour of trials and tribulations while taking on the immense task that they are up against.
Prior to this venture, Ayr's short film, 'Quest For A Different Outcome,' had won the best film award at the 2015 San Jose Short Film Festival. He is now really excited about his debut feature film 'Soni,' being selected for the prestigious 'Orizzonti' section at the 75th Venice International Film Festival 2018 and says, "I'm absolutely thrilled and honoured to have received this invitation. It is truly a fulfilling culmination to a long journey, being offered this prestigious platform. I want to thank and congratulate the entire team of 'Soni' for their hard work and commitment, and a sincere thanks to Venice for bestowing this beautiful honour on our film."
Also equally elated with the announcement are the two producers, who have invested in the film. Debutant producer Kimsi Singh says, "Soni marks my first venture as a producer and honestly I don't think I could have begun my journey on a better note. The awards bestowed on it at IFFI Film Bazaar 2017 and the selection at Venice 2018, have reinstated the faith and conviction we have invested in the film."
Producer Kartikeya Singh adds, "With the Orizzonti selection at Venice, Soni's journey has begun on a great note and I am extremely confident that the film will be appreciated both internationally and in India, given the relevant social theme it engages with. I have always passionately championed the cause of cinema, which manifests a personal unique voice. Ivan Ayr is a bright young talent and one such voice."