,

Friday, 23 March 2018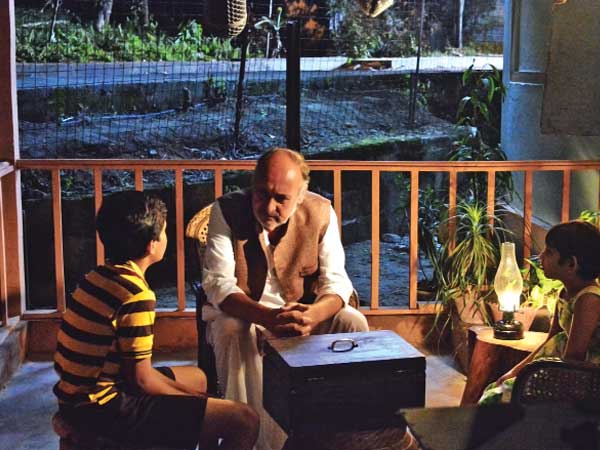 When one thinks of films about children in conflict zones, Bahman Ghobadi's Kurdish film Turtles Can Fly (2004) immediately comes to mind.
Bidyut Kotoky's award-winning, festival favourite, Assamese film, Xhoixobote Dhemalite (Rainbow Fields), based on the 1983 Nellie Massacre in Assam, is not quite so heart-rending, preferring to keep the violence to a minimum and focus on the impact it can have on the minds of children.
The film has at its backdrop true events in Assam during the 1980s, when locals agitated against 'outsiders' in the state, which resulted in the massacre of hundreds of Bangladeshi immigrants in 1983. (The horrific event was the subject of a documentary, What The Fields Remember, by Subasri Krishnan.)
When the film opens, a filmmaker, Niyor (Nakul Vaid) gets news of the death of his childhood friend Pulak. He goes back to the village in Assam where he used to live as a child (played by Maharnav Mahanta) with his parents (Naved Aslam, Dipannita Sharma) and little sister Kuwoli (Jiya Barua).
One day, the kids watch homes being set on fire, and people being butchered. Kuwoli is so traumatized that she refuses to speak. Their grandfather (Victor Bannerjee), a stage actor, arrives to help, and manages to convince the child that what she saw was a film shooting.
However fear of violence hovers over the picturesque village — Niyor's father a bit more worried because he is not a native of Assam. There is talk of sending the kids to boarding school to take them away from the tension in the area.
Since they are unable to travel to watch their grandfather's play, Niyor promises his sister that he will stage a play in the village for her. He gathers around other kids, and try to think of a "readistic" (realistic) story for their play. But what if the reality around them is that of death and destruction? One of the kids talks of corpses of the people killed being thrown into the river, and how a human finger was found in the belly of a fish. When Niyor goes home he refuses to eat fish, and Kuwoli follows suit.
Niyor's best friend Pulak is their driver's son, which is something his mother does not approve of. But he is most encouraging of Niyor's play project. The kids talk innocently of guns and terror, but around them, young men are going the militant way. The local cops are nervous about what could go wrong when the unpopular chief minister visits the area.
The children's enthusiastic preparations for their "readistic" play end in tragedy. Niyor's family has the means to leave the trouble spot, but Pulak gets pulled into the whirlpool. Niyor loses trouch with his village when he becomes a film director, but his memories return gradually as he travels into the interiors of Assam and finds out what became of Pulak, because of whom he went on to become a filmmaker.
The outward tranquility and beauty of the state hides the simmering discontent, which Niyor catches when he goes back there. Taking a detour on the insistence of his driver, to a school where there is an art competition on, he is disconcerted to see the dark and violent images in the kids' paintings.
The film obviously has autobiographical shades, Kotoky now based in Mumbai, is from Assam and must have experienced some of what the 10-year-old Niyor sees and hears. He could have made the film angry and brutal, but he prefers to deal with the issues in a sensitive, low-key manner. Rainbow Fields is a poignant ode to childhood lost and families scattered, when a community is forced to live under the shadow of guns.
(Deepa Gahlot is a critic, columnist, editor, author and curator)