,

Friday, 20 July 2018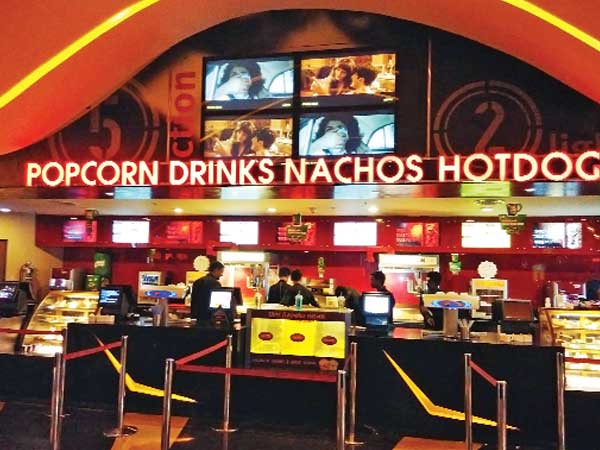 There are a lot of jokes being posted on the social media about Maharashtra Government's move to regularize snacks and cool drink prices at multiplexes. Throe are depictions about a family opening up their tiffin and enjoying a picnic in a multiplex foyer.
But, all this apart, how practical in the imposition? And, how long before other state governments follow suit for after all India is a country of multiple elections every year and anything to please a prospective voter; anything that looks positive.
To start with, one wishes the Government had started off with quality control and monopolistic practices indulged in by these multiplex concessioners. Because, they exploited their monopoly to the fullest by taking the customers for granted not only with impractical pricing but, also with poor quality of snacks and drinks catered. Customers have limited choices.
As for popcorn, it is the most profitmaking racket perpetuated by these multiplex stalls. Don't know where this culture originated from. Looks like American comic books and its cinema culture. Popped corn was never very popular in India; popped (roasted) juvar was, especially during the festival of Holi.
I watch people buy huge tubs of popcorn at a cinema hall. Wonder who is going to finish it. At the end of the show, I see a lot of it spilled on the floor and, also a lot of it left uneaten.
The buyer, who pays anything between rupees 250 to 2800 on a film ticket, may think nothing of wasting a tub of popcorn. And, the concessioners seem to know that the customer does not really care about the popcorn. The patron is just following a trend which is: watching cinema at a multiplex is incomplete sans popcorn.
It does not matter that the popcorn is soggy, limp and needs a chewing gum addict to chew on it. The standard fare, Samosa, has little stuffing and a lot of maida, again soggy. The other things command little demand so one can't vouch for its freshness. Also, most of the time, the food counter refuses to give trays. Don't know where their trays vanish in an almost empty house! Never seen a multiplex canteen sell wafers, an old time favourite of the moviegoer.
The second in demand at a multiplex is cool drinks. Two companies have cornered most of the multiplexes, Coke and Pepsi. Looks like Pepsi has stolen the march. The stalls at multiplexes are not honest when they vend the drinks. Their usual refrain is that, only Pepsi is available. Their other flavour not being available.
The reason is that, it is easy to add as much ice as there is Pepsi. In other brands like Mirinda and 7 Up, ice spoils the drink, making it watery and tasteless. It also happens with Pepsi but nobody complains. Once, when I returned my Pepsi saying, "Yeh Pepsi hai ya paani?" The vendor took it back without a change of expression. And, after all this ice cubes added in the dispenser, not to forget additional greed as half your glass is filled with more ice cubes!
According to regulations, all multiplexes are supposed to provide free drinking water. They do but I have observed that in most cases, these water dispensers are hidden from view and only a regular patron would know where to find them.
For one thing, a ticket holder is not allowed to leave the property during break. Even if one sneaks out, most multiplex properties are located in areas where one can't find a snacks vendor nearby.
The single screen cinemas are quite liberal besides being fair in pricing their snacks. The most popular cinema property in Mumbai's Bandra, the G7, which houses seven screens with capacity ranging from 47 seats to 922 seats catering to about 2000 patrons on a good day. It has held on to its loyal patrons despite a slew of swanky cinema halls nearby. The reason is that, these cinemas reflect the pulse of the audience. And, it cares for its regulars. The canteen here sells a pair of samosa for rupees thirty. And, someone still finds this costly, the patron is free to walk outside the property which is surrounded by vendors, by a vada paav for rupees twelve.
Now, the word multiplex does not define all such properties. They are now rated depending on location, town and kind of patrons they attract. While most 'entrepreneurs' who went on a multiplex building/acquiring spree initially like Zee Group, Big Cinemas, Adlabs, soon realized it was not their kind of business. They opted out. There were some new entrants to like Cinepolis and Carnival besides some players like Wave Cinemas, E-Square, SPI Cinemas, concentrating mainly in certain regions.
Those major chains which sustained and maintained high standards are PVR, INOX, Cinepolis, IMAX. While ticket rates at these high end multiplexes have admission rates ranging from rupees 200 to 2000 and more, they have all created a special Audi within the property or two to cater those willing to spend. The snob value kind. These Audi is labelled as Gold or Premium and such.
Whatever the Maharashtra government may rule, for this lot who would rather watch a film in an exclusive, costliest Audi, it won't matter what they pay for popcorn or a cola. Costlier the stuff, happier they are for where and how much they paid for the ticket and the popcorn matters more to them than the cinema they watched. I have met many who have never ever seen the inside of a multiplex like many in the country may never have seen the inside of an airport. . To them food rates don't matter.
Do you expect these 2500 plus paying patron for a ticket to carry their own food? It will hurt their status.
And, why have the scripts of multiplexes dropped in the stock market since the Maharashtra Government's dictate? Did people invest in cinema halls or food vendors! If you are charging high prices for poor quality! When was the last time you had a piping hot samosa or freshly popped corn?
@ The Box Office
n It is still Sanju all the way even in its third week. AS the days progress, the collections do taper down but whatever the film has collected to far is staggering. The film is expected to touch 320 crore at the end of its third week.
n The new release, another biopic, Soorma, does not make a mark. The film based on the life of hockey player, Sandeep Singh, had average opening and a weekend of 13.5 crore with collections coming from North mainly. The film could not sustain well through the week and should end its first week with about 21 crore.
*Another new release, Teri Bhabhi Hai Pagle, spells disaster.