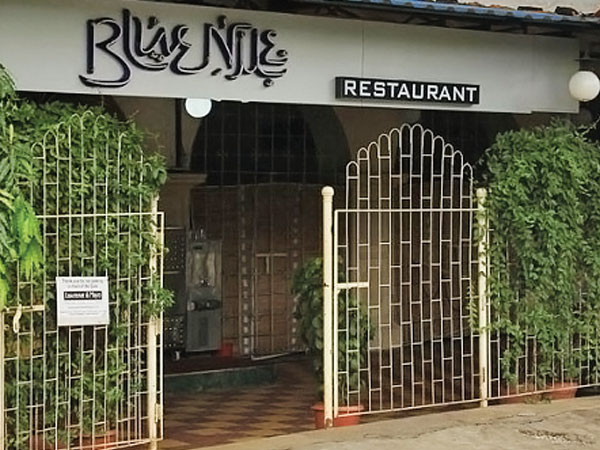 I was on a short visit to Pune recently, when I bumped into Nusrat, an old friend who lived in Mumbai and was in Pune for just two days. Since both of us were rushed for time, we decided to meet for dinner at 'Blue Nile' located across the Pune Club. An important consideration for those who choose to dine at the restaurant, is the convenience of being able park their cars, in Blue Nile's own dedicated parking lot across the road.
I had first visited the restaurant more than a decade ago, and can still remember remarking that 'Blue Nile' was a great name. Housed in a heritage building that still carried the eatery's earlier name Nanking Cafe', considered one of the city's best eateries. With the change of name around 50 years ago, the restaurant brought in a new enhanced menu where in addition to Chinese cuisine, Mughlai and Punjabi cuisine had also been added. The restaurant's interiors continue to be simple with practical wooden chairs and tables with laminated table tops.
As one of the largest restaurants in Pune, despite its 300 covers, we had to wait for 20 minutes for a table. There are two sections to the restaurant, the larger one with 200 covers is for families, while the other section is only men and has a separate entrance. There is also a take-away section, which has yet another entrance. But whatever the thought process used, it obviously works very well as the place is totally full with people waiting to get a table, or ever a seat!
On entering the family section, we were ushered in and seated one end of a long table and were warned that if required the other end of our table would be given to others. All the other tables with 4 and 6 covers each were totally full. As we were deciding on our choice from the large menu, the waiter ushered in two stunningly beautiful Iranian ladies, with complexions that could only be called peaches and cream! With them was a small boy aged about 4 years. We had already noticed that there were plenty of other Iranian ladies at the restaurant with burqas and scarves wrapped round their heads and many groups celebrating family events.
The menus had been sitting in front of us for quite awhile, but so engrossed were we in catching up with the latest news and looking around the restaurant, that we had not noticed our waiter hovering around. I apologised and quickly ordered — Chello Kebab for my friend and being a fan of Chicken Dopiaza, I ordered myself a plate along with a Butter Naan and 'reen Salad. While we waited for our food, I took a good look at the menu. 'Blue Nile' is written in Arabic style in blue on a white ground, next to a line drawing of the Sphinx. There were some humorous statements printed in the menu that deserve to be mentioned. On one page it said, "Our service is a reflex not a thought", another said "Too much is not enough", and yet another "Bulky party orders delivered". The aim to please the customer is obviously very strong and humour makes it better. The back of the menu says, "Tell us the good! Tell us the bad! We want to make it better".
In the meantime, the waiter served the two Iranian ladies sitting on one end of our table. They had also ordered Chello Kebabs. These arrived in 2 large oval dishes – consisting of a saffron coloued pilaf with three kebabs on each. An enormous meal I thought, but the ladies managed to polish off their individual portions without much effort. The little boy also did very well — perhaps this was the secret of their peaches and cream complexions! As they were finishing their dinner, Nusrat's Chello Kabab arrived and she attacked it with gusto, to prove that she could also rise to the occasion! My Dopiaza, which looked like an ordinary chicken curry with steamed (or par-boiled) whole mini-onions scattered over it, turned out to be surprisingly good. I have no objection in recommending the combination of Chicken Dopiaza with Naan and Green Salad as a good choice.
The Blue Nile menu has much to offer — the usual Butter Chicken, Chicken Kolhapuri, Chicken Mughlai and regular Chicken Curry are all very popular for couples. Murgh Musallam , which is a whole chicken is meant for a group of three to four persons. There are also vegetarian dishes such as Veg Makhani, Navratan Korma, Mushroom Masala and Channa Mattar. Chello Kebabs being among the specials is only served from Mondays to Thursdays are probably most expensive at Rs 300/-
Some of the original Chinese dishes that were the restaurant favourites are still served. According to our waiter, the Chinese food is mainly for children, specially the soups and noodles. The children also enjoy the caramel custards and a large variety of ice creams.