,

Thursday, 24 May 2018
Jettisoning the fairy tale for the chic, the Givenchy creation is a stand in for the royal family's pivot into the 21st century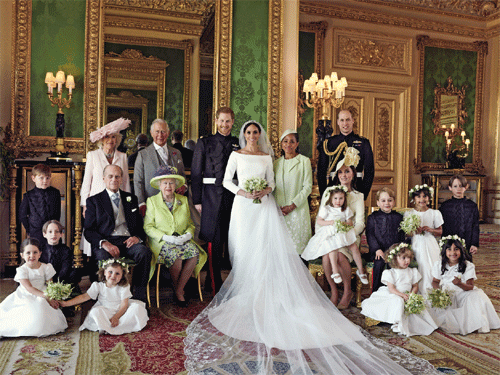 The royal wedding was seen as a moment of modernisation for the royal family. It was a melding of cultures and, while still steeped in tradition, often broke from the expected. One such surprise was the bride's wedding gown, the singular defining style the world was waiting to see. And it was no fairy tale princess dress.
Meghan Markle chose a simple, sculptural design by Givenchy that was absolutely elegant. Made of double bonded silk cady, it had a wide bateau neck just easing over the edge of each shoulder. It was topped by a five-meter-long veil of silk tulle trimmed in hand-embroidered flowers. The American bride's flowing train heightened the drama as she strode past the friends, family and celebrities in attendance to meet Prince Harry in St. George's Chapel at Windsor Castle.
Other couture labels got shout-outs at the wedding as well, thanks to the star-studded guest list. Their entrances had all the buzz of a Hollywood red carpet. Serena Williams wore a pink Versace dress, Amal Clooney wore custom Stella McCartney, and Priyanka Chopra wore a grey suit from Vivienne Westwood. But Meghan was the star.
A royal wedding-stamp of approval means spectacular exposure for a fashion designer, given the family's powerful influence on fashion as representatives of sophistication and glamour. When Kate Middleton, the Duchess of Cambridge, or Markle, her new sister-in-law, wear an outfit in public, it's quickly dissected by the glossies and made shoppable for all thanks to an army of knockoffs. This massive commercial enterprise even applies to the clothing worn by the royal children, seen at the wedding Saturday trailing Markle down the aisle. Of course, all of these items often sell out in a hurry.
For designers, it's not just money that flows from the sartorial choices of the royals—there's also recognition. In 2011, Kate Middleton wore a dress by Sarah Burton, creative director of Alexander McQueen, when she tied the knot with Prince William. Burton won designer of the year accolades at that year's British Fashion Awards and The Fashion Museum Bath declared her creation the dress of the year.
Rumors about what Markle would wear ran rampant in the months before the event, with tabloid and fashion magazine reports that she would don a number from London label Ralph & Russo, British designer Stella McCartney or storied fashion brand Burberry. Gamblers placed bets on who'd end up designing the dress (the royals were expected to attract a total of $4 million in various bets this year). Vogue Paris told the to-be Duchess to "listen up" and suggested haute couture looks from Christian Dior, Chanel and Valentino.
Markle's dress is now such a cultural focal point that even before the wedding copycats prepared to duplicate it. Los Angeles-based bridal brand Floravere announced in the run-up to the wedding that it'd be designing its own remake of the gown immediately following the nuptials. It'll have a sample conjured in less than a week. Dresses will be available for purchase within six to eight weeks.
Fashion critics loved Markle's choice of Givenchy. The New York Times' Vanessa Friedman said "it was everything people had hoped." The Washington Post's Robin Givhan pronounced it "very chic." After the ceremony, the Duke and Duchess of Sussex got in a carriage, waved to the throngs gathered as they rolled past, then returned to a lunch with their wedding guests of slow-roasted pork belly, fine wines and lemon elderflower cake. Traditionally, the royals eat fruit cake at their weddings. Yet another tradition set aside on a day that saw many discarded as the British monarchy continued its pivot into the 21st century.