Fans of the late actor Tom Alter can catch him in his last role in a short fantasy film The Black Cat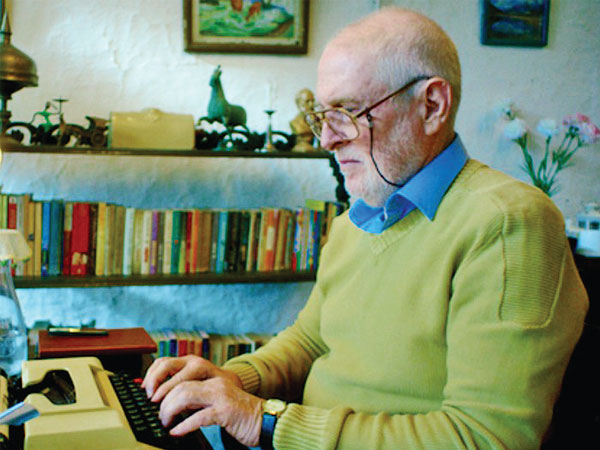 Actor Tom Alter, who passed away at the comparatively young age of 67 on September 29 in Mumbai, left behind a huge number of grieving fans, who can now see their favourite actor in one more new film. The Black Cat. This short fantasy film, directed by Bhargav Saikia, released on November 14th, in celebration of Children's Day. The Black Cat is an official adaptation of a short story written by the celebrated Indian author Ruskin Bond. The film stars Tom Alter as Ruskin Bond and Shernaz Patel as Miss Bellows, a "traditional" English witch. The film will also be screened at the 20th International Children's Film Festival India 2017
The son of American Christian missionaries, Tom Alter was born in Mussoorie, on June 22, 1950 and christened Thomas Beach Alter. Educated at Woodstock School, where he studied Hindi among other subjects, Tom left for the US the age of 18 for further studies at Yale University. Life at Yale did not suit him and he returned a year later, to begin teaching at St Thomas School in Jagadhri in Haryana. He was also a good cricketer and coached school boys.
He had only been teaching for two and a half years, when he saw the film Aradhana and was inspired by Rajesh Khanna acting. According to Alter, "Rajesh was the only hero — romantic to the core, not larger than life, so Indian and real." It wasn't long before Tom had decided that acting was what he would like to do. At FTII, he had the benefit of watching and learning from stalwarts such as Naseeruddin Shah and Shabana Azmi. He graduated with a gold medal and almost immediately his acting career took off in 1967. Alter had already learnt Hindi had also studied Urdu for Biblical studies — these stood him in good stead. In fact his Urdu was good enough for him to be able to recite Shayari — something he thoroughly enjoyed.
His first break came in Saheb Bahadu in 1977 directed by Chetan Anand and featured Dev Anand in the leading role. However his first film to be released was Ramanand Sagar's film Charas. Then came a number of films in quick succession such as Ram Bharose, Hum Kisise Kum Nahin and Parvarish. Tom Alter had arrived!
He was also chosen for special cameo roles by noted filmmakers such as Satyajit Ray and is remembered for his role as a British officer in Shatranj Ke Khilari. Alter also had the opportunity to act with his idol Rajesh Khanna in the film Naukri directed by Hrishikesh Mukherjee in 1978 and later in Chetan Anand's Kudrat. In 1993, he had the opportunity of acting in a biography of Sardar Vallabhai Patel — Sardar which focussed on the Partition and the Indian Independence movement — in which he played the role of Lord Mountbatten of Burma. He later acted in several foreign films too, notably Richard Attenborough's Gandhi and with Peter O'Toole in the Hollywood film One Night With The King.
Among the newer films, Alter acted as a doctor in Bheja Fry and also in a comedy starring Rajat Kapoor. In April 2011, he also acted in a short film Yours Maria directed by Chirag Vadgama, playing the lead role of Matthew Chacha in the movie.
Tom Alter had also acted in Adajya, an Assamese film in 1996. Besides this there were a number of theatrical productions such as William Dalrymple's City of Djinns, with Zohra Sehgal and Manish Joshi. Alter also acted in a solo play, based on Maulana Azad, which brought him considerable critical acclaim. His was among the most respected names in the Indian theatre circuit. His portrayal of Mirza Ghalib won him accolades from all quarters. His other important plays include Babur ke Aulaad, Lal Qile ka Aakhri Mushaira, Ghalib ke Khat, Trisanga, Teesveen Shatabdi, and Copenhagen. Alter was also praised for his role in an art film, Ocean of an Old Man, screened at many film festivals across the globe. Alter's voice was also lent for the audio autobiography of Dr Verghese Kurien, titled The Man who made the Elephant Dance, which was released in 2012.
Alter seemed to be able to switch effortlessly between film and stage and was also famously known for playing the gangster Keshav Kalsi in the hit TV soap opera Junoon, which ran for a record five years during the 1990s. His other popular television stints included Bharat Ek Khoj, Zabaan Sambhalke and Betaal Pachi. In 2008, Tom Alter was awarded the Padma Shri by the Government of India and many felt the award should have to come to this great actor much earlier.
In the last year, when Tom Alter had begun to feel unwell, he spoke about the huge amount of work that he had done over the past year. His thumb had been amputated, but he refused to go slow on his work. He would show off his thumb and say it was all right. Over the year he had managed to do television, theatre and films – almost nonstop. At the time there were more than 20 films in which he had appeared, ready for release and he was ready for more — but it was not to be. May he rest in peace.