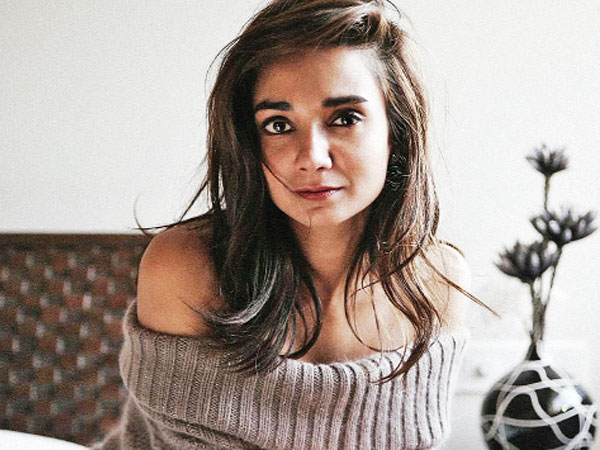 My last article was actor centric and about how the spark on stage is lit by the brilliance of a good actor. This article is an interview with a young, feisty actress, who has morphed into any role given to her, be it onstage, in film or in television. A Yale student whose major was Theatre Studies, had the advantage of acting from the age of four! Her father Ravi Dubey was an ace onstage and her mother Lilette Dubey is a sterling actress. I have seen Ira in many plays, 30 Days in September." Wedding Album, Aadhe Adhure (Hindi) but her latest solo performance Nine parts of Desire had a riveting performance by her. In the movie, Aisha, with Sonam Kapoor she played Pinky Bose with humour and ease! In the film, Dear Zindagi she stole my heart... Here Ira talks about her intense relationship with theatre:
Q. How has theatre shaped you as a person? What has been your tryst with it ?
A. Theatre, as they say, came to me at a young age and through what was that quintessential mix of nature and nurture. My parents met doing theatre together in college, St Stephens Delhi & Lady Shriram. My aunts, Lushin Dubey and Bubbles Sabharwal ran — and still run — a children's theatre company called Kidsworld with which all of us in the family got our first taste of the art of nautanki , a name that would stick for the family. Acting is a passion, a skill, a catharsis, a transformative journey, a mirror up to reality, a mirror up to yourself and most importantly a way to enter the mind, eye and life of another person and breathe life into it so that those watching can be moved , and I do mean moved! even minutely and of course entertained.
I was fortunate to be surrounded by talent, intelligence, creativity, laughter, and wisdom at a young age. I come from a family of academics and theatre was never the choice my grandfather would've wanted for my mum but she marched to the beat of her own drum and soon I followed suit. I found a lot of entertainment in emulating her, in replicating my own dramas , in reading voraciously and in opening my mind to the power of theatre.
I treated it as a passion and a discipline , I went on to study it at Yale university where I majored in Theatre Studies while pursuing my undergraduate degree. I returned to India at 19 and have been performing on the Mumbai stage ever since not just with my mothers theatre company, The Primetime Theatre Co. but also with other theatre groups including the Industrial Theatre Co., QTP, Rage Productions, Masque Productions, and others.
Theatre has taught me intuitiveness , to be constantly in touch with my feelings, to ground myself in my body, to learn to use it as an instrument, helped me develop my psychology, my voice, made me patient, observant, perceptive and receptive to learning and playing off other actors, absorbing as much as I can from the world around me as well as from the people I work with. I am a firm believer that anything you do as an artist must be at once , focused and precise yet fuelled with your entire imagination, life experience, and observations of the world outside. I don't think of it as an insular medium and am always trying to figure out new ways to do different work, diverse characters, not get stuck, keep moving forward. Complacency and apathy are the worst forms of ennui for any artist and I always try to steer far away from those. In the television and film industry it is easy to get typecast, given the visual nature of the medium, or to feel stagnated. Theatre doesn't allow that, in my one-woman show I play a fourteen year old girl, an overweight mother of three, a woman in her seventies and a sexy painter — all in the same show. They are Iraqi women, in another play I am middle-class Hindu , in another late 19th century Norwegian. Of course interpretations vary depending on directors and their vision but as an actor you are pushed to challenge your tools, your craft on stage tremendously and for that I am so very grateful.
Theatre is also home, it is where democracy rules and where a unit becomes a family. There are no filters, no prejudices, no judgements and no cynicism. It is a vital, alive and ever so satisfying performing art. And no matter where my journey takes me as an actor on celluloid , the internet or a new medium in the future, I will always come back to the stage!
Q. Is the Actor more fragile than the person outside ?
A. I think it's impossible to separate the two. You tap into your fragility, the fragility of the human condition, that you understand with your own lens, and find within yourself, in your process, that you bring that to the character. If you are honest, and I think acting above all is honesty, that will shine through. I think the artifice, or methods, or trappings or frills are far less interesting that just watching someone, as they say in cinema, do nothing. In theatre silences, spaces, stillness are imbued with so much and I think part of being fragile and naked is being able to access those parts of yourself when you're alone. As an actor that's a crucial skill to have.
I certainly do feel that after my fathers death two-and -a-half years ago , a tiny vault of something new has magically opened up and fragility or vulnerability has found a new meaning and depth both in me as a person and in my work. People say it is a positive thing and that makes me happy.
Q. Which plays deeply changed you?
A. I think my solo show 9 Parts of Desire, and my current production, a new version of Ibsen's A Doll's House have been very challenging and pushed me to places I haven't been before. A lot depends on the directors you work with and their ability to draw those parts out of you too. I remember also playing a burqua clad girl in a piece that was later added by Eve Ensler to the Vagina Monologues that was so stark and created such a vivid understanding for me of the Muslim world which has recurred in my work a lot and is so very topical yet intriguing for me as an actor and young Indian woman. Playing Claire in The Maids, a psycho-sexual class drama by Jean Genet when I was 19 and then Nora in A Doll's House have been very invigorating because of the kind of subtextual , rigorous work I do with my director of both Pushan Kripalani. And of course, amongst the large amount of work that I've done with my mother, I think the semi-autobiographical play written by Girish Karnad, called Wedding Album about contemporary India from the point of view of a small coastal town and family in India, in which I play the lead (a character based on his sister) is also memorable. It is so hard to choose, I sort of fall in love with every part I play. Some actors would scoff at me for saying that and have other ways perhaps that work for them but I believe even if I have to reach the darkest part of a human being, a soul, a character, nothing is ever just black or white.
Q.How committed to theatre are you?
A. I think inextricably as would be clear from the above! Theatre is my life, home, passion and first love and will always be !
Q. Stage vs Film. Where do you see yourself?
A. I feel I have only scratched the surface in films and there is much to do in that medium! Watch this space!
Yes we will watch out for you, Ira. With this determination you are certain to reshape and reclaim new worlds.
(Sabharwal is a theatre director and author)