,

Friday, 29 December 2017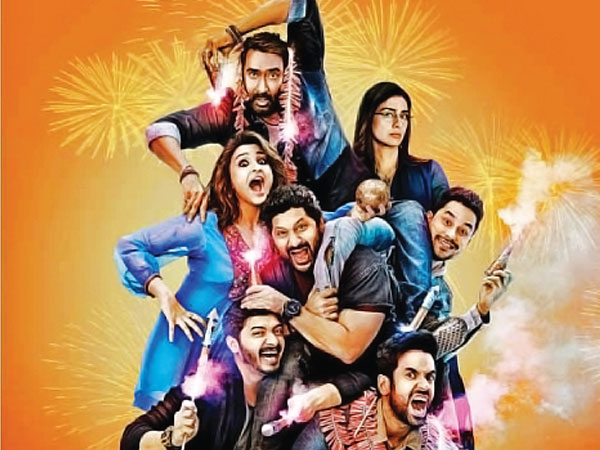 Corporate houses, which entered the Indian film market for prospect hunting, started packing up their wares and resources a couple of years ago and, by the end of 2017, their presence in the industry had turned purely symbolic. The fact is they had no clue how the Hindi film industry worked. While they did invest in a limited way in a few South Indian films, to no avail, in general they concentrated on capturing the Hindi film market.
The problem was that they knew nothing about how the Indian film industry functioned or about public taste. Money, which they once had in plenty, could not buy that kind of knowledge — only experience can.
Some of our superstars have paid for their mistakes with failures during this year in the correction process. No more hefty cheques are coming their way. Most are making their own films, either solo or in co-production. However, the greed remains. Instead of letting private entrepreneurs wishing to invest make a comeback, they try to slaughter them.
There was this case of NK Studioz. The firm, a long time player in the film industry, but inactive during the corporate reign, decided to enter the film distribution trade once again. Even before the firm could be established and could become a long time player, it was palmed off some films like Tubelight and Jab Harry Met Sejal, the home productions of Salman Khan and Shah Rukh Khan, respectively, at exorbitant rates!
NH Studioz had got off to a good start with Pink but then Ekta Kapoor's Balaji Films sold the distributor Half Girlfriend for Rs 35 crore, thus ensuring Pink earnings did not last long. Thanks to the owner's overenthusiasm coupled with the producers' greed, NH Studioz was soon rendered out of contention. It is now chilling till it gets a reasonable offer. The makers of Pink have been considerate enough to offer NH Studioz their next film on a fair basis. Salman, though, made a nice gesture by returning a large sum of money, about Rs 14 crore, to the distributor which was a small consolation considering the film was sold at Rs 135 crore! On the other hand, Jab Harry Met Sejal was sold for Rs 80 crore against which the distributor got a concession of Rs 4 crore!
So, while the producers Salman Khan, Shah Rukh Khan and Ekta Kapoor made profits, their films did not.
The Khans did not deliver a hit as Aamir Khan's Secret Superstar, Shah Rukh Khan's two films, Raees and Jab Harry Met Sejal, and Salman Khan's Tubelight failed at the Indian box office. Thanks to Yash Raj Films, Salman Khan could make good his standing as the top draw at the fag-end of the year with Tiger Zinda Hai.
This year has proved to be a good one for Akshay Kumar and Ajay Devgn.
While Ajay Devgn's Badshaho went generally unnoticed he got his career's biggest hit with a successful franchise, Golmaal Again. Devgn's films usually stayed short of the hundred crore mark or just about managed to cross it, but Golmaal Again was his first film to cross Rs 200 crore and go beyond it.
(The biggest pan India blockbuster was, of course, Bahubali: The Conclusion; its dubbed Hindi version was released for the Hindi film audience.)
Akshay Kumar had a reasonably good year with two successful films in Jolly LLB 2 and Toilet — EkPrem Katha. He could have stayed away from Naam Shabana. The film had no place for him in it but he figured in the film only to lend it some face value and, hence, saleability. That greed factor, again!
Hrithik Roshan had one release, Kaabil, which was utterly forgettable.
Saif Ali Khan has been having a bad run at the box office for the past few years now. 2017 gave him two more duds in Chef and Rangoon.
Two senior actors, Sanjay Dutt (Bhoomi) and Sunny Deol (Poster Boyz) attempted to make a comeback but chose the wrong scripts.
Of the younger actors, the only one to make a mark was Varun Dhawan with two successful films, Badrinath Ki Dulhania and Judwaa 2.
Sidharth Malhotra got two opportunities: Ittefaq (a remake of 1969 hit starring Rajesh Khanna) and A Gentleman. Ittefaq lost out due to re-engineering of the original script while A Gentleman failed the day its title was decided as it did not say anything about the film!
Sushant Singh Rajput, who rode to success on the shoulders of the MS Dhoni biopic last year, came up with one dismal release this year, Raabta.
Nawazuddin Siddiqi, of whom much was expected, disappointed totally this year by stretching his character specific histrionics to over four films: Raees, JaggaJasoos, Mom, and Babumoshai Bandookbaaz.
Irrfan Khan lived up to his popularity. He had a 50:50 success ratio. While his Hindi Medium worked commercially, the other release, Qarib Qarib Singlle, though appreciated as well as enjoyable, fell short of its box office expectations.
The underworld themes did not work as Daddy and Haseena Parker, both biopics, failed; the fictional Sarkar 3 was pathetic.
The year saw two cases of films being made on same subject by more than one filmmaker: Sridevi's Mom and RaveenaTandon's Matr and Yash Raj Film's Qaidi Band and Viacom 18's Lucknow. All four failed.
The films worth watching this year were: The Ghazi Attack, Anarkali Of Ara and Mukti Bhavan, their commercial considerations notwithstanding.
The major disappointments of the year: Kaabil, Raees, Rangoon, Sarkar 3, Sachin: A Billion Dreams, Tubelight, Jab Harry Met Sejal, Secret Superstar, Badshaho, Shivaay, Naam Shabaana.
The gainers of the year: Tiger ZindaHai, Fukrey Returns, Judwaa 2, Toilet Ek Prem Katha, Hindi Medium, Badrinath Ki Dulhania, Jolly LLB 2. That is a poor count considering the year 2017 saw the release of as many as 167 films!
@ The Box Office
An otherwise lacklustre 2017 gave a great farewell gift to the film industry as Yash Raj Films and Salman Khan got together again to give another blockbuster in Tiger Zinda Hai, a sequel to the 2014 hit, Ek Tha Tiger. This was great news for the exhibition trade in particular as, after a run of films which could not even sustain through their opening weekend, Tiger Zinda Hai will give them a happy ending to the year as well as carry forward its box office glory in to the New Year. The exhibitors have a reason to be happy as the film is occupying 4,600 screens in India.
*Tiger ZindaHai started off with a huge working day figure by collecting Rs 33.75 crore. While films usually drop a little on Saturday after such a massive opening day, this film only gained a couple of crore over its Friday figures as it collected Rs 35.65 crore. The collections peaked on Sunday as the film put together Rs 45.53 crore to take its opening weekend total to Rs 114.93.
The Christmas holiday on Monday sustained in the same range as Friday and Saturday by collecting 36.54 crore thereby taking the film's four day extended weekend total to Rs 151.47 crore. The film is expected to end its opening week with a tally of about Rs 205 crore at least. The film has another open week with no other film releasing today.
*Monsoon Shootout fails at the box office as it manages to collect only about Rs 70 lakh in its first week.
*Fukrey Returns makes it to the hit category. The film sustained very well in its second week by collecting Rs 22.2 crore to take its two week tally to Rs 72.2 crore.
*Tumhari Sulu has collected Rs 60 lakh in its 5th week to take its six week total to Rs 34.55 crore.
*Shaadi Mein Zaroor Aana has collected Rs 45 lakh in its sixth week to take its total to Rs 11 crore.