,

Friday, 8 June 2018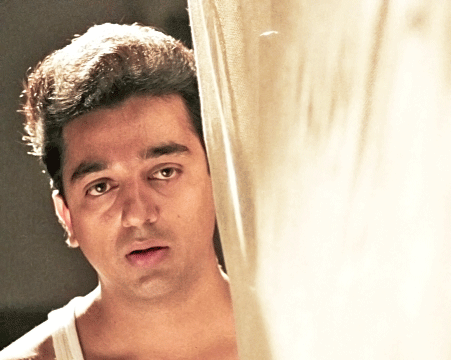 The slum cluster of Dharavi in Mumbai is often called the biggest in Asia, with a misplaced sense of pride. The human hive of small industries, ambition, deprivation and crime, has a large Tamil-speaking population, so it worked as the perfect setting for Mani Ratnam's Nayakan (1987), his totally Indianised version of The Godfather (which has subsequently been done to death in Indian cinema).
In this week's release Kaala, Rajinikanth plays the good-hearted Don Of Dharavi, who fights against rapacious developers to protect the rights of the poor. It is reminiscent of Nayakan, in which Kamal Haasan played a Dharavi don (which won him the National Award and many others for his performance), inspired by the real life mobster Varadarajan Mudaliar, who was a power centre in Mumbai in the 1980s.
The prologue of the film is in Tamil Nadu, where the young Sakhtivel 'Velu' Naicker kills a cop who has murdered his union leader father. The boy escapes to Mumbai, where he is given refuge by a kind Muslim smuggler, Hussain.
When Hussain falls ill, Velu takes over his work, and runs afoul of a cop, Kelkar. Hussain is arrested and killed in jail and the death passed off as suicide. In a rage, Velu kills Kelkar. The cop was corrupt and cruel, hated by the people, so nobody is willing to give witness against Velu and this is the beginning of his rise as a don. But unlike the villainous kind of gangster, he is a benevolent one, who helps the community. He even takes care of Kelkar's wife and retarded son, Ajit.
He continues with his smuggling activities but his generosity wins him the love, support and gratitude of the people of Dharavi. While on the rise, he also falls in love with and marries Neela, who gives him two children. In an attack on him by rivals, Neela is killed. Velu sends his kids, Surya and Charumati, to Chennai to keep them away from the violence.
They return to Mumbai after their education, and Surya joins his father. He is soon killed in gang warfare and a sorrowing Charumathi blames her father for the two deaths and wants him to give it all up and leave Mumbai. When he refuses, she walks out on him.
Years later, a new ACP (Nasser) arrives in Mumbai, and vows to eliminate the mafia in the city, starting with Velu. He starts collecting evidence against the don, who eventually discovers that his daughter is married to the cop. However, Velu is felled not by cops or by rivals, but by Ajit, who kills him to avenge his father's death.
Nayakan remains one of Mani Ratnam's best films, and the way he captured the ethos of the Tamil community in Dharavi was its strong point. Interestingly, Dharavi was recreated on a set in Venus Studios in Chennai by art director Thotta Tharani, who won a National Award for his work.
Unfortunately, it was also one of the early films that glamorized gangsters and demonized cops. And the portrayal of dons as 'rulers' of the city ("Mumbai ka king kaun?" asked gangster Bhiku Mhatre in Satya made eleven years later by Ram Gopal Varma) and protectors of the underprivileged remains a staple of our cinema. The don is perceived as the man feared by cops, cultivated by politicians and admired by the people, as the one who is capable of getting things done by going against the system. Kaala is already being talked about as the film that will help ease Rajinikanth's entry into politics as a man of the masses. If he can fight the odds and win in a film, surely he can do it in real life too!
Nayakan was released in Hindi in a dubbed version and later remade by Feroz Khan as Dayavan (starring Vinod Khanna), which did not do too well, because the language did not quite convey the sentiments and culture of the Tamil community of Dharavi. The binding power of language, powerful dialogue, and of course Ilaiyaraaja's music, were the highlights of Nayakan.
(Deepa Gahlot is a critic, columnist, editor, author and curator)