,

Wednesday, 20 September 2017
Here's where you'll want to dine and drink in New York, London, and Hong Kong this season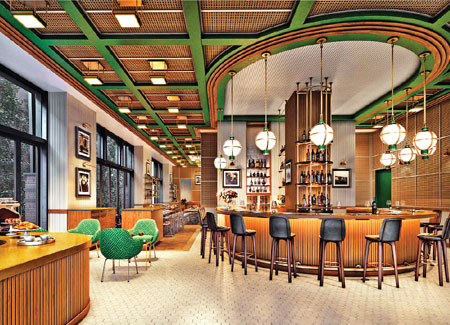 If there's a prime time for restaurants in the northern hemisphere, it's autumn. Following a slow summer season, chefs and restaurateurs — not to mention wine directors and bartenders—prepare to roll out their most anticipated projects. This particular fall sees the reopenings of two of the world's best restaurants, in New York and Copenhagen, plus a spot for the world's top sommelier to flex his wine muscles. California will have a particularly exciting season: Powerhouse chefs are opening venues in Los Angeles, and the fresh, healthy cuisine pioneered by the state is popping up as far away as Hong Kong. Read on to discover the upcoming must-visit places around the world.
Classics Reawakened in New York
Not many people would shutter their restaurant the same year it was ranked No. 1 in the World's 50 Best List. But Eleven Madison Park co-owners chef Daniel Humm and Will Guidara decided it was time to update the landmarked space. The new EMP will have a more magnificent kitchen and a bigger bar area when it reopens for service on Oct. 8, with eight- to 10-course menus of seasonal American dishes never served before for $295.
Meanwhile, it's been four years since Lee Hanson and Riad Nasr left Keith Mcnally's Minetta Tavern. In October, the pair will open Frenchette in Tribeca — an international hodgepodge with a design inspired by the cafes and restaurants of late 19th century Vienna, plus a rotisserie and Japanese charcoal grill in the kitchen. The food is French-inspired, with such dishes as spit-roasted lobster, as well as more casual items like veal knuckle sandwich with bitter greens and sauce gribiche. The acclaimed nearby bakery Arcade will supply the bread, and the wine list will lean toward natural selections.
The Hudson Yards development is one of New York's biggest residential and office projects in decades, and it's finally getting on its feet. There aren't yet a lot of good dining options. Enter the expert food-and-wine team behind Manhattan's buzzy Charlie Bird and Pasquale Jones. When it debuts in October, Legacy Records will offer a Mediterranean fish-focused menu, plus a wine program conceived by Arvid Rosengren, who holds the title of world's best sommelier. Upstairs you'll find a serious bar, with cocktails overseen by the elite bar team at downtown's PDT.
America Goes to Hong Kong
When PDT opens in the Landmark, Mandarin Oriental in November fans of the famed New York bar will find a lot that's familiar: The entrance will be through a phone booth, and drinks will include the rum-and-marmalade-based Paddington and the Benton's old fashioned. What will be different is an interior design by noted architect Nelson Chow and a serious food menu from Richard Ekkebus, chef of the Mandarin's two-Michelin-starred Amber. There will still be PDT's signature hot dogs, tater tots, and fries, "but now they'll be custom made," said PDT co-founder Jim Meehan. "The biggest difference is that in New York, we don't have a chef; in Hong Kong, we very much do."
As proof of the growing appeal of Mexican food around the world, Esdras Ochoa, who headed up L.A.'s acclaimed Salazar, has brought his al pastor tacos to 11 Westside. In a Kennedy Town space with a terrace, Ochoa is serving tableside guacamole, grilled corn with cheese and lime, and grilled snapper with freshly made tortillas. He's teamed up with mixologist Daniel Eun (of L.A.'s Varnish) who is operating two bars in the space: one with lots of tequila cocktails and another, named the Wilshire, featuring expertly made classics.
After a World Tour, Noma Returns Home
Copenhagen-based Noma, four times winner of the World's Best Restaurant award, will soon have a new home. Chef Rene Redzepi has closed the original waterside warehouse location and will reopen in the nearby Christiania neighbourhood in the coming months. The restaurant will be housed in an urban farm with a greenhouse on the roof. There's no confirmed date for the opening.
Going Grainy in Madrid
Mario Sandoval made his family restaurant Coque a destination in the village of Humanes outside Madrid. Now the vegetable-obsessed, two-star Michelin chef has found a space in the city, in a former club in the Chamberi district. The 60-seat Coque Madrid features two tasting menus with dishes from the country's 17 regions. His signature suckling pig—with such garnishes as passion fruit, changing with the season—has stayed on the menu, but Sandoval is turning his attention to grain-based dishes in the new space. The original restaurant has become a cooking school.
A Whole New Development in Washington
Known for the exceptional Italian food he serves to power players at Fiola in the nation's capital, Fabio Trabocchi will open Del Mar this fall in Southwest Washington's $2.2 billion Wharf development. The name of the restaurant nods both to the waterfront location and Trabocchi's focus on Spanish seafood and coastal cuisine. (His wife Maria is Spanish.) There will be such dishes as Mallorcan-style Maine lobster; ahi tuna with sea urchin and pimenton; paella with charcoal-grilled red king prawns; and a Spanish tortilla of potato and caviar. The 11,500-square-foot space extends over two floors, with a view-filled upstairs patio, plus two bars and a pair of open kitchens.
Barangaroo House in Sydney
Blackwattle will be the second restaurant from Clayton Wells, renowned chef of Sydney's Automata. Set in a two-story house, Wells's 50-seat restaurant will feature familiar Singaporean influences. Mud crab is served with pumpkin seeds, egg yolk jam, and white pepper broth; smoked duck will be accompanied by fermented pumpkin and pumpkin seed miso; and a dessert of buttermilk ice cream will have black sesame, kumquat, tangelo, and mandarin. Wells will offer a five-course tasting menu, as well as à la carte options. Upstairs, the bar area will serve cocktails and a small bar snacks menu.
Familiar Faces Get Makeovers in London
One of London's most glamorous restaurants is about to gain a sibling. Bob Bob Cité, scheduled to open in the City of London financial district in January, is the first offshoot of Bob Bob Ricard, a favorite of celebrities and the fashion crowd. Every table is in a booth equipped with a call button to summon emergency supplies of Champagne. The new executive chef is Eric Chavot, a quirky culinary genius.
Meanwhile, Duddell's, a Hong Kong restaurant famed for its stylish ambience and modern interpretation of Cantonese cuisine, will open a London outpost in November. It will be housed in historic St. Thomas Church, at London Bridge, in a space that will feature year-round art exhibitions. Duddell's holds two Michelin stars in Hong Kong, where it is a fashionable destination for dining.
Tom Kerridge, the only chef in the world to hold two Michelin stars for a pub, is coming to London, too. He's known for his rustic cooking at the Hand & Flowers in Marlow, more than an hour west of the capital, and will now be serving a decidedly up-market crowd. His as-yet unnamed restaurant will open around the end of the year in the five-star Jumeirah Carlton Tower hotel, in Knightsbridge.