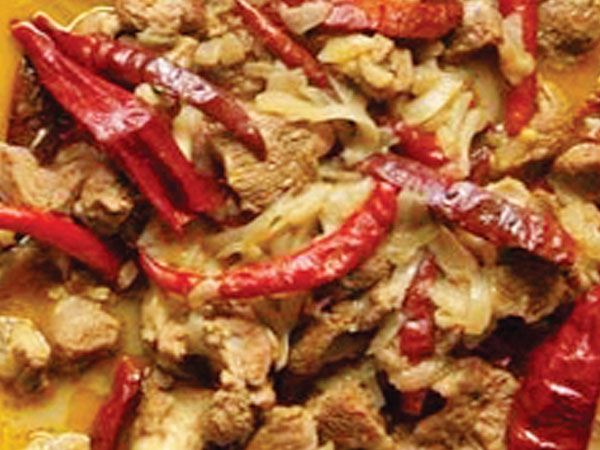 Fossils of plants have been found on the rocks of Barmer and Jaisalmer and the forests now turned into stone, tell us that that the sea covered this land that was known as 'Marusthali' – the land of the dead. It has also been seen that the limestone found in this area is of a recent era, compared to the world's other deserts. This makes the Thar Desert, rather unique as it is neither barren nor uninhabited. It is a large sandy tract covered with no streams, but grass clumps often appear on dunes, hence water is not far away.
The desert that lies in the very heart of Rajasthan has supported a number of tribal settlements and kingdoms—crossed for anyone who wished to travel from one to the other. This helped in keeping them apart from each other and allowed them to have distinct characters—in lifestyles, crafts, festivals and food. Among the better known crafts that one sees are wood carving, stone carving, fabric printing, embroidery, silver filigree, terra cotta, leather goods and various types of food in each location. The desert has also been the breeding ground for camels with the largest camel farm being located in Bikaner.
There was a time when survival in and around Rajasthan's Thar Desert, was really difficult. The inhabitants were known to offer prayers to the almighty, for a drop of rain. Things became easier after a canal was created that brought water to Rajasthan. With the monsoon season now in full swing, it is the perfect time to focus on the cuisine of the hottest and driest part of India and to appreciate the ingenuity of the people in this region through their recipes.
Rajasthani food has traditionally been influenced by the availability of ingredients in this arid region, as well as by the lifestyles of its inhabitants. There has always been an effort to create food that lasted for many days, which could also be eaten without heating. Scarcity of water meant that fresh green vegetables would not be easily available and as a result, most items were deep fried so that they would keep in the hottest weather. The fame of Rajasthani snacks has spread all over India and most people are familiar with the delicious Bikaneri Bhujia, Mirchi Vada and Pyaaj Kachori. The concept of the vegetarian Marwari Bhojanalaya, originated in the Marwar region of the state and there are a number of restaurants offering these delicious vegetarian thali meals across India today.
Statistics show that at least 70 per cent of the people in Rajasthan have traditionally been vegetarian, but they appear to be somewhat balanced by the warlike Rajputs always ready for war, who would eat whatever they hunted on their way. This included wild boar, deer and rabbits that were usually cooked on a spit. Another speciality that developed when royalty was on the move was 'Khad Chicken', in which the chicken (or rabbit) was buried in the hot sand and allowed to cook slowly, during the afternoon and eaten at night, with Bajre ki Roti (bread made out of millet) and Lahsun ki Chutney (hot garlic chutney).
At Khimsar, I came across two splendid non-veg dishes—the first one was the delicious Mutton Gola Kacher which includes boneless mutton, liver and kidney and plenty of fresh Kacher . The second one Jaisalmeri Macchi is really delicious but is obviously a new creation and uses Pomfret cooked in cashew paste, mustard, kasoori methi, fenugreek, ginger and garlic paste and sprinkled with lemon before eating. Rajasthan also has 'Sula' its own style of barbequing. Thin slices of mutton, chicken , fish and even paneer, are marinated and barbequed over a coal fire. However Rajasthan's two best known mutton dishes are 'Lal Maas' and 'Safed Maas' – the first cooked red hot with chillies and the second mild and milky white, cooked in yoghurt.
It is only in Rajasthan that one comes across so many unique vegetarian dishes. To begin with, in Bikaner (purely by chance) I came across the common man's breakfast—Roti eaten with yoghurt, 'gudh' (molasses) and chilli chutney. Then there is a recipe named 'Tamatar ka Saag' – flavoured with hing, kalonji and more. Then there is the very unusual 'Kanda ki Sabzi' - onion cooked as a delicious curry. 'Ker Sangri' consists of the berries and green stems of the Ker tree— a tree that manages to survive in the desert, has flowers and berries but no leaves. Another dish 'Pithod', is popular in all parts of Rajasthan and consists of diamond shaped cakes of gram flower in a rich gravy. Then there is the famous 'Gatte ki Tari' made of chickpea flour rolled and sliced like a vegetable, cooked in yoghurt and served with 'Misi Roti'.
Rajasthan's most famous dish by far is 'Dal Batti Choorma'. Batti is the most popular type of bread in the region and has a very hard crust. One has to break the crust and pour a spoonful of ghee to achieve the correct taste. History records that this particular type of bread has been in existence for at least ten or more century. Batti's were earlier semi cooked and buried in the sand – ready to provide sustenance, when nothing else was available.
But we cannot possibly end without mentioning the desserts available in this desert region. A number of desserts have originated in places around the Thar region—Paniya and Gheriya from Mewar, Mawa Kachori from Jodhpur, Alwar ka mawa, Rabori ka Laddoo, Aal ka Sirah (made of white pumpkin) and Churma Laddoos. Other sweets that have originated in various parts of India have also become popular in Rajasthan and one can enjoy some of the best Malpua at Pushkar, Rasgollas in Bikaner and Balushahi at Jaisalmer.