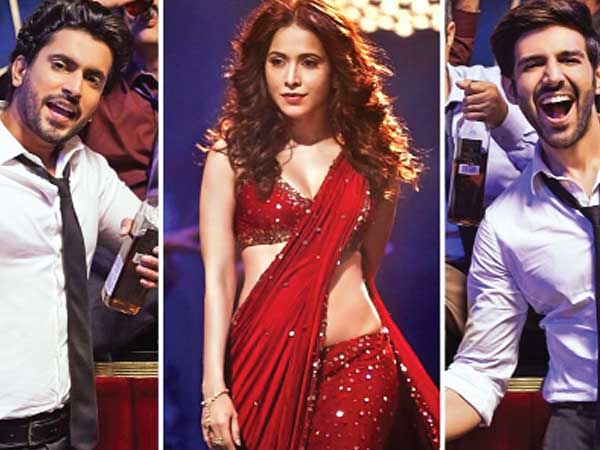 Many come to Mumbai with stars in their eyes to make it big, a huge chunk of them are here to shine on the silver screen and, if not, television.
We know about only those who make it. Others, who tried but could not get a foothold in the film business, don't matter because they don't exist.
Similar is the case with films. The movies which work are carried to the 200 crore and 300 crore mark by moviegoers. But, films that fail or, at times, are released but fail to find enough footfalls to merit a screening, pass uncelebrated.
There are often some good films which earn critical acclaim but find no audience. Some recent examples are: Dahek, Mukti Bhavan, Anaarkali Of Aarah, Newton, The Ghazi Attack, Lipstick Under My Burkha and Kadvi Hawa. Just three out of these away-from-the-routine films worked and two of them happened to have star power, Toilet Ek Prem Katha (Akshay Kumar), Hindi Medium (Irrfan) and Shubh Mangal Saavdhan.
As if ignoring a good film is bad enough, the main issue is about how cinema halls pay the price for screening a bad film. The viewers venturing into a cinema, when they can't identify with a film and which falls way short of their expectations, feel cheated. In earlier times people would vent their anger on the cinema properties as if the cinema management was personally responsible for the films being screened. Nowadays high admission rates keep a lot of people away from cinema halls and and incidents of viewers venting their anger on cinema property is rare.
Cinema halls don't only bear the brunt of an agitated audience. They are always the first target for any kind of public agitation even if it does not concern the business of cinema.
A recent example being the Padmaavat controversy. Even before the film could release, a cinema hall in Kota in Rajasthan was vandalised. Eventually, the film never released in the state of Rajasthan but the hall had already paid the price for being a place of entertainment. And, why did the mob do this? Just warming up in case Padmaavat made it to the cinemas in Rajasthan.
To avoid such damage to their property, the management of most cinema halls prefer to avoid screening controversial films. It was for this very reason that Padmaavat was not released in as many as four states, Rajasthan, Gujarat, Haryana and Madhya Pradesh. Similarly, Jodha Akbar could not be released in Rajasthan for fear of property being damaged.
At times, a film suffers because of an irresponsible or out-of-turn comment by a film star. The star is probably trying to grab media attention as a way to earn some extra mileage for his film and it backfires. One such incident was when Aamir Khan decided to join forces with activist Medha Patkar's movement against the Narmada river dam. The dam has always been an acutely sensitive issue for the people of the arid land of Gujarat and much politicised. All that the actor managed to earn instead of a boost to his film, Fanaa, was public ire. His film was stopped from releasing in Gujarat. Also to suffer and be pulled out of cinema halls following this controversy was Aamir's already-running film, Rang De Basanti, after the mob in Gujarat attacked multiplexes and caused much damages.
Fanaa was not the only film to suffer such a fate. Aamir Khan's PK was another film that had upset the public in general. But, the authorities made sure the film and the cinemas screening the film were provided police protection! The film was falling short of Rs 300 crore mark earlier achieved by a film of another star. A controversy was needed to give the film a last push. And, so one said to be duly generated through some fringe religious groups! Wonder why the same fringe groups had no problem with the film through its initial run!
It is when a star starts believing in his larger-than-life reel life image and tries to live it in real life that he invites trouble.
Audiences, when disappointed with a film, vent their anger by breaking theatre property like damaging chairs, breaking glass showcases, sticking chewing gum on seats. In fact, not many may know this but most cinema halls, especially single screens, have an in-house workshop to repair chairs. The last such reaction of a disappointed audience was seen in Surat after the screening of Shah Rukh Khan's film, Fan. The audience was bent on venting their disappointment from the film on the cinema furniture and fixture! Now, multiplex cinemas, as a rule, do not allow chewing gum, lighter, gutkha and paan to be carried inside cinema halls.
Metro Cinema was once considered Mumbai's prime cinema house. The city's pride. The cinema management never allowed anything but English films to be screened at this prestigious cinema hall. The much respected General Manager of the cinema, Mr Edward Alva, made an exception for the first time for a Marathi film, Annapurna, produced by his close friend, Sadashiv J Row Kavi.
This exception opened the doors for Hindi films at this prestigious cinema which boasted of its own audience, whatever the film. A major Hindi film was due to release at Metro, Zehreela Insaan. It was Rishi Kapoor's second film to hit the screens after the stupendous success of his debut film, Bobby. In those days, first day first show was a norm for many, a prestige issue. The film was produced by a filmmaker from South India and, as it happened, it was stuck in some legal tangle.
The film's prints were delayed and the opening show, 12 noon, had to be cancelled. The anxious mob outside Metro Cinema turned violent. This landmark cinema hall was subjected to unprecedented vandalism. The fact that the cinema hall was only the medium for bringing a film to them and had nothing to do with either the film or its legal problems did not deter the mob from scarring this historic property! This, to my knowledge, was the first such incident of vandalising a cinema hall and, in days to come, mobs thought nothing of doing it at whim.
And, to think that, there were times when the audience danced in the aisles to a popular number, threw coins on the screen and watched a repeat of the film just for one favourite song or some dialogue which had caught their fancy!
@ The Box Office
*Raid, a film about an honest Income Tax Department officer and his main target (a politician) who hordes a stash of black money. The film establishes itself as based in the Indira Gandhi era. Now, that era gave birth to a film genre called 'Anti Establishment' stories. Amitabh Bachchan films added a soul to those films. I have earlier mentioned in one of my columns that the themes usually reflect the era and the atmosphere that prevailed in the country which, usually, is borne out of political dispensations. There is always that one honest officer in the system who spends most of his career stuck in the revolving door of transfers as is Ajay Devgn, the protagonist of Raid.
The film is past its time and is just another honest officer vs. a Bahubali politician. The draw of Ajay Devgn playing the part of Hindi-belt-cop aside, it is just another film which does not cater to the tastes of a multiplex audience. The film opened to a rather unimpressive first day of Rs 9.8 crore. The film picks up over the weekend to end it with figures of Rs 39.8 crore and should close its first week with about Rs 62 crore.
*Hate Story 4, does not quite manage to cash in on its brand equity. After an average first week of Rs16.6 crore, the film has dropped further and is expected to close its second week with a total of approx. Rs19 crore.
*Veerey Ki Wedding collects a meagre Rs 2.75 crore in its first week with little hope of adding much in its week two.
*Dil Junglee fails badly.
*Sonu Ke Titu Ki Sweety, a small time entertainer, has proved to be the biggest hit of the season. The film has been scoring big ever since its release four weeks back. The film will add another Rs 7.9 crore in its fourth week to take its four week tally to 95.8 crore.
*Padmaavat has collected 284 crore at the end of its eighth week run.