Where else except at DIFF could you expect a film festival to be inaugurated by songs sung by rosy-cheeked Tibetan children?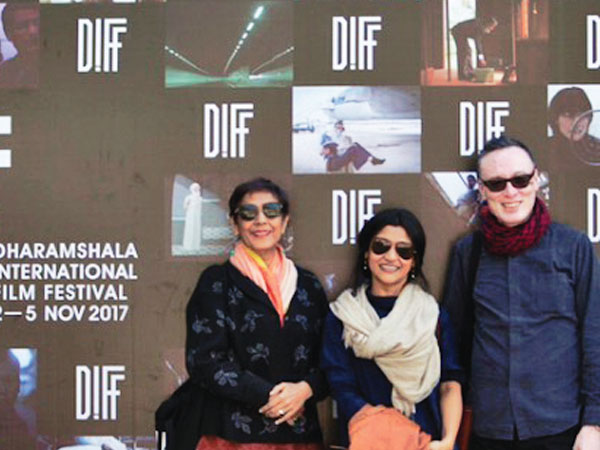 The 6th Dharamshala International Film Festival (DIFF) was on again! Between November 2nd to November 5th, 2017, cinema enthusiasts headed for Dharamshala to what is probably the most enjoyable film festival in India. While there are umpteen film festivals held in the country, they are mostly located at metros —very seldom does one take place up in the hills. We salute the idea of choosing this charming destination. Where else would a Film Festival be inaugurated by songs sung by rosy-cheeked Tibetan children?
The first edition of DIFF was held in 2012 and since then it has become one of India's leading independent film festivals. The 6th edition DIFF 2017, was launched at the Tibetan Children's Village (TCV) near McLeodgunj, Dharamshala on November 2, with a screening of Shubhashish Bhutiani's Mukti Bhawan. The film's lead actor Adil Husain was present and did the honours of presenting this much acclaimed production. The inaugural ceremony of the festival saw him address an enthusiastic audience who had turned up in large numbers on the opening day of the festival.
Interestingly at the opening, winners of the Children's Film Appreciation Competition Course were also felicitated. After a talented bunch of children from the Junior class of the Tibetan Children's Village School brightened the DIFF 2017 opening with Tibetan songs, came the announcement of the winners from Dharamshala schools. Also present at the festival was Barry John, actor, writer and director, known to have trained a number of Bollywood stars, including Shah Rukh Khan (before the star moved to Mumbai to try his luck in films).
Adil Husain, also trained at Mumbai's Barry John Acting Studio. John's presence at the Festival's opening ceremony, in support of his talented protégé, made it into a very special occasion indeed. Regarding his part in Mukti Bhawan, Husain recollected the memories he had shared with his father while preparing for his role in Mukti Bhawan. John's comment sums up the mood of the film, "A film like Mukti Bhawan is so moving that one is at a loss for words. There are so many emotions one experiences that one doesn't know how to cope with it."
About DIFF 2017, Husain said "The Dharamshala International Film Festival is my favourite film festival in India because there are no frills attached to it. It is purely about watching films and meeting people and due to the lack of frills there are opportunities to make real contact. This aspect makes it a really special and unique festival." DIFF's eclectic style of planning usually includes premiers of very special films made in India or abroad — films that often win awards all over the world, but are seen first at DIFF. Its policy of inviting as many directors as possible has made it into one of the must–go events in any cinema enthusiast's calendar. Under the category of 'Diff 2017 Highlights' at the festival, was a special screening of A Death in the Gunj, directed and presented by Konkona Sen Sharma. This is Konkona's first dir ectorial attempt and is based on a story by her father, Mukul Sharma.
Other highlights include Amit Masurkar's Oscar entry from India, Newton, Deepak Rauniyar's Oscar entry from Nepal White Sun, Lijo Jose Pellissery's acclaimed crime drama Angamally Diaries and Rahul Jain's Machines.
Two award-winning documentaries were also in this year's line-up. These were Kirsten Johnson's Cameraperson (USA, 2016) and Rahul Jain's Machines (India, 2016). DIFF 2017 also featured the Indian premiere of Out of This World (USA) — originally released in 1954 a restored version was shown of journalist and writer Lowell Thomas' fascinating account of his travels to Tibet in 1949. This year's feature films shown at the DIFF included Dain Said's Interchange (Malaysia, 2016), Yaniv Berman's Land of the Little People (Israel, 2016), Dechen Roder's Honeygiver Among the Dogs (Bhutan, 2016), Yoshinori Sato's Her Mother (Japan), Mano Khalil's The Swallow (Switzerland), Karma Takapa's Ralang Road, which premiered at this year's Karlovy Vary Film Festival (the first Indian film to be selected for the fest after 13 years) among others.
Keeping up the tradition of showing experimental films, this year's DIFF included the South Asia premieres of three features by well-known artists and filmmakers: Amar Kanwar's Such a Morning (India) and Naeem Mohaiemen's Tripoli Cancelled' (Bangladesh), both of which premiered this year at Documenta 14; and Singapore filmmaker Tan Pin Pin's In Time to Come, which had its world premiere at Visions du Reel.
At DIFF 2016, cinema enthusiasts from across India and the world converged to watch films and discuss the state of modern cinema.
As Founder–director Ritu Sarin said, "The atmosphere was electric from the opening day of the festival. I am delighted to say that we had a full house."