,

Friday, 26 January 2018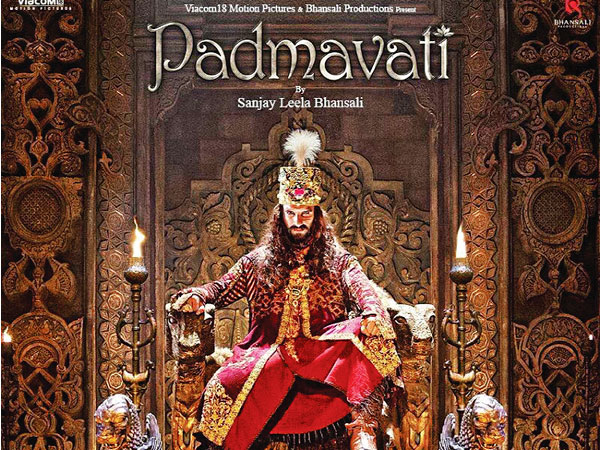 Thankfully, the Padmaavat controversy will end this week as far as the film industry is concerned as the film finally sees the light of day at cinemas. Looks like the issue of how Padmavati, the revered—fictional or otherwise—queen of Chittor, is projected in the film by the various Senas has long ended and the film has since become the punching bag of anti-social elements and politicians. Though there is nothing untoward about Rani Padmavati and Khilji (never once do they come face to face in the movie) yet protestors are hell bent on not letting the film release in some states. The cinema owners have to hold back fearing damage to their property. There is not a scene where Padmavati and Khilji come face to face but the protests still continue.
Based on the epic poem Padmavat, by the Sufi poet Malik Muhammad Jaysi that was penned more than 200 years after the fall of Chittor fort, the film is a rather insipid depiction of the saga.
In 1988, Shyam Benegal made a TV serial based on Jawaharlal Nehru's book, Discovery Of India. The serial, Bharat Ek Khoj covered the Padmavati story in its section, Delhi Sultanate, in a 44-minute episode. On the net, the Padmavati story in its audio is still available in four-to eight-minute versions. Incidentally, Bhansali was a part of the editing department that worked on the TV series made by Benegal. He, probably, nursed the idea to make a film on Padmavati ever since!
Despite the Censor Board deleting parts of the film, its duration still runs to an exhausting 163 minutes!
The late K Asif made Mughal-e-Azam and nobody cared that King Akbar's wife was a Hindu from Rajasthan. The film went on to create box office history besides going down as an all-time classic. But, Ashutosh Gowariker's Jodha Akbar could not be released in Rajasthan because of similar protests.
Even Bhansali faced problems with his Goliyon Ki Raasleela: Ram-Leela and Bajirao Mastani as some community or the other raised problems. He got away easily in those cases. Sadly, this time, it is the common public which is paying the price as properties and vehicles are being damaged or
destroyed.
Historical films don't work in India generally because most of our historical stories depict us, the Indians, as losers. There are no happy endings. It is same with Padmaavat. So what was Sanjay Leela Bhansali trying to showcase? The love story of the Chittor king Rana Rattan Sinh and his Sinhalese, Buddhist queen, Padmavati? Or the evil, lusty eye of the invader
Allaudin Khilji on the queen of Chittor?
Sadly, the filmmaker seems at a loss as to what is his main theme! What was it about Khilji? Was it love or lust for Padmavati? Yes, there are opulent sets where the film is shot but they can't make up for a lack of story and drama. And to think that some people are paying Rs 1,200 to 2,400 to watch this movie!
@ The Box Office
There were nobody-knows-how-many films 'released' last Friday. I wonder if even multiplex programmers know the figure for all of them were not able to avail of screen slots!
The only film which held some hope was Vodka Diary because of its curious title and the presence of Kay Kay Menon who, not so long ago, enjoyed a fan following with a particular section of moviegoers — of the kind that Irrfan Khan enjoys now. Looks like few actors on their own strength are worth moviegoers' time and money at the multiplex except say, for a Salman Khan, and that too not always. Because, as one knows, he gave us a Tiger Zinda Hai but he also gave us Tubelight. Tiger Zinda Hai did not deserve to be such a big grosser at the box office but, the fact is, it is! That is Salman Khan's
star power.
The other film which released with a known face but was unable to bring in the crowds was Nirdosh starring Arbaaz Khan in the lead. Nothing was expected from the film. Also in the release line-up were My Birthday Song, Hamara Tiranga, Haq E Sailani, Union Leader and Medal. All failed badly. Kay Kay Menon is known to be very choosy about the films he signs and is known for having rejected many films. So, it is prudent not to ask who failed; Kay Kay Menon or the multiplex way of doing business!
Of the horde of films released, Vodka Diary did find some takers. The film was the better of the lot but not good enough to make a mark. The film just about touched the Rs 1 crore mark in its opening weekend.
1921 collected Rs 11.3 crore in its first week. The film is expected to end its second week with a total of about Rs 14 crore.
Mukkabaaz managed to put together Rs 6.5 crore. The film is expected to end its week two at a total of about Rs 10 crore.
Kaalakaandi, despite Saif Ali Khan in the lead, remained poor at Rs 5.1 crore. The film barely survived in a second week at the BO ending a little over Rs 5 crore.
Tiger Zinda Hai remains a one-horse race. The film added Rs 10.6 crore in its fourth week to take its total to Rs 344.3 crore. The film may just about reach Rs 350 crore mark at the end of its fifth week.