The demo-hit realty sector is looking for GST relief in the forthcoming Union budget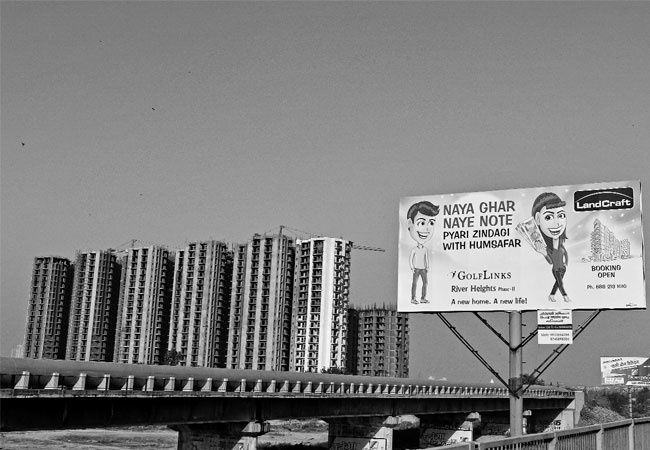 Call it bearing the brunt of economic reforms or any other name you choose. Measures like demonetisation, Real Estate (Regulation and Development) Act, 2016 (Rera) and the GST roll out, took a heavy toll on the ability of the real estate sector to sustain investment and growth in calendar year (CY) 2017.
The ensuing Union budget 2018-19 will therefore be an acid test for the Narendra Modi government on its promise of development and whether it can provide a healing touch to the sector, which is intrinsically tied to the NDA government's over-ambitious `Housing For All By 2022' plan.
As the sector looks up to the New Year with high hopes, some expectations and a healthy degree of skepticism, it's time to take a quick look at 2017.
In retrospect, Gurgaon happens to be the only city to witness improvement, both in new launches and sales by 55 per cent and 27 per cent respectively, in 2017.
Due to the continued impact of Rera, total new launches across top-nine cities of India dropped by 56 per cent in Q4 CY'17, with the biggest drop evident in Pune, Ahmedabad and Kolkata, according to a recent report by PropTiger.com, an arm of Elara Technologies Pvt Ltd, which also owns Housing.com and Makaan.com.
According to the report, overall sales in the top nine cities declined by 17 per cent in CY'17, due to a drop in new launches. However, sales in Bangalore, Chennai, Gurgaon, Hyderabad and Noida improved in Q4 CY'17.
On an annual basis, cities such as Hyderabad, Chennai, Mumbai and Kolkata performed better than the national average in terms of sales.
Says Ankur Dhawan, chief investment officer, PropTiger.com., "The year 2017 was a year of reform for the Indian real estate sector with the roll-out of game-changing policies such as GST and Rera. The improvement in unit sales exhibited by many cities in the last quarter of 2017 offers a preview of what the near future has in store. We are confident that new standards of delivery, accountability and transparency will further give a boost to the residential real estate market in 2018."
The report titled 'Realty Decoded Report' for Calendar Year (CY) 2017, also suggests that there was significant reduction in new launches in Pune, Ahmedabad and Kolkata in Q4 CY'17. Mumbai alone contributed close to 40 per cent of new launches in Q4 CY'17.
Nearly 32 per cent of sales in 2016 were contributed by projects launched in 2016. This ratio came down to 24 per cent in 2017. Reduction in new launches and sustenance sales improved the situation on unsold units, which reduced by seven per cent across nine cities. Mumbai and Pune contributed nearly 4 lakh units to total unsold units, followed by Bangalore and Noida.
The Union budget 2018-19 and expectations of the sector will have to be seen in the light of these factors. "The sector's biggest expectation from this budget is to increase the tax deduction on home loan interest from Rs 2 lakh to Rs 3 lakh. Also, the budget should give similar benefit on pre-EMI interest paid by customers during the construction period and not only after completion of project. This will help improve demand for under construction units and aid the sector," says Dhawan.
Points out Jaxay Shah, president, CREDAI National: "The real estate sector now needs an immediate push in the best interest of all stakeholders to continue the upward trajectory of growth and development. We expect deep concessions in income tax for homebuyers of at least Rs 5 lakh per annum. Housing is a basic necessity and yet subject to both GST at 18 per cent and stamp duty of 8 per cent. There is a case to bring GST in line with other merit goods. Lastly, affordable housing segment must be allowed the full benefit of infrastructure status by providing appropriate means for land financing to private developers."
The Centre's decision to ease FDI norms in various sectors, including construction, will boost the segment with additional investments, job creation and governance. Coupled with the implementation of Rera, which had already raised the appeal of Indian realty, this move will prove to be another push towards the sustainable growth of the real estate industry, he adds.
Manoj Paliwal, chief financial officer, Omkar Realtors, on his part, has some specific suggestions up his sleeve. Housing loss set-off should not be restricted to Rs 2 lakh under section 24. There is no such arbitrary limit in any other sector and goes against such labour incentive asset creation.
He also backs increasing the incentives for first-time homebuyers under section 80EE by way of increasing the tax exemption limit from present Rs 50,000 to Rs 2 lakh. This, he believes, will encourage many young people to go for their own house.
"Currently, GST is levied assuming the land cost to be 1/3rd of the selling price. This assumption is not correct for a city like Mumbai, where land prices are very high. While charging the GST, appropriate reduction should be provided for the value of the land. This will rationalise the GST impact on customers where prices are high. Benefits section 80C for home loan repayments should be increased from Rs 1.50 lakh to Rs 5 lakh," suggests Paliwal.
Surendra Hiranandani, CMD, House of Hiranandani, concurs. "Presently the GST rate applicable to the real estate sector (i.e on sale of flats) is 12 per cent of the sales consideration. During the pre-GST era, the applicable rate of service tax was around 4.5 per cent and value added tax of 1 per cent was also levied, resulting in total tax outgo of 5.5 per cent of the sales consideration. In the GST regime, input tax credit is available on taxes that are paid on material bought for construction, which can be the adjusted against the GST liability. The effective tax rate post adjustment is quite high, as compared to the old rate of 5.5 per cent," he says.
Hiranandani adds: "Further, stamp duty continues to remain in force even after implementation of GST and the rates vary from state to state, which increases the cost for the consumer. We hope that state governments abolish the same or merge with the existing GST rates. Owing to aforesaid factors, we feel the present GST rate must be revisited and stamp duty should be abolished."
A common and general feeling among the realty players is that the Centre needs to focus on the issue of land costs, which is very high now. Lowering down the costs for land acquisition will boost many private players. If the government does so, there will be many new launches and quick delivery of projects by private players.
ritwikmukherjee@mydigitalfc.com