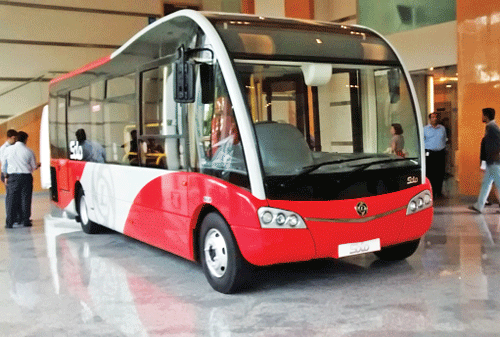 The life-time spend of a commercial vehicle is 10 times that of the cost of the vehicle. No wonder, why commercial vehicle manufacturer Ashok Leyland is keen on bringing back its customer even after the sales.
In order to augment its after-sales revenue pools, the company is now in the process of launching a few initiatives under a new division- Customer Business Solutions- that will improve the stickiness of the customer. A co-branded fuel card is the first step in this direction.
According to K Ram Kumar, senior vice president, Solutions Business of the company, unlike private cars most of the commercial vehicles do not come back to the dealer either for spare parts or for service. It is largely handled by the unorganised segment. "The Customer Business Solutions is a new division and another revenue pool that will come out with a series of initiatives to bring back the customer to the brand,' he said.
After-sales business is a growing revenue pool for the CV manufacturer where it provides the spare parts and offers vehicle service. The company finds that usage of right spare parts and better technology to service the vehicle are important from an automobile operating economics point of view. A well-maintained vehicle will definitely preserve the value of the brand while providing another source of revenue to the company.
As the first initiative under Customer Business Solutions, the company has co-branded a fuel card with Hindustan Petroleum. The 'eN-Dhan' fuel card in partnership with HPCL Drive Track Plus programme can help the customer save 1.5 to 3 per cent of savings on fuel cost or provide a maximum of Rs 50,000 per truck per year.
"Our analysis shows that the current fuel spend on a commercial vehicle in India is between 35 per cent and 60 per cent of its lifecycle cost. Since fuel cost is the major expense, we came up with this fuel card program to help vehicle owners save on this expense and optimise total cost of operations. Every rupee saved is an opportunity to plough back the profits to grow the business. Besides savings in fuel cost, the card will promote digital payments and offer enhanced insurance benefits to drivers," said Vinod K Dasari, Managing Director of Ashok Leyland said.
The company also had introduced a few digital solutions in the recent past to engage with the customers with the use of technology.
The mobile app i-Alert helps customers track their vehicle and help them get vital info on the vehicle's health. ServiceMandi connects customers with rated, trained mechanics on pre agreed rates, E-diagnostics is meant to ensure fast diagnostics of the vehicle's problems and Leykart provides genuine spare parts round-the-clock and offers doorstep delivery
sangeethag@mydigitalfc.com