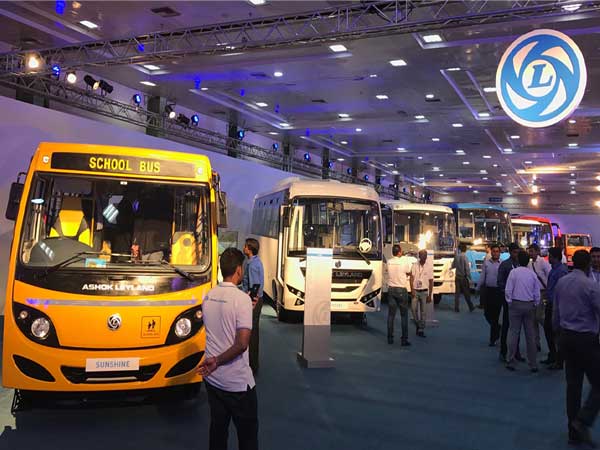 The growing Indian automobile market, is all geared to fire on all cylinders to continue the growth trajectory this fiscal. The apex trade body, the Society of Indian Automobile Manufacturers or Siam and auto analysts say the auto industry is all set to grow in the higher single digit in the passenger vehicle segment and double digit in the commercial vehicle segment. Motorcycles sales will be moderate but scooter sales are expected to rise sharply.
"We ended the year on a positive note with almost every segment posting positive growth, except passenger buses. This reinforces the fact that despite having a difficult year, the auto industry has shown its resilience," Vishnu Mathur, director general at Siam told Financial Chronicle.
He said last fiscal, the auto industry had to endure the lingering effects of demonetisation, impacts of transition from BS-III emission norms to BS-IV across India and implementation of GST in July last year.
"During the last three-four years, the top 20 cities that contribute to about 50 per cent of the passenger vehicle sales have shown slow growth. But demand is now coming from smaller towns and semi-urban areas," Mathur pointed out.
Higher growth
On the outlook, Siam has forecast that the passenger vehicle segment will clock a higher single digit growth in FY2018-19. "Sales of popular car models with substantial waiting periods will also support sales growth in 2018-19," Mathur said, adding that the GST teething problems would be over and the trading community will start contributing to volumes this year.
The top ten car models are Maruti Alto, Maruti Dzire, Maruti Baleno, Maruti Swift, Maruti WagonR, Hyundai Grand i10, Maruti Vitara Brezza, Hyundai Elite i20, Hyundai Creta and Maruti Celerio. He said
the top 20 cities that contribute to about 50 per cent of the sales have shown slow growth in the last 3-4 years. "However, the rural growth story will continue to support the industry in FY19," Mathur said.
The big news, however, is the smart return of good times to the commercial vehicle industry, the barometer of economic activity in the country.
"In FY2019, light commercial vehicle demand is expected to grow in double digit as the growth momentum
will be continued in 2018-19 on the back of higher private consumption (PFCE to rise 7.6 per cent in 2018-19 after a 6.1 per cent growth in 2017- 18)," Mathur said.
"The medium and heavy commercial vehicles sales growth is also expected at high single digit due to increase in infrastructure spend in the pre-election year," Mathur pointed out.
Strict implementation of overloading ban will also lead to incremental demand across the country, apart from improved mining output, container traffic and cement movement would also support demand.
In the buses segment, tourist and private stage carriage segment would be the key drivers to push sales this year. "Demand for buses is coming from tourist segment which is aided by government's impetus on tourism and higher tourist movement in the country," he pointed out.
The intercity bus segment would also bounce back along with demand from state transport undertakings, after it saw weakness in the intercity segment last year.
As far as the two wheelers are concerned, motorcycles are expected to grow moderately this fiscal. "Premium motorcycle segment is expected to outperform other sub segments due to new model launches, also some product-level alterations in the economy segment by leading players have led to a boost in sales of economy segment," Mathur said. ABS/CBS mandatory installation from April 2019 is expected to hike prices by Rs 500- Rs 1,000
for economy, executive motorcycles and around Rs 9,000 for premium motorcycles. "We expect negligible impact on sales because of this on economy/executive segment. However, the premium segment would get impacted," Mathur said.
The scooters segment, however, would see sharp rise in sales in FY2019. Scooters are expected to grow at a sharp pace led by the increased disposable incomes amidst positive economic factors coupled with increasing penetration in rural market and an increase in women participation. Multiple ownership – more than one two wheeler in a household – on account of convenience is also showing increased traction in the country.
"Auto sector sales have shown a very good start off in FY2018-19 and from the performance in April 2018, as reported by two-wheeler, passenger vehicle and commercial vehicles manufacturers. In fact, they are on a continuing acceleration mode," Sridhar V, partner at Grant Thornton India LLP told Financial Chronicle.
While overall sales of commercial vehicles has been close to 20 per cent growth in FY18, top players April 2018 sales have been at a very high double digit growth and some of them three digit growth in both medium and heavy commercial vehicles and light commercial vehicle segment, he said.
"While this may not be sustainable, a growth close to previous year may not be out of place," Sridhar pointed out.
Comeback trend
He also said last month most car makers reported double digit growth and there are indications that sedans are showing a comeback trend.
"This again indicates that the growth trend can continue and passenger vehicles are to end up with a low double digit growth assuming most factors remain same," Sridhar said.
He said two wheelers which had grown 14.8 per cent in FY2018 had made a brilliant start in April 2018 showing similar growth pattern by all the two wheeler manufacturers. "This segment is expected to show similar results in the current fiscal also," Sridhar said.
"The auto industry will do well without any surprises on the regulatory or tax front and consistency in approach to maintain the equilibrium of growth in FY19," Sridhar said.
Subrata Ray, senior group vice president at ICRA said passenger vehicles sales would grow by 8-9 per cent in FY2019 and rural segment will outperform.
"Overall macroeconomic indicators remain favourable with GDP growth rate expected to accelerate in FY2019 and rural income also projected to recover in the backdrop of normal monsoon in most region of India.
Rural segment which roughly accounts for 30 per cent of domestic volume will be the key growth driver for the overall industry in the near to medium term," said Ray.