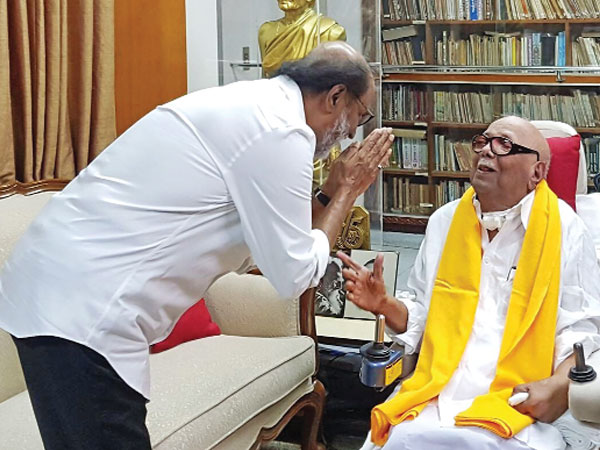 A couple of days after announcing his foray into politics, actor Rajinikanth on Wednesday called on DMK patriarch M Karunanidhi, dealing another blow to BJP which has been hoping to make inroads into Tamil Nadu politics pillion riding the matinee idol.
Speculations of Rajini allying with BJP were rife ever since he announced plans to launch a political party. Rajini's carefully chosen words 'spiritual politics' had caught the attention of political observers who indicated that the actor was probably inclined towards BJP and not rationalist Dravidian parties.
BJP too was overwhelmed by Rajini's entry into politics and hoped to strike a potential alliance in the state.
However, on Tuesday Rajini cleared the airs around his 'spiritual politics' and asserted his secular credentials. He also told the media that there was a need for a political revolution. Rajini's meeting with Karunanidhi probably dashed BJP hopes.
While everyone in Tamil Nadu politics is eagerly studying Rajini's action and speculating his further course, more from Tamil film industry have come out in support of the Thalaivar.
Producer Raju Mahalingam of Lyca Productions and actor Raghava Lawr­ence have joined Rajini in his political innings. Mahalingam has been closely associated with Rajinikanth for the last three years. He has resigned from his position as creative head of Lyca to join Rajini. Earlier, he had posted a picture of Rajini with the caption, 'A new political will -- a new year awaits for the people of Tamil Nadu,' on Twitter.
Raghava Lawrence tweeted that he is ready to become Rajini's 'guard.' He will make an official announcement about his joining the party on January 7 at Madurai.
Having announced his entry into politics on New Year eve, Rajinikanth has opened a website rajinimandram.org and an app on Google Playstore to enrol members to his yet-to-be named party.
"We have to bring under one umbrella all my registered fan club members, unregistered fan club members, and those who are looking to bring a change in Tamil Nadu's politics," Rajini had said while launching the website and app. People have to register with their name and Voter ID
number on the website or app to become a member.
Some time ago prime minister Narendra Modi had called on Karunanidhi before 2G verdict, which acquitted Kanimozhi and A Raja, setting tongues wagging on possible
political realignments. For now, Tamil politics is like a well-crafted film script, keeping the suspense till the very end.