Margin expansion to continue for FMCGs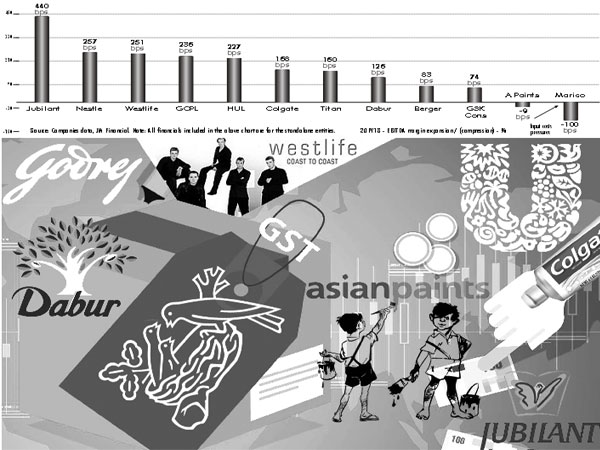 The GST Council has made a notable change in the manner of taxation of restaurants with a rather drastic reduction in output tax-rate from 18 per cent to 5 per cent, excluding restaurants in starred hotels, but with no input tax credit entitlement now; there is a possibility of QSRs (quick service restaurants) reducing end consumer prices by 7-8 per cent without impacting their profits or cash inflows. This could prove a big demand boost for players like Jubilant Foodworks and Westlife.
The council also made some other big changes to tax rates, moving most of the items out of the highest tax bracket of 28 per cent to the 18 per cent slab – key ones amongst these include detergents (HUL), shampoo and skin-care (HUL, Dabur), malted food drinks (GSK), chocolates and coffee (Nestle), and watches (Titan) as well. Paints was surprisingly one of the notable exceptions that has been left out of the tax-cut exercise. The unanswered question is the mode of offsetting the tax shortfall that would arise as a result of the above reductions – the good news for now is that tobacco companies have not been called upon to bridge the gap yet. Consumer staples and QSR stocks are expected to do well on the back of these developments.
n There is a possibility of 7-8 per cent price cut in QSRs without impacting profitability: With GST rate for restaurants now reduced to 5 per cent (vs 18 per cent till now), there is a big opportunity for QSR players to cut their menu prices even though the benefit of availing input-tax credit has now been taken away. The GST Council had, at its earlier meeting, mentioned the possibility of reducing output tax-rates from 18 per cent to 12 per cent without input tax credit benefit, so to that extent, the actual outcome is a more favourable one than envisaged.
Even if players cut their end-consumer prices by 7-8 per cent, they would still land up with 3-4 per cent higher net realisation (ie. revenue net of taxes) since tax rates are now substantially lower vs what existed thus far. This 3-4 per cent increase in net realisation is sufficient to compensate for the loss of input-tax credit entitlement. Price-cuts of the magnitude of 7-8 per cent can go a long way in boosting consumption in the sector.
n Similar story would play out in most other FMCG categories: A similar benefit would accrue for consumer goods like detergents, shampoo, skin-care products, malted food drinks, etc, which have been removed from the highest tax bracket of 28 per cent to 18 per cent now. This represents a clear 10 ppt drop in the output tax rate which calls for quite a large price cut to be effected to pass on the commensurate benefits to end-consumers.
Margin expansion for the sector, which has been quite strong in the recent 2QFY18 earnings-reports – that is the first set of results post GST implementation – is likely to continue in the coming quarters as well, considering the intensity of tax-cuts that have now gone through. A notable exception in our consumer coverage group is paints which continues to remain in the 28 per cent tax slab. The status quo there may eventually prompt companies like Asian Paints to hike product prices to offset the input costs pressure that the industry has been absorbing thus far, likely in the hope of a tax relief which doesn't seem to be a possibility now.
Source: JM Financial Institutional Securities