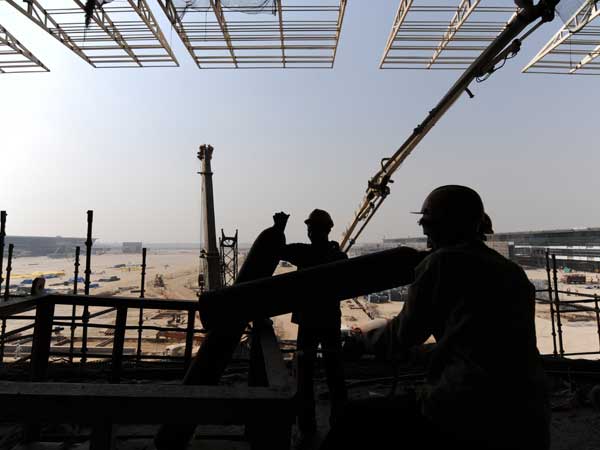 The Indian economy grew 6.7 per cent year-on-year (YoY) in FY 2018, slightly higher than the government's revised estimate of 6.6 per cent in January 2018. Q4 FY 2018 GDP growth of 7.7 per cent YoY was the strongest in nearly two years driven by solid growth in manufacturing (+9.1 per cent) and construction (+11.5 per cent). The recent PMI data came in at 50.4 – while it has moderated, it still suggests expansion. Monsoon is another factor which should be keenly watched.
GST collections for May were at Rs 0.94 lakh crore, versus Rs 1.03 lakh crore in April, aggregating at Rs 1.97 lakh crore for the first two months of FY 2019. While it is too early to gauge, based on the current run-rate our economics team estimates GST collections could reach ~Rs 12.4 lakh crore in FY 2019.
While the strong GDP growth print is encouraging, it is necessary to be cautious on FY 2019, especially as growth has been on a very low base. In addition, headwinds from higher oil prices, weakness in farm prices and a reversal in the trend of lending rates could somewhat weigh on growth and prevent the GDP print from being as strong going forward. Already, the government appears to be struggling to meet its deficit target and has contained it at 3.53 per cent FY18 by curtailing spending. Credit Suisse continues to maintain its conservative below-consensus GDP growth forecast for FY 2019 at 7 per cent YoY.
Global industrial production (IP) growth has moderated in the recent month, but this does not signal the end of the cycle. Demand-side fundamentals remain strong, and the base case is that momentum is going to reaccelerate in the months ahead. This should provide some support to Indian exports, however, any evidence of this is yet to be seen.
Automobile/Auto Ancillary
YTD underperformance is expected to reverse. Rising demand is encouraging given improving income levels and growth in infrastructure. Improving financial penetration, new lunches and growth in the agriculture sector due to the government's policy push could propel growth. The industry is expected to grow at 8-10 per cent in FY19.
Consumer
The earnings season largely portrays that consumption is reviving nicely in rural areas. Benefits of government spending coupled with faster implementation of the 7th Pay commission pay hike can lead to higher growth for consumption oriented companies. Regarding the market share shifts from 'unorganised' to 'organised' sectors, there isn't any clear trend visible yet.
Financial Services
While the ongoing NPA clean up is progressing well, public sector banks (PSBs) will take some time before they start showing material improvement in their growth profile as the provisioning needs are high and they lack growth capital. Structurally, growth opportunity is huge for retail focused private financials.
Energy/Utilities
Structurally, oil demand growth in India should be in high single digits given economic expansion and high demand for transport fuel. Also, the government is planning to improve private participation and improve domestic production to substitute imports. This year, the government has provisioned total oil subsidies to the tune of only Rs 25,000 crore in its budget and given the recent spike in oil prices, the kerosene and LPG subsidy burden is expected to rise. The government is mulling over passing on some of this burden to public sector firms
Capital Goods/ Industrials/Infrastructure
Awarding activities have picked up pace after a lull over the past few quarters. GST disruption is past and land acquisition has been done for several projects. While government capex spending on infrastructure is expected to remain healthy, initial signs of pick-up in private capex spending are visible.
Information Technology
YTD the BSE IT index is up ~19 per cent, significantly outperforming other sectors. Apart from the weakening rupee, the rally was largely led by the view that the worst is over for the sector. Nevertheless, the March quarter portrayed mixed picture.
On the other hand the mid-cap IT companies got re-rated given their exposure to growth industries. Nevertheless, the mid-cap IT companies performance historically has been very volatile due to high concentration risk.
Healthcare
The sector has been under performing as industry fundamentals have been deteriorating significantly due to pricing pressures in the USA, a slew of FDA alerts, and heightened competition. Structurally, margins should remain under pressure due to higher R&D spends. Approval rates are expected to improve at a faster pace from here onward; however, the benefits could be limited as the competition could intensify given the FDA's focus on accelerating approvals for generics to increase supply and reduce prices.
Materials
Rising trade tensions and some softness in Chinese macro has led to the underperformance of global commodity related stocks. The ongoing political developments in Italy and trade tensions between USA and China could keep valuation in check.
Telecom
The operating environment will continue to remain challenging as the players try to protect their market. Moreover, the new rules announced by TRAI are incrementally negative for incumbent telcos. According to the new rules, significant market player (SMP) is set at 30 per cent of revenues and subscribe share, while predatory (aggressive/disruptive) pricing is defined as pricing below cost by any SMP.
Due to rising tariff war to protect the market share, ARPU is expected to continue to remain lower and recovery remains far-away as the players continue to increase market share.
—Source: Credit Suisse