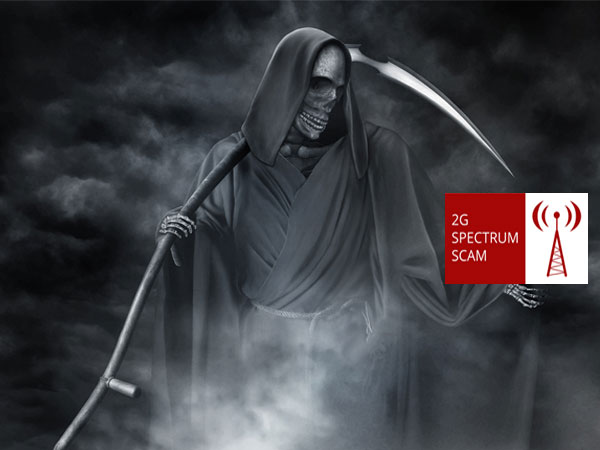 Sadiq Batcha may well have been the centrifugal force behind the 2G spectrum scam. The conduit and keeper of secrets. The router of money. And all this died with him conveniently and mysteriously when he reportedly committed suicide. Telecom minister A Raja and his assistant RK Chandolia may have constructed the epic sleight of hand for a precious natural resource like scarce spectrum or airwaves which was sold in 2008 to a bunch of Raja's environment ministry cronies at 2003 prices without going ahead with a market discovered price mechanism which could only come about through a public auction. I don't want to get into the whys and wherefores of the scam, for that has been dealt with endlessly on how the rules were malleably bent and how practically every top functionary in the UPA government decided to look the other way. Ductility is an art form and when the Congress in a coalition with the DMK chose to tie a tourniquet of silence, then crony capitalism gained new infamy and notoriety.
Many people, including Congress politicos, reckon that the scam and its notional loss was exaggerated by CAG. In reality, people were arrested and jailed without trial and the Supreme Court cancelled all 122 licences — Declaring the allocation of 2G spectrum by the Congress-led United Progressive Alliance (UPA) government "illegal" and an example of the arbitrary exercise of power, the Supreme Court cancelled all 122 telecom licences allotted on or after January 10, 2008 to 11 companies during the tenure of the former telecom minister, A Raja. In early February 2012, the magnitude of the order was earth shattering for it confirmed malafide intent — holding that spectrum was a natural resource, the court said natural resources "are vested with the government as a matter of trust in the name of the people of India, and it is the solemn duty of the state to protect the national interest, and natural resources must always be used in the interests of the country and not private interests." Further, it challenged the very idea of first come first served (which was what Raja engineered leading to a stampede at Sanchar Bhawan by changing the time) — the bench held that there was a fundamental flaw in the first-come, first-served principle, inasmuch as it "involves an element of pure chance or accident." It said: "In matters involving award of contracts or grant of licence or permission to use public property, the invocation of the first-come, first-served principle has inherently dangerous implications."
But back to Batcha, a close aide of Raja who was found hanging at his Chennai house in March 2011. The CBI later filed a closure report in the case, terming it as suicide. Then sensationally in May 2016, Batcha's ghost returned to haunt everyone, a la Banquo in Macbeth. Five years after Sadiq Batcha, managing director of a key real estate firm, was found dead, a 24-year-old youth claimed that he killed him with the help of two others — the then state police intelligence chief Jaffer Sait and Raja's relative Paramesh Kumar. Addressing a press conference in Trichy, K Prabhakaran from Ayyur village in Ariyalur district, claimed he, Sait and Kumar had killed Batcha at his house on March 16, 2011. He claimed Batcha was killed after he gave CBI "vital information" against Raja in the 2G case. "Jaffer Sait helped to strangulate Batcha with a towel, Paramesh Kumar pressed his knee on Sadiq's neck while I was holding his legs. Later, it was Paramesh Kumar and his aides who hanged the body in Batcha's house to make it look like a suicide," he claimed. But then this news got lost in the usual media whirligig clutter. There was no traction for it in Chennai and certainly not the rest of India for India had moved on from 2G.
Batcha reportedly died of asphyxia, a doctor who conducted the post-mortem had said — "We cannot say now whether it was suicide or murder. The report will be ready in two weeks," Dr V Dekal added, "The death was caused due to asphyxia but the cause of that cannot be confirmed until the forensic report is received," This remains the single biggest imponderable in the 2G spectrum case for only Batcha reportedly knew where the cash stash was and how its routing was done. The only money trail in 2G is the Kusegaon Fruits & Vegetables payoff of Rs 200 crore to Kalaignar TV, but this is shown as returned. Incidentally, Batcha's wife claimed that he committed suicide because he was "unable to cope with the pressure" of the probe. Batcha, whose official and residential premises were raided by the Central Bureau of Investigation and questioned at least four times in the run up to his suicide had reportedly cracked and was ready to sing, had left a purported suicide note in which he had stated that he was "embarrassed" by the raids and the extensive media coverage of them.
Over the years that this case is being tried before Judge OP Saini in the Patiala House Court Complex on the India Gate concourse, many things have emerged and yet the verdict is still to come. Now, we stand on the cusp of the verdict as Saini has summoned all the accused to be present before him today. In April 2011 for instance, the CBI revealed that the alleged cash transaction between DB Realty and Chennai-based Green House Promoters which is under probe in the 2G scam "might have a link" to the death of Sadiq Batcha, a close aide of arrested former telecom minister A Raja. "The cash transaction (between DB Realty and Greenhouse Promoters), instance of Batcha's driver reportedly going missing and his (Batcha) suicide, might have a link," the CBI said in the court of Special CBI Judge OP Saini while seeking extension of custody of Kusegaon Fruits and Vegetables director Rajiv Agarwal by three days. Batcha was managing director of Green House Promoters which the CBI and the Enforcement Directorate suspected to be a front for Raja. Agarwal was arrested for his alleged role in 2G spectrum allocation scam in transferring Rs 200 plus crore to Kalaignar TV through the bank accounts of Cineyug Films. The CBI had said that Agarwal was also linked with Green House Promoters in which Raja's wife was one of the directors and he was required to be quizzed further regarding the cash transaction between DB Realty and Green House Promoters.
The quid pro quo was well established. Tamil Nadu's first family was caught in a maelstrom when CBI charged Kanimozhi, DMK supremo M Karunanidhi's 43-year-old daughter, of conspiring with former communications minister Raja (of DMK) to receive a bribe of Rs 200 crore from Mumbai-based DB Group in return for granting 2G spectrum and licence to DB's Swan Telecom. This money was routed to DMK's Kalaignar TV, the CBI stated in its second chargesheet. Kanimozhi along with Kalaignar TV CEO and co-promoter Sharad Kumar, Cineyug Films' Karim Morani and DB Group's Asif Balwa and Rajiv B Agarwal were named in the charge sheet for conspiracy and under the Prevention of Corruption Act. While Asif Balwa and Agarwal were arrested on March 29, Kanimozhi, Kumar and Morani were asked to appear before the special 2G scam court on May 6 the same year where they too were arrested. Subsequently all the accused got bail, but the case has festered without closure.
Batcha had the answer to most questions and his ghost now haunts the investigation, the alleged cover up of his death and the protracted court case. The Nation's apex court has given its judgment nearly six years ago, now Saini has to give his. It is quixotic that his judgment follows what the SC has already done and dusted. The CBI special trial court now has to decide on who of the accused was guilty in this conspiracy to hotfoot spectrum and what the quantum of punishment should be in each case. Batcha remains the man with all the answers. But they went with him to his grave.

sandeep.bamzai@mydigitalfc.com