,

Wednesday, 24 October 2018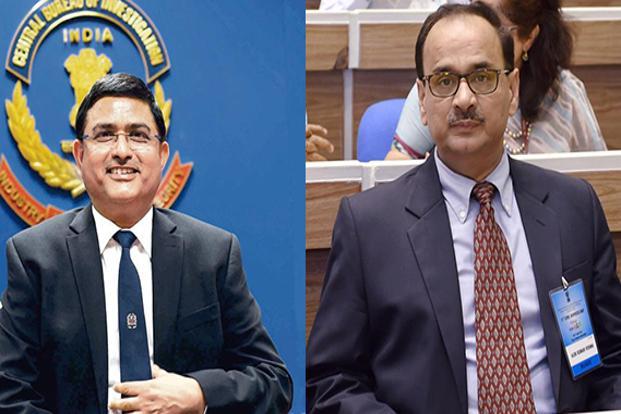 Main players in CBI vs CBI

Alok Verma, Director, CBI

*AGMU cadre 1979 batch IPS officer
*Has been CBI director since February 1, 2017
*Had been Delhi Police Commissioner before become CBI chief and before that held the influential post of DG Prisons, Delhi
*Studied at St.Stephen's College, Delhi

Gujarat cadre 1984 batch IPS officer
*Had probed the fodder scam, Godhra train fire, 2008 Ahmedabad blasts and the Asaram Bapu case. Said to have made his name as police commissioner of Surat.
*A petition was filed alleging his role in Sterling Biotech in which he was alleged to have received Rs 3.8 crore
*Studied at Jawaharlal Nehru University

Source of differences between Alok Verma and Rakesh Asthana
*Alok Verma had objected to the appointment of Rakesh Asthana as Special Director, CBI. That happened a year ago, in October 2017. The Central Vigilance Commissioner had been present at the meeting. That has been the genesis of the differences between the two.
*Alok Verma's objections did not stand, and he was promoted with the Supreme Court giving him a clean chit. Verma's objections pertained to a bribery case relating to Sterling Biotech in which Asthana's name had cropped up. The FIR in the case had been filed in August 2017. Verma was also miffed by the fact that while he was Special Director, CBI, Asthana was virtually running the show at the premier investigating agency.
*On October 15, the CBI filed a case against Asthana for allegedly taking bribes from Sana. However, this development was preceded by a series of earlier clashes that reached a flashpoint on Oct 15.
*Matters reached a head on July 12 when at a meeting called by the Central Vigilance Commissioner to discuss appointments in the CBI, Asthana had been invited as the second in command in the organisation. Verma was out of the country at the time. he immediately wrote to the CVC saying he had not authorised Asthana to attend the meeting on his behalf.
*It was now Asthana's turn. A month later, on August 24, Asthana wrote to the CVC and the cabinet secretary on alleged corruption involving Alok Verma. He said that Sana had paid the CBI director Rs 2 crore to clear his name in the Moin Qureshi case. Recently, he wrote to the two officials once again and told them how Verma was protecting Sana and preventing him (Asthana) from questioning or arresting Sana.
*On October 4, Sana recorded a statement before a magistrate in which he claimed to have over Rs 3 crore to Asthana. In the meantime, Verma ordered several important cases to be taken from Asthana. These were given to AK Sharma.

AK Sharma, Additional Director, CBI
Gujarat cadre 1987 batch IPS officer
Joined CBI in 2015 as joint director. Was promoted as additional director this year and cases being handled by Rakesh Asthana were handed over to him

Devender Kumar, Deputy Superintendent of Police, CBI
Was arrested by CBI on Monday over alleged bribery charges involving special director Rakesh Asthana. He was produced in court by CBI on Tuesday and sent to 7 days CBI custody. In order to get relief, CBI said he reportedly forged the statement of Sathish Babu Sana, the man who allegedly paid the bribes

Sathish Babu Sana

A Hyderabad based businessman, who became rich and powerful after quitting his job as an employee of the Andhra Pradesh state electricity board. He floated several companies after that and came close to politicians across parties. He had been probed by Rakesh Asthana's officials after his name cropped up in an Enforcement Directorate case involving meat exporter Moin Qureshi

Moin Akhtar Qureshi
He became India's biggest meat exporter after opening a slaughterhouse in Rampur, Uttar Pradesh, in 1993. He is being investigated for alleged tax evasion, money laundering and graft. Said to have been close to former CBI directors AP Singh and Ranjit Sinha. Was educated at Doon School and St. Stephen's College, Delhi. Famous for having a flashy lifestyle, his farmhouse in Delhi's Chhattarpur area was designed by French architect Jean-Louis Deniot. For his daughter Pernia's wedding in 2011, he had flown in Pakistani singer Rahat Fateh Ali Khan

Manoj and Somesh Prasad
They are brothers, originally from Uttar Pradesh. Manoj Prasad, arrested by the CBI on October 16, is an investment banker said to be based out of Dubai. Runs several businesses with his brother Somesh, who is also in Dubai. The FIR says Sathish Babu Sana had been asked to pay Rs 5 crore to Manoj Prasad to have the case against him to be dropped. The FIR quotes Sana as saying he had paid Manoj Prasad the equivalent of Rs 1 crore at his office in Dubai. It also says that Manoj Prasad's father-in-law allegedly collected Rs 1.95 crore from Sana in the parking lot of the Press Club in New Delhi

Day after FIR, Court orders status quo in probe

The Delhi High Court has put a temporary stop to further action in the recent feud between top two officers of the agency asking the CBI to maintain status quo in the probe against Rakesh Asthana, CBI special director against whom a case was filed on October 15. The senior officer and his colleague Devender Kumar, who was arrested by the CBI, had moved the court against the filing of an FIR against them.
Justice Najmi Waziri asked the CBI not to disturb equilibrium. He told CBI boss Alok Verma to maintain status quo after taking an undertaking from Asthana that all the electronic evidence in the case will be preserved till the next hearing on Monday.
Asthana claimed that the FIR against him was illegal. The CBI sought time from the court to respond, it was asked to maintain status quo restraining the agency from taking coercive action and endured that the evidence is preserved. Notices were also issued to CBI director and the department of personnel and training.
Kumar, who is the first to be arrested in the case, was sent to a week long police custody. The CBI said that the charges against the accused were serious and it had evidence to prove it.
However, the Delhi High Court took strong exception to CBI's remark that Special Director Rakesh Asthana's presence in the organisation was akin to pest in the wood. While advancing arguments on Asthana's plea seeking to quash the FIR against him on bribery allegations, CBI's counsel K Raghavacharyulu, in an apparent reference to Asthana, said that "if there is pest in wood, wood will become useless".
He repeated that "wood will be useless, if pest catches it". Justice Najmi Waziri then interjected and warned the counsel from making such comments. "Don't make such statements in the court. Don't use these things here. Such statements have no place in the court,"he said.
CBI sources have indicated that Asthana would be removed and the probe in the case would continue. They claimed that the high court had asked them to maintain status quo in the case of only two officers.
The FIR against Asthana and Devinder Kumar has been filed on the basis of a complaint by businessman Sathish Babu Sana said to be linked with meat exporter Moin Qureshi. He named investigating officer Devinder Singh and two individuals, Someshwar Prasad and Manoj Prasad, who are believed to be middlemen based out of Dubai.
In his statement, Sana claimed that he was asked to pay Rs 5 crore to settle his case pertaining to his links with Qureshi. According to the FIR, the bribe was demanded through a conduit who claimed that the money was meant for a senior CBI officer – said to be Asthana. The FIR said that the first instalment of Rs 1.95 crore was made in December 2017 in the parking lot of Press Club of India to a conduit Sunil Mittal. Sana claimed that the CBI continued to send him notices despite the payment and was eventually stopped from going to Paris as a look out notice was issued against him.
The FIR said that when Sana raised the issue with his conduits, he was asked to pay the remaining amount of money. The businessman claimed he paid another Rs 25 lakh to a conduit in a Karol Bagh shop, Diamond Polki, earlier this month. Following this he lodged a complaint with the CBI which registered the FIR.
In his complaint to Central Vigilance Commission, Asthana levelled serious allegations of corruption against Alok Verma and joint director AK Sharma accusing him of running shell companies with tainted persons. He claimed that Sharma's staff officer Ashwani Gupta was also involved in these activities and he had details of his shell companies and businesses. Sharma held key position of director (policy) in the CBI. He is also handling investigation in bribery charges against Asthana.
Asthana claimed that AK Sharma's son, Kushagra Sharma, is a partner in a shell company with a relative of Rakesh Tiwari, a caterer arrested by CBI for seeking bribes to settle the investigation against a businessman.