Rise in crude oil price, IL&FS row and RBI decisions put a dent in the stock market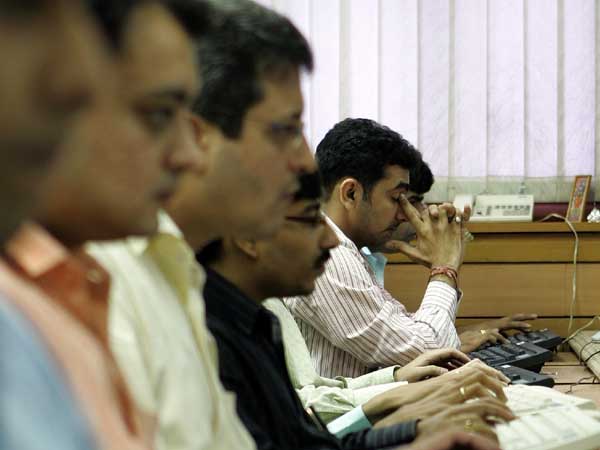 Global and domestic factors converged in the first week of October leading to mayhem in the Indian markets as crude oil prices surged to new highs in recent memory, the rupee plunged, the IL&FS crisis had a contagion impact on other sectors, RBI acted tough on Yes Bank and Bandhan Bank and the government asked oil marketing companies (OMCs) to bear Rs 1 per litre price cut on petrol and diesel. All this led to a drop in share prices of companies facing these events – and even the entire sector at times.
The benchmark Sensex is down 10.84 per cent or 4,228.76 points from an all-time high of 38,989.65 touched on August 29, 2018, the broader market is down even more primarily due to heavy selling worth Rs 25,000 crore by foreign portfolio investors in September-October so far.
Due to high valuations without earnings support worsening macros of Indian economy, even domestic institutions have not been stepping in to negate foreign fund outflows leading to the market falling sharply from the beginning of October, a process that started from early September.
Sharp fall
However, there has been some short covering on Wednesday after market benchmarks Sensex and Nifty gained 1.35 per cent to 1.54 per cent. The sharp fall in the market so far in October is explained by Rs 14,098 crore pull out by the foreign portfolio investors in first 10 days of the month. This excludes Rs 1,096 crore net selling on Wednesday by the FPIs as per provisional exchange data which makes it more than Rs 15,000 crore sell off so far in October.
In September too FPIs had sold equities worth Rs 10,825 crore as per NSDL data. Pankaj Pandey, head of Research, ICICI Securities said, "Market has been falling on global concerns, the year-long trade war, but for India crude oil price rise is the major concern as it has led to fall in rupee which has led to foreign fund outflow. What we are sensing is that crude oil prices may not remain at this level for long and there is limited upside to it. There has been a bounce back on Wednesday as the market is drawing comfort from government stepping in to arrest NBFC crisis and good earnings from Zee Entertainment and Bandhan Bank."
Meanwhile, the rise in interest rate in US and Europe could also raise rates and easy monetary policy has led to flight of capital from emerging market which is currently impacting Indian equities.
"In global markets, cost of money has risen and liquidity has becomes tighter. US central bank raised interest rates by 0.25 per cent for the third time in 2018. There are expectations that it will hike the rates once more in the current year. Better wage growth and lesser employment are leading to tighter monetary policy in US economy which is growing strongly. Europe is also looking to reduce its asset purchases and rise in interest rates could be around the corner. Other developed countries such as UK have also been raising interest rates," said Atul Kumar, head of equity funds, Quantum Asset Management Company.
"As interest rates rise there is risk of foreigners withdrawing from emerging markets. Most asset classes were inflated due to surge of liquidity at zero interest rates in developed markets post Lehman crisis. There could be decline in equity and other asset classes as foreigners prefer their home markets," he added.
Japan remains the only major economy which is unlikely to end loose monetary policy in the near future. "Tariff war between US and China continues and higher duties have been implemented for goods worth $200 billion. This has a disproportionate effect on Chinese economy and led to significant fall in its stock markets. There are expectations that the two countries could compromise after China make concessions. Brexit negotiations are also hanging in balance. Unfavourable outcome of the same could impact global financial markets," said Quantum AMC.
Domestic factors have also contributed to the fall in Indian equity market as IL&FS crisis had a contagion effect on other sectors as well.
"Default made by IL&FS on interest payments to some of its creditors led to downgrade of its rating by several notches overnight. Many mutual funds were caught holding its paper in their debt schemes – liquid as well as long-term schemes. They were forced to take a write down. Subsequent to this, there was news of a mutual fund selling paper of another NBFC at very high yield or low price. This set rumours in debt/equity markets that there could be defaults/liquidity crunch. Many NBFC stocks saw their stock price crashing," said a monthly report by Quantum AMC.
Contagion
"The contagion spread to stocks of other sectors as well. Many stocks which were quoting at rich valuations witnessed larger decline. MD of a decent size private sector bank saw non-renewal of his term by the regulator. Another bank which listed on stock market few months ago was constrained by RBI from opening new branches as it didn't meet its shareholding criteria. This was preceded by regulations from Sebi for mutual funds. Sebi announced a number of measures in investors' interest including banning of upfront commission by AMCs," the report said.
Regulatory risks came to the fore in the month and spooked investor wealth in those stocks," said Quantum AMC. Crude Oil price surge as high as $86.74 per barrel on October 3 spooked both rupee and Indian equity market as it would hurt economy badly.
"On the macroeconomic front, crude oil price surpassed $80 per barrel as supply was constrained. Sanctions on Iran led to surge in oil price. This doesn't augur well for India given the dependence on oil imports. RBI's monetary policy in early part of October has maintained status quo in interest rates. India's macro situation has worsened even as micro (companies' level) continues to improve," said Quantum AMC.
Expectation of worsening current account deficit is credit negative for the country which also seems to have led to FPI selling in equity market along with the weakening of the rupee.
Deepak Jasani, head - retail research, HDFC securities said, "India's current account deficit is likely to be impacted this fiscal if global crude oil price continue to rise and more foreign exchange spent on procuring them. The government has taken several measures to stem the demand for dollar like raising import duties on non-essential items, liberalised foreign borrowing for oil companies to raise up to $10 billion etc. The government reduced its market borrowing by Rs 70,000 crore in the second half of the current fiscal. However, the recent cut in excise duty on petroleum products would impact its revenue for the year. Continuous spiral in prices may negate the impact of excise duty reduction prompting the government to take further measure in an election year."
Ratings agency Moody's said the recent reduction in excise duty on fuel by the government will affect fiscal deficit and is credit negative for the country.