,

Thursday, 14 September 2017
Investors have pumped in close to Rs 62,000 crore into MF schemes in August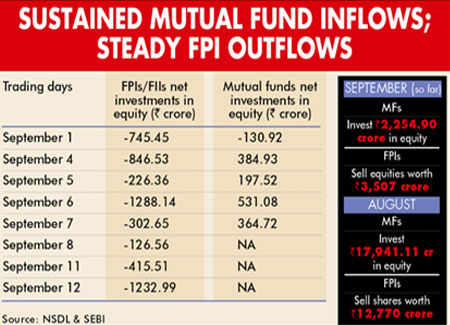 Investors are excited that benchmark equity indices Nifty 50 and BSE Sensex have regained 10,000 and 32,000 levels, respectively. What makes the rally doubly thrilling is the fact that the market is sustaining the high levels even as foreign investors are selling. Domestic institutional investors comprising mutual funds (MFs), insurance companies, pension funds and bank treasury have propped the market.
For example, MFs have made net investment of Rs 2,254.90 crore in equity till September 8. On other hand, foreign investment stood at a negative Rs 339 crore. Foreign portfolio investors (FPI) sold equities worth Rs 3,507 crore while they put in Rs 3,169 crore in debt in the month so far.
Analysts said Nifty 50 could top its lifetime high of 10,138, seen last on August 2, 2017, as there are sustained cash flows into equity mutual funds.
Investors have pumped in close to Rs 62,000 crore into MF schemes in August, driven by equity and money market funds. With this, total net inflow into MF by schemes has risen to Rs 2.2 lakh crore for the first five months (April-August) of the ongoing fiscal, as per the latest data available with the Association of Mutual Funds in India (Amfi).
"The Indian mutual fund industry has been witnessing phenomenal growth since 2014. The last three years and especially 2016 have been characterised by large inflows into equity and balanced funds, with increasing participation from retail and HNI investors," said Kaustubh Belapurkar of Morningstar.
The latest inflow has been mainly driven by contribution from liquid funds and money market funds. Besides, investors continued to maintain bullish stance on the equity schemes.
Inigo Mendoza, head of private banking, Credit Suisse India, said, "We are experiencing unprecedented domestic flows into financial assets in India, away from physical assets such as gold and real estate investments. As the economy continues to formalise, we expect domestic inflows to continue in the financial markets."
In August when equity benchmarks traded in a narrow range after hitting all-time high levels, MFs invested Rs 17,941.11 crore in equity, according to the Securities and Exchange Board of India (Sebi).
But for the domestic fund buying, market would have fallen with massive foreign funds selling in August. Fo­reign investors had sold sh­ares worth Rs 12,770 crore last month. Data for insurance companies, pension funds like EPFO and National Pension System and bank's treasury are not reported but they have been also buying, said brokers.
Foreign portfolio investors were net sellers in equity in August by Rs 12,770 crore and they were net sellers also in the past eight out of 9 sessions in September, as per NSDL data. Among the foreign investors, while the exchange traded funds are selling, the hedge funds are gradually seeing buying, a broker said.
Deven Choksey, managing director, KR Choksey Shares & Securities, said, "Right now, stock specific buying by domestic institutional investors is being observed. Besides mutual funds, insurance companies are regular buyers." Bank treasury has also seen improvement in volumes but it is not distinct."
Banks are flush with funds after demonetisation and some money is likely to find its way into the equity market in the absence of robust credit demand.
Foreign portfolio investors were net sellers on Wednesday by Rs 826.77 crore, while domestic institutional investors were net buyers by Rs 725.90 crore as Nifty settled lower by 13.75 points at 10,079.30 while Sensex gained 27.75 point to close at 32,186.41. The NSE index touched a high of 10,131.95, just six points short of earlier all-time high. The market seemed to be under pressure of profit-taking after four consecutive sessions of gains as there were 19 advances to 32 declines in the Nifty 50 basket.
Sameet Chavan, chief analyst, technical and derivatives, Angel Broking, said, "The index gained so­me momentum in the mi­dst of the session to march gradually towards the recent high of 10,137.85. But some decent profit booking dragged the index lower from a kissing distance. Going ahead, we would expect some kind of consolidation in a range of 10,000 – 10,138 with slightly higher volatility."
While MFs have raised their cash levels in the individual fund categories, the robust flows are continuing and need to be deployed which has led to net buying by domestic institutions while foreign funds are selling