,

Friday, 3 August 2018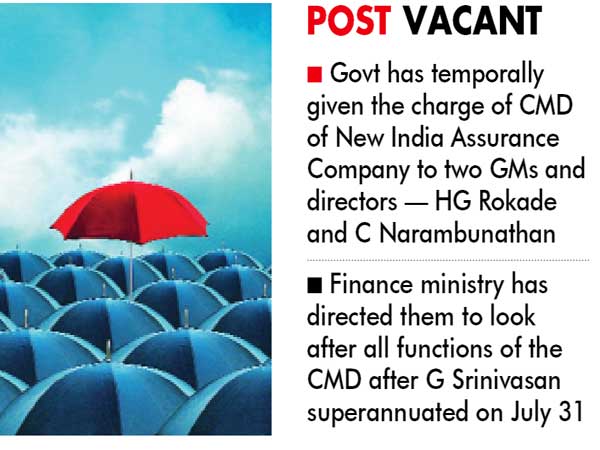 The government has temporally given charge of CMD of New India Assurance Company to two general managers and directors — HG Rokade and C Narambunathan. The two executives have been directed by the finance ministry to look after all functions of the chairman-cum-managing director (CMD) after G Srinivasan superannuated on July 31.
The government approved shifting all administrative and financial powers of the CMD to the two executives in the company for a period of three months. The officials concerned will jointly look after all responsibilities of the CMD till further orders are issued by the competitive authority, according to a finance ministry communication.
"This is purely an official arrangement and does not confer any right on the officers to continue indefinitely or claim regular appointment to the post of CMD…" the finance ministry communication said.
Sources told FC that the government has already sent three names to the Appointments Committee of the Cabinet for the post of CMD in three general insurance companies.
Prior to joining New India Assurance, Rokade was looking after the investment segment at GIC Re. Rokade is one among the nine candidates who have been interviewed by a high-level government panel for the post of CMD in three state-owned general insurance companies on May 17, 2018. "Siddarth Pradhan, currently a general manger at New India Assurance, will soon be joining National Insurance Company as a general manager and director. He along with John Pulliantham, general manger and director, National Insurance Company, will discharge the functions of the company's chief. Pradhan is one of the contenders for one of the CMD posts," a source said.