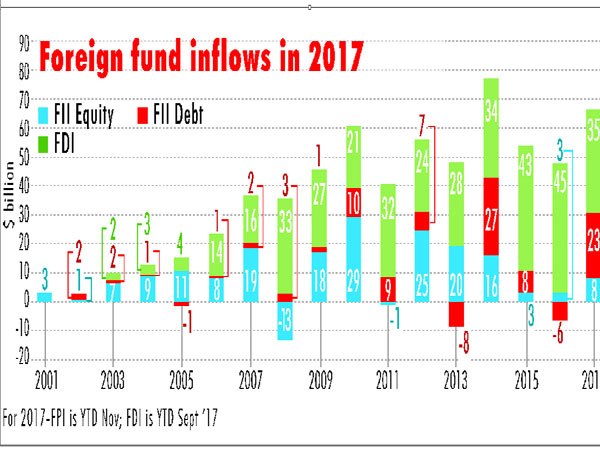 The rupee breached the 64-level vis-à-vis dollar on Tuesday before ending the day's trade at a fresh three-month high of 64.03. Analysts see the domestic currency strengthening to 62-level in 2018.
The rupee rose to 63.94 vis-à-vis dollar in the afternoon session after opening flat at 64.22 in tune with the equity market, which hit new peak taking cues from BJP's victory in Gujarat and Himachal assembly elections. The domestic currency was also aided by reports that mortgage lender HDFC is planning to raise Rs 13,000 crore.
"Political stability and the government's reform agenda will augur well for the domestic currency in the new year which may touch 62 levels in 2018. Since global rating Moody's upgrade for India, the domestic currency has continued to strengthen and is now one of the three best performing currencies following South Korean won and the Malaysian ringgit," said Anindya Banerjee, currency analyst at Kotak Securities.
The government in October set up a core group comprising chairman Airports Authority of India and senior finance executives of the Power Finance Corporation (PFC) and Steel Authority of India Ltd (SAIL), in addition to officials from the ministry of corporate affairs to look at the new model for making CPSE investment attractive.
Alternatively, the group has also been mandated to look at existing specialised PSU NBFCs such as PFC, REC and IRFC to take up the role of managing CPSE funds.
At present investment-related decision of CPSEs is taken by their board of directors. This investment is based on a set of guidelines that allow state-run companies to invest only in treasury bills and federal government securities.
Other options include term deposits of banks and lending to other state-run companies with the highest credit ratings.
A few financially stronger CPSEs are given the option to invest up to 30 per cent of their surpluses in mutual funds. But such investment is allowed only in safer but low-return bearing debt-based schemes promoted by government banks or financial firms.
"Investment guidelines for CPSEs have become outdated and its time that we are provided more flexibility in parking our surplus cash. This will also benefit the government indirectly, as higher gains for companies will translate into higher dividend for the government," said an executive of a maharatna CPSE, not willing to be named.
The move for changes in investment norms for CPSEs comes after the government also approved liberal regulations for pension funds.
In May, the Central Board of Trustees (CBT) of the Employees Provident Fund Organisation or EPFO allowed the retirement fund manager to invest 15 per cent of funds in equity investments.
The biggest beneficiary of the move to separate treasury operations of CPSEs could be Coal India Ltd that is sitting on cash and bank balance of about Rs 31,000 crore (at March end, 2017).
State-owned engineering firm BHEL, which went through a difficult period for the last few years due to drying of fresh orders, could also expect to maximise its gains from treasury operations conducted by the proposed new entity.
Gains would also accrue to companies such as ONGC, NMDC, NTPC, GAIL.