,

Wednesday, 31 October 2018
Three consecutive good monsoons, coupled with better MSPs have helped the agrarian community improve their spending power and consequently consumption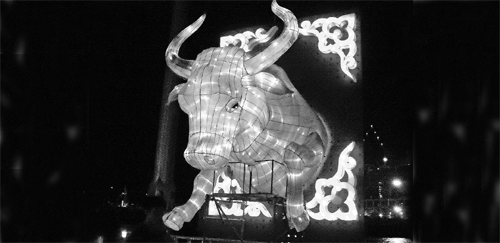 Though the equity market has corrected by more than 10 per cent from the all time highs made recently, the country's business environment is running strong and companies are expected to deliver robust growth driven by consumption-led demand, says Axis Securities in a report suggesting Muhurat picks for Samvat 2075.
Three consecutive good monsoons, coupled with better minimum support prices (MSPs) have helped the agrarian community improve their spending power and consequently consumption. "The rural consumption, growing at double the pace of the urban segment, is driving the growth," says the report.
"Spends by the Government of India on building better infrastructure, amenities etc. have been improving. Non-food credit growth is off its lows and has hit a four-year high of 13.6 per cent in the fortnight ending Aug.31,'18; total credit off-take is up by 12.4 per cent driven by personal loans (including credit cards), housing and non-food credit, but the credit to industry is growing marginally by a little less than 2 per cent."
The report says retail participation in the equity market is rising; despite the market correction, the net inflow in mutual funds has been increasing. The net inflow into equity mutual fund schemes, including ELSS, was reported at Rs 11,172 crore in September (about Rs 90,000 crore in 2018 year-to-date). The money flow into systematic investment plans (SIPs) is also stable and seems to be sticky in nature.
Going forward, the busy political calendar--starting with five state elections in November-December and the general elections in April-May 2019—will keep the market range-bound, until clarity emerges on the political front about the new government at the Centre. "This is going to be a never before opportunity for investors irrespective of which party forms the government in May 2019. We would suggest the investors to use the opportunity given by the correction in the market to load up on the marquee growth-oriented stocks backed by proven management, some of which are included in the list of our Diwali picks," says the report.
Diwali recos by Choice Broking
Ajanta Pharma: At CMP of Rs 981.4, Ajanta's share are available at a P/E multiple of 20.6x and 16.7x to its FY19E and FY20E earnings We assign a Buy rating on the stock with a target price of Rs 1,220 per share, translating into a potential return of 24.3 per cent.
HDFC Bank: HDFCB, with adequate capital adequacy ratio, resilient assets quality and strong liability franchise, will continue its strong business growth, going forward. We maintain Buy rating on stock with the potential price of Rs 2,400 per share after valuing its standalone business at Rs 2,300 per share and adding Rs 100 of HDFCB's subsidiaries valuation.
HDFC Standard Life Insurance Company: In the last six months, the share price has declined by around 30 per cent, making it a value investment. We assign a Buy rating with a target price of Rs. 476.3, thereby providing a potential gain of 32.4 per cent.
Ircon International: We believe the current valuation to be attractive. We assign a Buy rating for the stock with a target price of Rs 605 per share, translating into an upside potential of 76.1 per cent over current market price.
Larsen & Toubro: L&T's consolidated total income is expected to increase by 12.9 per cent CAGR while PAT is anticipated to increase by 15.4 per cent CAGR. RoE is expected to improve from 12 per cent in FY18 to 12.9 per cent in FY20. We assign a Buy rating with a target price of Rs 1,613.5, thereby providing a potential gain of 34.7 per cent.