,

Thursday, 30 August 2018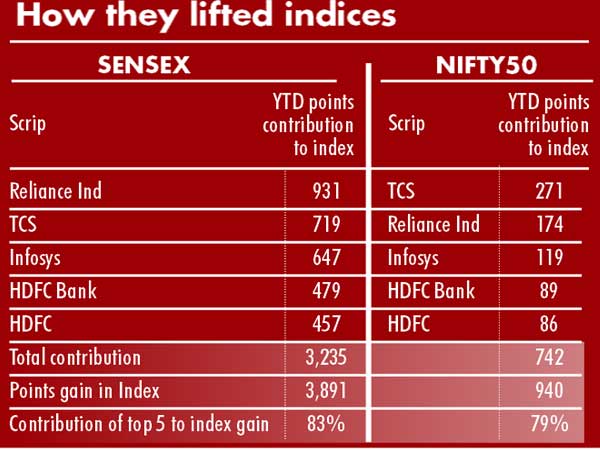 Benchmark indices Sensex and Nifty have been hi-tting new all-time highs, but the rise has been lopsided as just five stocks contributed to over 80 per cent of the gain.
An analysis shows that Reliance, TCS, Infosys, HDFC Bank and HDFC contributed to gains of 3,235-3,891-gain Sensex made during this year. The total market cap value of India's equity market remains about $225 billion smaller than it was at its January peak.
The 30-share Sensex rose to a new all-time high in early trade on Wednesday for the third consecutive session this week. The index touched 38,989.65 points, rising 93 points compared to its previous close of 38,896.
The domestic market is one of the best performers globally with a gain of about 15 per cent since January this year.
Pritam Deuskar, fund manager, Bonanza Portfolio, said "during this rise market cap of the top three stocks — Tata TCS, Reliance and HDFC Bank-- put together increased by about Rs 6 lakh crore in last two months. This means only 3-4 stocks are responsible for majority of market cap of Nifty. Only a handful of heavyweights are driving the stock market." Reliance gained over 20 per cent and HDFC Bank 16 per cent since December.
The Q1 earnings show by India Inc has been led by a better performance by firms in FMCG and information technology sectors, which have logged double-digit growth in net sales and net profit. Earnings of banking and finance companies too logged double-digit growth, which have improved sentiment on the street. India Inc recorded a strong 22 per cent revenue growth in the June quarter, according to a report by Icra. "Because of dollar-rupee movement profits and prospects for IT companies also remained boosted. Buying has clearly come from institutions where as retail or HNI may be holding cash or holding mid- and small-caps where there is lag compared to benchmark of index gains," Deuskar said.
Meanwhile on Wednesday, Reliance snapped its seven-day winning run to close down by 1.8 per cent even as its daily trading volume soared 1.5 times to 5.71 lakh against two-week average of 3.78 lakh. Infosys, HDFC Bank also decli-ned due to profit booking.