,

Monday, 19 March 2018
At present, govt does not involve itself with commercial decisions of lenders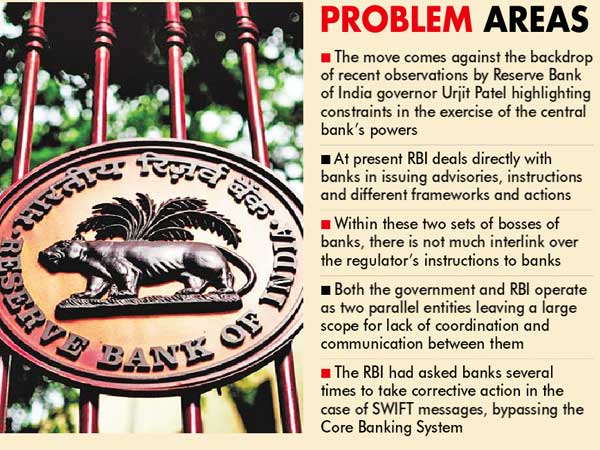 The finance ministry is likely to suggest to the regulator that it keep North Block in the loop on the issuance of supervisory directions to banks, particularly on NPAs, inter-banks audits and foreign exchange deals related to both onshore and offshore branches for better compliance — a gap that had proved to be crucial in the PNB scam.
The move comes against the backdrop of recent observations by Reserve Bank of India governor Urjit Patel highlighting constraints in the exercise of the central bank's powers.
At present, the government does not involve itself with the commercial decisions of the lenders. RBI deals directly with banks in issuing advisories, instructions and different frameworks and actions. Within these two sets of bosses of banks, there is not much interlink over the regulator's instructions to banks. Both the government and RBI operate as two parallel entities leaving a large scope for lack of coordination and communication between them.
To contextualise their points, official sources said the RBI had asked banks several times to take corrective action in the case of SWIFT messages, bypassing the Core Banking System (CBS). But the banks did not pay attention and the result was PNB's unauthorised fake trade credits deals over seven years. Had there been communication between government and RBI over this when the advisories were issued, the non-compliance would have been noticed and the RBI or the finance ministry could have asked the banks for status reports. Corrective action could have been taken accordingly.
"Inform us about the non-compliance within a month of issuing instructions to banks on their compliance. Seek status report on follow-up from them. Just sending advisories and instructions won't achieve automatic compliance as banks are always in an overdrive to get high value customers and they tend to overlook the safeguard and throw rulebooks to the wind. This is what the regulator has to ensure on the follow-up and it can be done by better cross checking mechanism, not with additional power", the sources said.
The move by North Block is aimed at keeping anticipated problems and lapses at bay or bringing them to notice for further action. It does not challenge RBI's jurisdiction. The problem is detection and follow-up action and checking compliance and to do that RBI has all the powers. Now the finance ministry also wants to step in to have better coordination to deal with problem areas, they added.
Recently Patel had said the RBI lacked teeth and could not take legal action because it lacked legislative powers to do so against public sector banks (PSBs). Ministry officials said "the governor has raised these issues outside RBI in an event. If he writes to the ministry on whatever he has advocated, we will respond but on a written communication".
"If the RBI governor feels there is lack of defined powers for RBI to be able to discipline the banks, let him write to the ministry and formally communicate to us, we will take it up after that, whether those powers are there already or otherwise," said the sources.
"The government is also likely to suggest to the RBI that it build mechanisms for greater supervisory and internal checks on banks through measures like submission of details for loans sanctioned in the previous one month – both high and low value – keeping an eye on updated developments on the NPA and NCLT fronts, forex deals by banks, transactions involving high networth individuals pertaining to key parameters and monthly submission of lists to RBI by banks on loans of Rs 50 crore to Rs 100 crore so that a compilation is ready at hand for reference," the sources said.
In a proactive measure, some of these actions have already been taken up by the ministry. Last month, the finance ministry announced that it had asked all state-run banks to look for possible fraud in all loans above Rs 50 crore that had turned bad.