Law amended to provide for 20% of cheque amount as interim compensation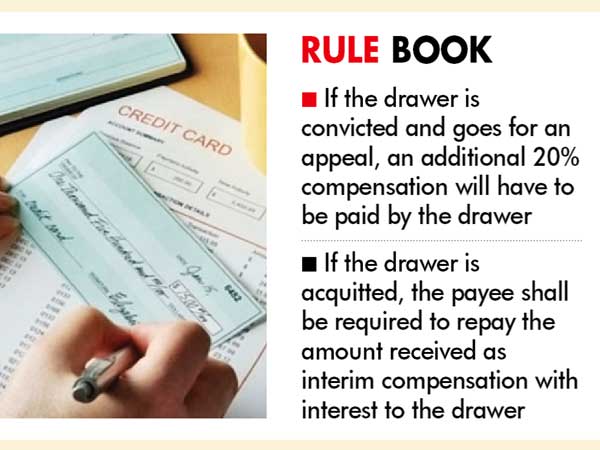 Courts trying cheque bouncing cases may now onwards direct drawers to pay interim compensation to the payee. With the latest changes in the law, courts can also try such offences expeditiously.
President Ram Nath Kovind has given his assent to the Negotiable Instruments (Amendment), Act, 2018. The amendment aims to insert section 143A and Section 148 in the Act to provide that a court trying a cheque bounce offence under Section 138 may order the drawer of the cheque, if the drawer pleads not guilty, to pay interim compensation to the complainant. The interim compensation amount shall be at least 20 per cent of the cheque amount and payable within 60 days of the trial court order.
If the drawer is convicted and goes for an appeal, an additional 20 per cent compensation will have to be paid by the drawer.
The amendment also provides that if the drawer is acquitted, the payee shall be required to repay the amount received as interim compensation with interest to the drawer.
"The new norms are certainly a step in positive direction as the issuance of the cheque should be taken as a serious obligation. This shall create deterrence and put pressure on the drawer of the cheque. This is also good in equity as the payee will at least receive some amount, while the trial is on. This would also ensure that frivolous defence raised by the drawer are reduced or eliminated, " Rajesh Narain Gupta, managing partner at SNG Partners told FC.
"This is certainly a positive step. However, it is important that the disposal of such cases is done on expeditious mode. Currently, the pendency of such cases is so high that it has become a mockery of justice. Payee is always struggling for the justice to be done. The apex court has in many cases directed for expeditious disposal. There have been, however, inordinate delays owing to lack of infrastructure and procedures,"Gupta added. A cheque is a negotiable instrument. The word cheque under the Act also includes 'cheque in electronic form.'
The Negotiable Instruments Act, 1881 is applicable for the cases of dishonour of cheque. This Act has been amended many times since 1881. Finance minister Arun Jaitley while presenting the budget had said that the government is considering further amending the Negotiable Instrument Act to effectively deal with lakhs of cheque bounce cases by reducing the time-frame for resolution of such disputes. According to Section 138 of the Act, the dishonour of cheque is a criminal offence and is punishable by imprisonment up to two years orwith monetary penalty or with both.
In 2015, Parliament passed amendments to the Negotiable Instrument Act providing for filing of cheque bounce cases at the place where a cheque is presented for clearance and not the place of issue. The amendments in the Act had implications for over 18 lakh cheque bounce cases pending in various courts.