,

Wednesday, 14 March 2018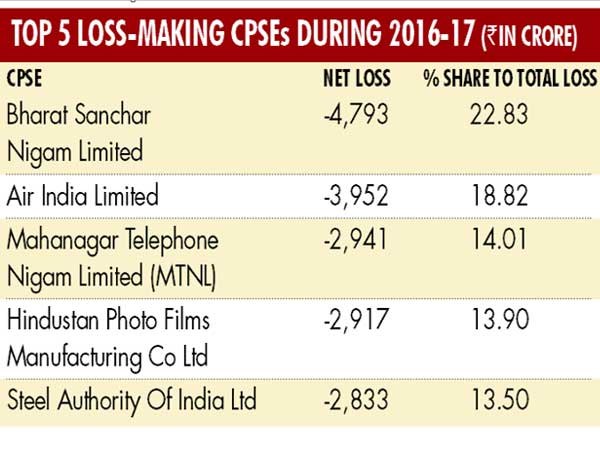 Energy giants Indian Oil, ONGC and Coal India are money-spinners among the government-run companies, while telecom behemoths BSNL and MTNL and national carrier Air India continue to drill holes in the exchequer.
The Public Enterprises Survey 2016-17, tabled in Parliament on Tuesday, showed that the top 10 loss-making state-owned firms accounted for a whopping 83.82 per cent of the total losses made by 82 loss-making central government companies during the year.
BSNL, Air India and MTNL incurred 55.66 per cent of the total losses suffered by the top 10 loss-making CPSEs in the last financial year.
The top three performers —Indian Oil Corporation, Oil and Natural Gas Corporation and Coal India – contr­ibuted 19.69 per cent, 18.45 per cent and 14.94 per cent, respectively, to the total profit earned by the top 10 profit-making CPSEs in 2016-17.
During the year, the overall performance of CPSEs has shown improvement. The overall net profit of the 257 operating CPSEs grew by 11.70 per cent to Rs 1.27 lakh crore in 2016-17.
"CPSEs also make significant contribution to the Central government throu­gh payment of dividend, interest, corporate taxes, excise duty etc. The same increased by 39.78 per cent in 2016-17 to Rs 3.85 lakh cr­ore," the survey said.
Hindustan Petroleum Corporation and Mangalore Refinery and Petrochemicals have entered the list of top 10 profit-making CPSEs, while Hindustan Fertiliser Corporation and Power Finance Corporation have moved out of this league.
The top 10 profit-making companies accounted for 63.57 per cent of the total profit made by 174 profit-making central public sector enterprises during the year.