Yield on 10-yr govt paper surged by 67 bps in Q3FY18 on concerns over higher-than-budgeted fiscal deficit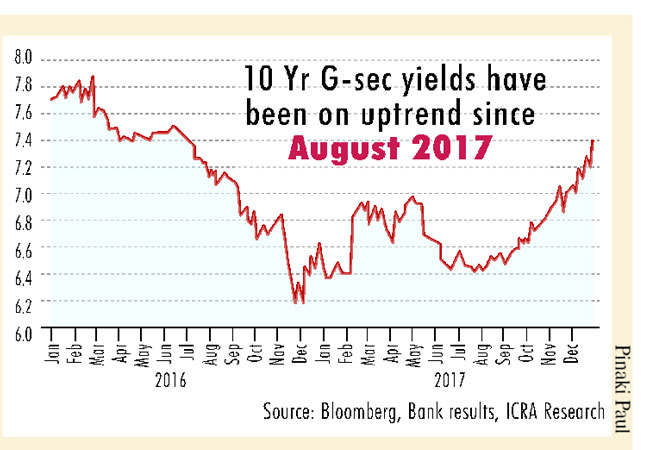 Lower treasury gains and losses due to falling bond prices and elevated provisioning on the back of ageing of bad loans and on cases referred to National Company Law Tribunal (NCLT) will continue to weigh on the profitability of public sector banks (PSBs) for the third quarter.
The yield on the 10-year government security (G-sec) surged by 67 basis points during Q3FY2018 on concerns over higher-than-budgeted fiscal deficit of the government.
This is likely to result in mark-to-market (MTM) losses for banks' investment portfolios during Q3FY2018. In addition, public sector banks could also see an increase in employee cost, as they set aside certain costs towards wage-related negotiations.
Several rounds of retail deposit rate cuts will continue to help the cost of funds. CASA growth will likely struggle going forward and an improving loan growth will see CASA ratio start normalising from the demonetisation highs.
With gradual increase in crude oil price and concerns on fiscal slippage of the government due to its revenue shortfall, G-sec yields started witnessing a hardening trend from September 2017. The hardening trend in bond yields continued into the next quarter as well on the back of gradual reduction in surplus liquidity, which led to the 10-year G-sec yields touching 7.4 per cent during last week of December 2017.
The MTM loss for the entire banking sector is estimated at Rs. 15,500 crore during the quarter according to rating agency ICRA.
With reduced cushion to absorb interest rate movements, the recent surge in bond yields is expected to result in MTM losses on the available for sale (AFS) portion of their investment portfolio. The total investment book of all the banks as on September 30, 2017 was Rs 35.52 lakh crore of which 33 per cent or Rs 11.58 lakh crore was available for sale book.
Karthik Srinivasan, group head, financial sector ratings at ICRA said, "As on September 30, 2017, public sector banks (PSBs) had a larger share of AFS book in their total investment portfolio with longer duration in relation to private sector banks (PVBs); accordingly, PSBs are likely to account for 80 per cent share of overall MTM losses as per our estimates."
"With losses before tax of Rs 5,624 crore during H1FY2018, MTM will further add to losses and erode capital ratios for PSBs. In contrast, PVBs are relatively better placed to absorb the MTM losses with profit before tax of Rs 30,994 crore during H1FY2018. With unexpected surge in yields on consequent increase in losses, the government may need to increase the capital it intends to frontload into the PSBs by recapitalisation bonds," added Srinivasan.
Gains from divestments of non-core assets by banks are also expected to be limited during the quarter to offset the losses on bond portfolios of banks.
The recent capital raise by few PSBs through the QIP route in December 2017 would help limit capital erosion, as the government's infusion of capital will take place from Q4FY2018.
"Performance across PSBs is expected to remain muted as higher provisioning and lower treasury gains will continue to weigh on profitability…With lower treasury gains (and no extraordinary gains) and higher provisions for NCLT accounts, profitability will take a hit for State Bank of India. However, NIMs are expected to stabilise given benefits of savings account rate reduction and no major reduction in MCLR. The key monitorables are (1) progress in resolutions, (2) allocation of recap funds and associated guidelines and (3) consolidation," said Darpin Shah of HDFC Securities.