,

Wednesday, 3 January 2018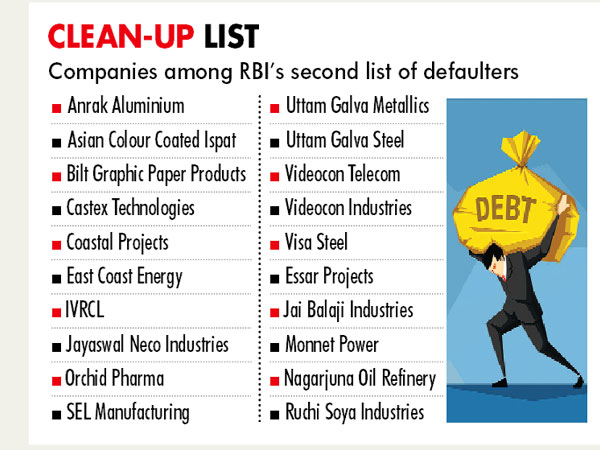 Banks are in the process of initiating insolvency proceedings against 25 defaulting companies out of the 28 non-performing accounts given by the central bank, after failing to recast their loans by the December 13 deadline. Banks have an exposure of close to Rs 2 lakh crore in the second list of companies.
State-owned lender Punjab National Bank (PNB) has an exposure to 20 cases out of the 28 accounts. A senior PNB official told Financial Chronicle, "PNB has an exposure to 20 out of the 28 accounts, which have been referred to the National Company Law Tribunal (NCLT). Our total exposure to the 20 accounts is around Rs 6,500 crore. So the additional provisioning required for cases being referred to NCLT would be around Rs 900 crore, which we have to make in two quarters (December and March quarter). So I don't expect any impact on our profitability."
Of the companies in the second list, bankers have been able to complete the resolution only in the case of Jaiprakash Associates, Soma Enterprise and Anrak Aluminium, said a source, leaving 25 companies that would be referred to the NCLT. Bankers, however, said nothing worked out in terms of determining the sustainable and non-sustainable parts of the debt in most of the accounts.
According to reports, State Bank of India (SBI) is set to initiate insolvency proceedings against at least a dozen defaulting companies. SBI will refer Videocon Industries, Visa Steel, Monnet Power, Uttam Steel, Essar Projects, Videocon Telecom, Jaiswal Neco and Jai Balaji to the NCLT, starting Tuesday.
Venugopal Dhoot, chairman and managing director at Videocon, had recently said that the total debt of Videocon Industries and Videocon Telecommunications that would be referred to NCLT stands at Rs 22,000 crore.
Of the 28, lenders have already initiated insolvency proceedings against Nagarjuna Oil Refinery, Uttam Galva Metallics, IVRCL, SEL Manufacturing, Castex Technologies, Orchid Pharma, Ruchi Soya, Ushdev International, Coastal paper and Unity Infraprojects.
The central bank had sent out a letter to lenders in August last year, asking them either resolve these 28 accounts through any of RBI's scheme before December 13, or else take the companies under the Insolvency and Bankruptcy Code (IBC) at the National Company Law Tribunal before December 31, 2017.
There are many options for stressed asset resolution like Scheme for Sustainable Structuring of Stressed Assets (S4A), Strategic Debt Restructuring (SDR) or the 5/25 scheme.
Banks, according to the central bank's directive, have to provide 50 per cent against all loans advanced to borrowers referred to the NCLT and 100 per cent in case of liquidation.
The regulator has given banks time till March 2018 to make these provisions.
It can be noted that of the 12 largest accounts that the RBI had named on the first list in June, 11 of them are under the NCLT.
According to Karthik Srinivasan, group head, financial sector ratings, at ICRA, with the recent amendments in the Insolvency and Bankruptcy
Code, debarring defaulting promoters to submit a resolution plan, the likelihood of the higher losses and a further increase in credit provisions appears to be a likely possibility.
Further, a limited resolution seen in the second list of stressed borrowers may also force banks to refer to these borrowers under IBC, further adding to the provisioning requirements.
"With the total exposure of Rs 3 lakh crore of accounts likely to be resolved under IBC, as per our estimates, the overall credit provisions are likely to be at Rs 2.4-2.6 lakh crore (including impact of ageing on existing NPAs and provisioning on IBC accounts) for FY2018 as against Rs 2 lakh crore during FY2017. This can result in losses before taxes of Rs 30,000- Rs 40,000 crore for public sector banks (PSBs) during FY2018, even as the return on equity (RoE) is expected to moderate for private banks to 9.4-10.2 per cent during FY2018 as against 12 per cent in FY2017," Srinivasan said.
Bankers said that substantial progress has been made in some cases such as Jaiprakash Associates, a company listed on the second list. It had sold the cement business to UltraTech Cement for Rs 16,189 crore as part of a restructuring package. Similarly in the case of Jayawal Neco Industries and Soma Enterprise, lenders have already decided a restructuring plan (S4A).
Among the 28 companies, bankers had sought an extension in deadline to finalise a resolution plan for Videocon Telecom, Anrak Aluminium and Jayaswal Neco Industries, which the RBI has denied.