,

Friday, 23 March 2018
Of over 20 state-owned lenders, only 2 reply to RTI query on NPAs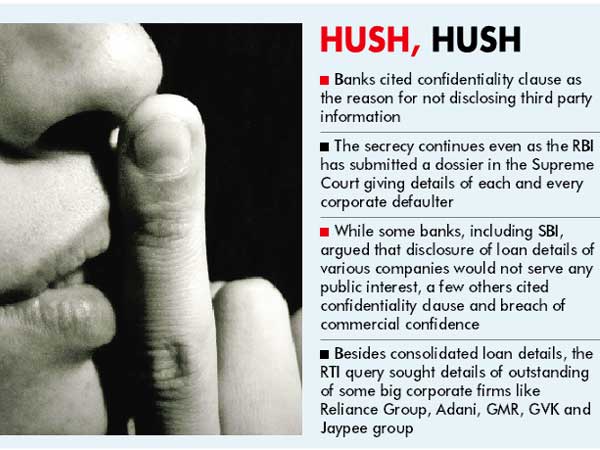 The opacity in dealing with non-performing assets (NPAs) continues despite the banking sector witnessing a constant rise in bad debts and losses piling up.
None of the public sector banks — barring two — replied to an RTI (right to information) query by FC seeking information on how much money different industrial groups owe to them. Banks cited confidentiality clause as the reason for not disclosing third party information. The secrecy continues even as the Reserve Bank of India (RBI) has submitted a dossier in the Supreme Court giving details of each and every corporate defaulter.
While some banks, including the largest lender SBI, argued that disclosure of loan details of various companies would not serve any public interest and hence exempted from RTI provisions, a few others cited confidentiality clause and breach of commercial confidence.
"The information sought by you under point no. 3 to 8 is third party personal information held by the bank in fiduciary capacity, the disclosure of which is not warranted for any larger public interest and as such is exempted from disclosure under section 8 (1)(e) & (i) of the RTI Act, 2005. Further, as per section 44 of the State bank of India Act, 1955, the bank is under obligation to maintain secrecy of its constituents affairs," SBI said. Besides consolidated loan details, the RTI query sought details of outstanding of some big corporate firms like Reliance Group, Adani, GMR, GVK and Jaypee group.
"The information sought is in the nature of a query/question and answer which does not fall within the purview of information as defined under section 2f of the RTI Act, 2005. Further, information sought is not available in the manner sought for and culling out the same will disproportionately divert the resources of the bank," said Canara Bank in its reply.
Other banking majors UCO Bank, Indian Bank and Corporation Bank also refused to divulge loan details.
State-run Andhra Bank, however, shared the details of outstanding loan to some of the big corporates besides the aggregate amount. Indian Overseas Banks disclosed only the consolidated figure and not company specific loan details.
While Andhra Bank said the total liability of different industrial groups to it stood at `56,098.33 crore as on December 2017, the Indian Overseas Bank pegged the corporate loan size at `92,831.21 crore. Both the banks replied to the RTI query this month.
With most state-run banks getting overburdened with bad loans, they are finding it difficult to survive. The government has given them lifeline by providing recapitalisation funds. But even this seems insufficient and there is growing chorus for privatising them. Serious governance issues have shrouded them recently, especially after the PNB scam involving billionaire diamond merchants Nirav Modi and Mehul Choksi.
The duo alone is alleged to have robbed the bank of over `12,000 crore. The PSU banks are saddled with a bad debt of about `9 lakh crore and more cases of defaults are emerging.