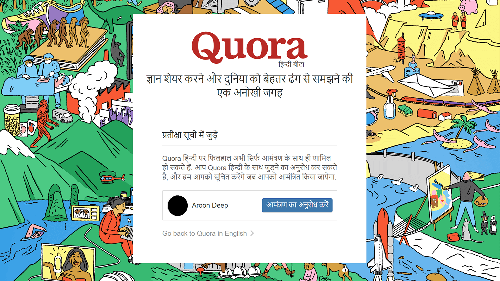 Knowledge sharing platform Quora recently launched its hindi version and promised to roll out its platform for other Indian languages soon.
"Quora has been popular in India for many years, and now that we are opening Quora up in Hindi we hope to have even more participation from people in India. I've been excited to see the engagement throughout the beta of Quora in Hindi. The universal appeal of our mission combined with India's diversity and large base of internet users makes the launch of Quora in Hindi an important step towards expanding access to knowledge," said Gautam Shewakramani, India Country Manager at Quora.
Quora was founded by former Facebook Chief Technology Officer Adam D' Angelo in 2009.
Launched in English in 2010, the platform has grown to reach more than 200 million unique visitors per month from around the world. More than half the people who use Quora come from outside the United States, including many people from India.
"Quora has self-service, auction based advertising platform in English, there is currently no plans to launch the same in Hindi" Gautam added.
Quora launched its beta version in Hindi to a small group of people in April.
In just a few months, the platform has grown with quality content provided by personalities from different sectors such doctors, development professionals, IAS officers, software developers, CEOs, writers, graphic designers, and teachers.
In terms of branding and promotion Gautam said "our approach to this is very systematic. Our user community is our brand promotores. People also organise meetups time to time. We now started this thing called global meet up week, where users can share knowledge. Our second global meet-up week is in end of this June."
radhika.vashisht@mydigitalfc.com