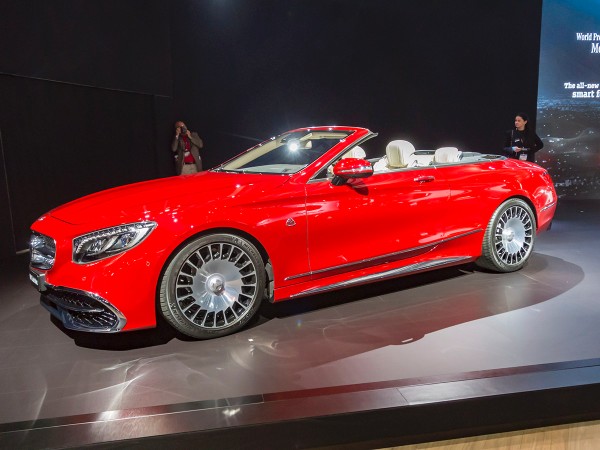 Mercedes-Benz, India's biggest German luxury car maker by sales, is all set to introduce its the top-end limousine the Maybach S 650, and showcase Concept EQ, a forerunner of the company's new product brand for electric mobility, at the upcoming auto expo in Delhi in February.
The Pune-headquartered auto major which launched 12 new cars last year is also planning to introduce over 10 new cars and refreshes during 2018 to maintain its leadership among the luxury car makers in Asia's third biggest car market.
The company will also unveil the versatile and SUV like all-rounder new E-Class, an all terrain vehicle. This new car is slated to be launched for the Indian market late in 2018 and create a niche segment.
It will also showcase Mercedes AMG Petronas F1 team car, AMG and specialty car portfolio, luxury sedans and SUVs at Greater Noida from February 9 – 14.
The Mercedes Maybach S 650 will offer the perfection of the S-Class with the exclusivity of the Maybach and further accentuate the Maybach's overwhelming demand in the growing Indian luxury car market.
Showcasing its new global electric car called EQ or Electric Intelligence at the auto show indicates Mercedes-Benz's direction towards creating a sustainable ecosystem of services, technologies and innovations. It also spells its long-term strategy of introducing the 'EQ' brand of battery electric vehicles in India.
The new E-Class all terrain is like a SUV, equipped with large 19-inch light-alloy wheel comes with greater ground clearance, and 4MATIC all-wheel drive as a standard feature, making it a versatile vehicle.
Moreover, it compares favourably with other SUVs in terms of its erodynamics. The E-Class all-terrain made its global debut at Paris Motor Show in 2016.
"We are confident of leading the market as the No.1 luxury car maker in India and our Auto Expo 2018 display will firmly underline this fact," Roland Folger, managing director & CEO at Mercedes-Benz India, said.
"The Mercedes-Benz S 650 will debut at the motor show and will kick-off our product offensive towards sustained leadership in the Indian market for 2018," he said.
Mercedes-Benz's participation in the 14th Auto Expo is a reiteration of its commitment to customers, to the market, and also a manifestation of its support to the government's vision of 'Make in India', Folger said.
"Auto Expo gives us a distinct opportunity to showcase our exciting range of new products and technologies to our discerning customers and brand enthusiasts, whom we are committed to fascinate," he said.
In addition to showcasing fascinating global products, the brand will also showcase some of the best products it makes at its factory at Chakan, near Pune.
"The Mercedes-Benz pavilion will be a perfect embodiment of modern luxury, future technology and mobility, driving performance, innovative design and progressiveness, all of which are synonymous with our brand promise 'Best or Nothing'," Folger boasted.
The company will also launch an artificial intelligence (AI) based Chatbot, a first in the industry, which uses AI to answer customer questions on Mercedes-Benz products. It will also have an artificial reality-based function, which will further enhance customer interactivity with the Bot," Folger said.
Last year, Mercedes-Benz India sold 13,231 units to continue its leadership for the second successive year. In January-September this year, it sold 11,869 units, a growth of 19.6 per cent from the year-ago period.
michaelgonsalves@mydigitalfc.com