,

Wednesday, 1 November 2017
This one comes with a lower roofline, sharper windshield angle and longer wheelbase than the regular Enclave SUV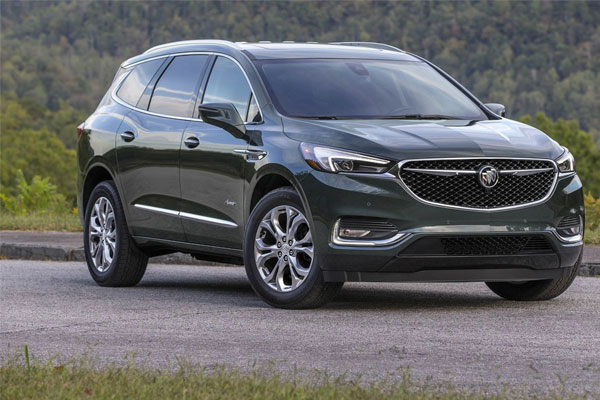 Buick is doing most things right these days. It is quietly but prolifically making not-ugly SUVs that come with the trappings of luxury but maintain a slender waistline when it comes to pricing.
Where General Motors Co's Cadillac brand has been very vocal (too vocal?) about its moves in the worlds of Fashion and Art, and its attempt to court downtown cool, GM's Buick brand has been both quieter and more straightforward—with excellent product placement in popular TV programming, as well as catchy ads.
This is exactly what it needs to do to survive and thrive in the current car market. Someone high up at Buick knows that the brand doesn't need to be flashy to succeed; it just needs to be right. Witness this fact: According to Marc Bland, an analyst from IHS Markit Ltd, the Buick Enclave is the best-selling premium or luxury SUV among women in the United States. Last year Buick sold 229,639 units in the US, compared to Cadillac's 170,006.
As mid-size and compact SUVs lead sales for virtually every premium and luxury automaker, and as women continue to be prioritised as valuable sales targets, the Detroit-based automaker is offering a vehicle that hits the bulls-eye for both groups: the 2018 Buick Enclave Avenir.
The "Avenir" label denotes a line of new sub-branded vehicles from Buick, the way GMC launched the high-end Denali version of its Yukon. Avenir means that a vehicle (in this case, the Enclave) will combine a lot of the options buyers would have chosen piecemeal in previous years into one, big package.
Buick's $54,000 Buick Avenir is the first of the new sub-brand on offer. (An additional, Avenir-branded vehicle will be announced in November). This one comes with a lower roofline, sharper windshield angle, and longer wheelbase than the regular Enclave SUV. It has such nice, capital-L "Luxury" things as exclusive bi-functional LED projector headlamps and LED tail lamps, surround vision cameras, and even a new air ioniser that eliminates odours and provides higher air quality. It provides a 10 per cent increase in overall interior space, including hidden underfloor storage, compared with the previous Enclave. And it seats seven.
All of these came by request, according to Buick. Some 90 per cent of Enclave buyers have been purchasing the top two trim levels of the car, anyway.
I was happy to note that heated steering wheel and rear seats come standard, as do such safety features as a rear-vision camera, rear park assist, and seven air bags. So does "quiet tuning," a new, active noise-cancellation feature to help "reduce block and absorb noise." It was effective enough to cancel out the loud chopper blades of the helicopter Buick arranged for transport after my drive ended in Pennsylvania.
An available rear camera mirror fits into this "Luxury things" category, too. It allows a rearview mirror that, with the flip of a switch, turn into a camera. The benefit here is that a camera showing the rear view eliminates obstructions such as heads and headrests from view while expanding the rear field of vision by 300 per cent. I didn't like it: The distance it showed between objects was different than what I'm used to in real-life mirrors, and it made me nauseous to watch the camera rolling a rear view in front of me while I tried to drive and keep focused forward.
Did I mention it has a 310-horsepower V6 engine? And it gets 18 miles per gallon in the city and 26 miles per gallon on the highway, thanks in part to a nine-speed transmission that enables high efficiency. It comes with a choice of front or all-wheel drive. For many of the people who buy the Buick Enclave Avenir, those specs may be lower on the priority list than creature comforts and safety technology, but they're still important to note because they're competitive within a set that includes the Lexus RX, Infiniti QX50, and Acura MDX. (I should note here that you cannot turn off the stop/start function, which will be very annoying to anyone who, like me, can't stand a car that turns off and on in fits and starts.) I don't want to talk about performance here, because that is not what this SUV is meant to feature. Let's just say that if you want an SUV with chops, go down the road to Porsche. This handles about like a Toyota Camry, just higher up.
At any rate, the experience of driving this Enclave was just that: a pleasant experience. Don't expect a thrill ride—this is not a sport utility vehicle—but if you want peace of mind at a good price, the Avenir version of the Buick Enclave will deliver.
Those who care will be smart to stay tuned for the next installment in November. Buick is a brand to watch.