The big question is - will automakers be able to roll out clean cars, bikes and other vehicles in a big way across India?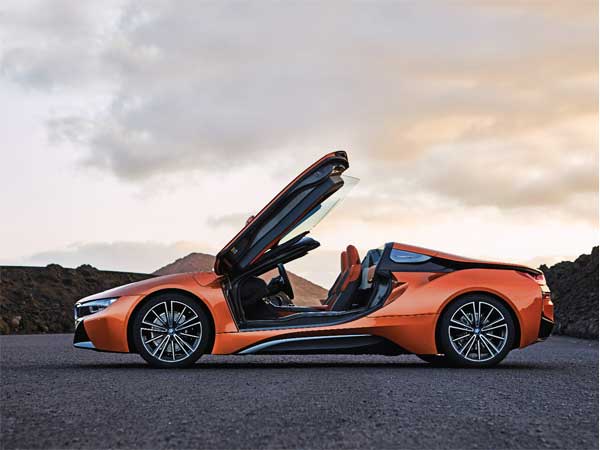 Electric cars were the flavour of the season at the 14th edition of the biennial Auto Expo The Motor Show, South Asia's biggest motor spectacle at Greater Noida in New Delhi.
More than 50 automakers working on electric vehicle (EV) technology participated at the extravagant motor show, which drew thousands of motor enthusiasts, auto honchos and experts from India and overseas.
Clearly automotive industry's seriousness with which it was responding to the government plan to switch over to green electric vehicles by 2030 was evident and on full display. However, after criticism from the automobile industry Nitin Gadkari, Road Transport Minister, has now termed it as unofficial even as the government's intent is crystal clear.
But the billion-dollar question is - will the auto factories roll out the clean cars, bikes and other vehicles in a big way across India?
Affordability and lack of charging infrastructure in cities, towns and on highways remains the biggest hurdle for automakers, who say sales will be tough until the government offers green incentives and comes out with a realistic and comprehensive electric policy and time-bound future roadmap.
Industry honchos say the average cost of an electric car is at least double than its petrol and diesel cousins.
Yet from electric car pioneer Mahindra and Mahindra to car market leader Maruti Suzuki, Korean car giant Hyundai, Tata Motors, Japanese czars Toyota and Honda, French automaker Renault, among others, are leading the charge of the electric brigade.
Even the luxury car makers such as market leader Mercedes-Benz, BMW, Audi, Jaguar Land Rover and Volvo Cars have showed their electric prowess.
Not to be left behind the manufacturers of green three-wheelers and two-wheelers are also ready to provide commuters the choice to protect the fragile environment and curb air pollution in cities and towns.
Surrounded by a crowd of TV cameramen, photographers, and an oddly large number of selfie-sticks, Pawan Goenka, managing director at Mahindra & Mahindra, spelt out what was really going on at the auto expo.
"You are seeing electric vehicles everywhere," Goenka told the media. "Clearly, this auto expo is indeed the curtain raiser for electric vehicles in India," he pointed out.
Mahindra, India's pioneer in EV game has lined up a total of six concept cars. The company plans to develop and launch two of those six by 2019.
It highlighted its future-ready suite of unique passenger and mass mobility products, concepts and solutions built around its '3Cs' philosophy of Clean, Connected and Convenient.
"As India aspires to global leadership on climate action, the time is right to develop sustainable mobility solutions for the future," Anand Mahindra, executive chairman at Mahindra Group, said while unveiling the products.
He said the auto industry was now at the cross roads faced with challenges of how to redefine itself for playing a bigger role in improving the quality of lives of people.
Mahindra, Goenka said not only provides a clean business module through its electric business but is also working on cleaner engines in keeping with the upcoming BS VI implementation by 2020.
He said the company has already invested Rs 600 crore in its electric vehicle programme and has committed another Rs 700 crore over the next two-three years.
Goenka wanted the government to give emphasis on faster development of charging infrastructure for electric vehicles and support local manufacturing to bring down costs.
Tata Motors, India's biggest automaker by value, is readying to launch the electric version of the H5X SUV in early 2019 and the 45X hatchback in late 2019.
This if the electric vehicle (EV) mobility in Asia's third biggest economy picks up pace and accounts for 20-25 per cent of the overall sales by 2026.
Guenter Butschek, CEO and managing director at Tata Motors said if electric vehicle sales pick up momentum and account for about 20-25 per cent of overall sales, then the Mumbai-based automaker has its roadmap ready. It could develop its dedicated EV platform to roll out electric vehicles. At present, sales of electric vehicles in the country are miniscule.
In fiscal 2016-17, the Indian electric vehicle market comprised of about 25,000 units, according to industry estimate when passenger vehicle market stood at 3.04 million units in that same year, according to Society of Indian Automobile Manufacturers, apex trade lobby.
Frost & Sullivan estimates sales of approximately 1.4 million electric vehicles in India by 2030, accounting for about 18 per cent of the new vehicles market. While electric vehicles are expected to account for about 15 per cent, full hybrid electric vehicles will have about 3 per cent.
When, in May 2017, the Modi government decided to purchase 10,000 EV sedans through state-run agency Energy Efficiency Services (EESL), Tata Motors pipped Mahindra to win a majority of electric vehicle supplies offering Tigor EV at Rs 11.20 lakh each, inclusive of the GST and a five-year warranty. Mahindra's offer was at Rs 13 lakh but later it matched the bid by Tata Motors. The petrol and diesel Tigor is priced between Rs 4.65 lakh to Rs 7.1 lakh at Mumbai showroom. In fact, the toughest competition for the Tata Tigor EV will be from the Mahindra eVerito.
While Tata Motors has sold the first set of 350 Tigor electric vehicles to EESL in December, the company has not yet decided what role it wants to play in India's EV value chain. "We need some time to look into it…to get a better idea of how fast the future is going to look different in favour of electrification," Butschek said.
Maruti Suzuki, which in partnership with Toyota will roll out a small electric car for mass segment in India and other markets by 2020, also showcased a green car concept the e-Survivor, a compact SUV. Positioned as a futuristic concept, Concept e-Survivor is a four-wheel drive, autonomous, connected and electric vehicle.
The company also displayed a working model of its next generation Suzuki Hybrid system (HEV) that currently powers Suzuki Solio and Suzuki Swift cars manufactured and sold in Japan.
"Producing an affordable electric car for the mass market is the biggest challenge for automakers," Kenichi Ayukawa, managing director at Maruti Suzuki India, said.
Significantly, while the mass market cars are priced between Rs 5-6 lakh, Tata Motors and Mahindra at present sell their electric cars at about Rs 11.50 lakh.
Maruti's closest competitor Hyundai Motors, would like to launch an EV even earlier than its rival in 2019. But the company is waiting for more clarity from the government.
Hyundai showcased two electric cars at the motor show: Ioniq sedan and Kona SUV while the Japanese car maker Honda displayed electric vehicle concept model NeuV and fuel cell sedan Clarity.
Hyundai may introduce Kona next year and the feasibility study is on for the launch of Ioniq.
Takahiro Hachigo, president at Honda Motor Company said it would speed up development of environment-friendly technologies, including hybrids, fuel cell and electric.
"Once the EV policy comes out, we can frame our product policy and take a call," Rakesh Srivastava, director for sales and marketing of Hyundai Motors India, said. The government policy is the most key part, because the auto industry is large and the capital investments are high, he pointed out.
The government was expected to unveil a national EV policy by December 2017 but till now there is nothing official about it. Automakers are waiting with bated breath as their big plans are in a limbo.
Toyota too has a sizable number of lectric cars in its portfolio. Akito Tachibana, managing director at Toyota Kirloslar Motors said the company would have a range of electrified solutions in the future.
He expects the hybrid vehicles, which combine conventional fuel-powered engine with an electric motor to improve fuel efficiency, to play a bigger role before a fully electric roadmap.
Tachibana has urged the government to come out with a long term policy that promotes hybrids along with electric, saying hybrids are ideal to meet both reduction in emissions and improving efficiency.
Renault is also working on bringing an electric Kwid mini car into India. The company is preparing to launch it first in China over the next 12-18 months, where it may cost about Rs 6.5 lakh and then bring it to India, where it may cost in the Rs 7.5 lakh range, nearly double the cost of its petrol version the country. However, the running cost would be much, much lower to attract buyers.
Electric Kwid mini car would be a big challenger for Maruti Suzuki which sells one out of two cars bought in the country and Hyundai brand, the second biggest carmaker. It can also take on the existing Mahindra E20. Renault Kwid has successfully fought the dominance of Maruti and Hyundai in the growing mini car segment in the country.
Renault showcased its Zoe mini electric car, a successful vehicle in Europe, at the motor show at Greater Noida. But the company is not sure yet of its India debut. However, in its 2022 roadmap, Renault global has already announced that one electric car would be among the products lined up for Indian market.
Lohia Auto Industries, manufacturer of electric vehicles, also launched a new high-speed electric autorickshah and showcased its five other electric vehicles at the auto expo, which clearly spelled out its commitment toward electric roadmap in the country.
The new electric autorickshah called Lohia Comfort E- Auto HS, a lithium-ion battery operated high-speed autorickshah, is priced Rs 1.49 lakh at Delhi showroom. This high-speed e-Auto Comfort HS can run upto 30 km per hour speed.
"The world is moving towards electric and India is no exception. Innovation and affordability, these two thoughts are always on the forefront while we design any new product," Ayush Lohia, CEO at Lohia Auto said. "After having a significant success in keeping the electric vehicle moment alive, we are now geared up to take the brand to next pedestal by adding more value to the products in terms of speed, power, technology and reach," he pointed out.
The Noida-based company also showed five other electric vehicles such as the dual power e-Rickshaw called Humrahi plus, the very first solar and battery operated e-Rickshaw designed for the rural commuting, the Comfort Lxi, the passanger e-Rickshaw and Narain LC, the loader e-Rickshaw, the Oma Star Li, India's first lithium ion battery operated electric two-wheeler, Oma Star SPL, the electric two-wheeler for the specially-abled.
michaelgonsalves@mydigitalfc.com