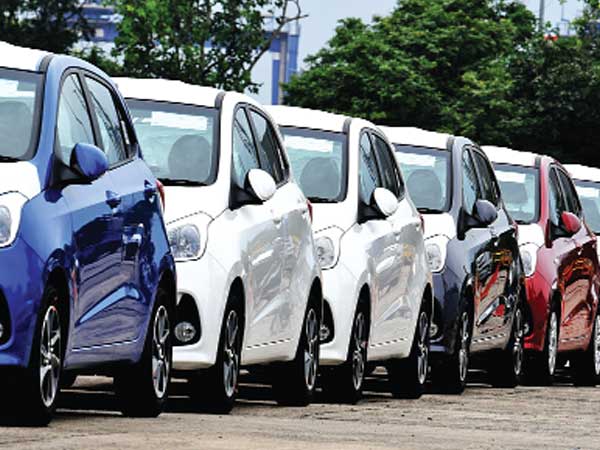 Carmakers in India, the world's fifth biggest car market, are all set to record their best ever financial year sales this year and cross last fiscal's 3.4 million mark. Industry honchos and experts said with positive market sentiment and demand picking up in semi-urban and rural markets, car sales this fiscal would cross historical peak sales of 3.4 million recorded last year.
In calendar 2017, Maruti Suzuki, India's biggest carmaker by sales, and its archrival Hyundai Motor India have registered 12.1 per cent and 5.4 per cent growth in sales, respectively, over the last calendar year.
Mahindra and Mahindra, India's biggest utility vehicle maker, also posted a 4 per cent cumulative growth till December 2017 at 1,76,875 units.
Honda Cars sold a whopping 1,29,964 units during April-December 2017, 20 per cent higher than in the same period last year.
Tata Motors, which became the third largest carmaker by sales in November, did not release the sales data on Monday. Its successful new generation car strategy, including Nexon SUV, Tigor sedan and Tiago hatchback, has been driving sales despite fierce competition.
"We will close this financial year with a robust double-digit growth with sales picking up momentum across the country," RC Bhargava, chairman at Maruti Suzuki, told Financial Chronicle. He said the total car sales in the country would definitely cross the three million plus historic mark achieved last fiscal with sustained demand coming from semi-urban and rural markets. "With the growing Indian economy, car sales are bound to go up as people aspire to have a comfortable personal transport," Bhargava said.
"With a slew of new models and dense sales and service centres across India, we are also targeting two million sales annually by the year 2020," he added.
"Passenger car sales momentum has picked up and we are seeing continued demand for cars and two-wheelers from semi-urban and rural markets," Sugato Sen, deputy director general at Society of Indian Automobile Manufacturers or Siam, said. He said there was an overall positive auto growth in the country and this fiscal car manufacturers would close the year with 8-10 per cent growth and cross last financial year's three million plus car sales mark.
Maruti Suzuki, which sells one car out of two cars bought in the country, sold 1,19,286 units, up 12.1 per cent from 1,06,414 units in December 2016.
Sales at Hyundai on the other hand stood at 5,27,320 units, up 5.4 per cent in calendar year 2017, from 5,00,539 units sold in the previous calendar year.
With sales of 118,560 units in December 2017, a growth of 11.4 per cent over the same period last year (106,388 units), Maruti Suzuki is headed to post record sales numbers in FY18. With total sales of domestic and exports between April-December 2017 totalling 1,317,801 units, a year-on-year growth of 14.2 per cent (April-December 2016: 1,154,164), the carmaker is 250,802 units short of crossing its best-ever fiscal sales of 1,568,603 units achieved in FY2017.
With three months left to go in FY2018 and given the current pace of its sales, Maruti would drive past this number with ease.
"The CY 2017 has been an year of performance for Hyundai Motor India surpassing its business plan of 2017 and registering highest-ever domestic volume of 5,27,320 units, a growth of 5.4 per cent," YK Koo, managing director and CEO at Hyundai Motor India, said.
He said the newly lau­nched next generation super sedan Verna along with Gr­and i10, Elite i20 and Creta drove the sales aggressively. "The positive momentum in urban and rural retail sales supported with strong after-sales service and low-cost of ownership has gained customer confidence to become most trusted brand in the country," Koo pointed out.
Honda Cars' bestseller Honda City sold 62,573 units in full year 2017, thus becoming the highest selling mid-size sedan during calendar year 2017.
"The year 2017 has been a milestone year for Honda Cars in India, as our best seller Honda City completed two decades of unparalleled success in India," Yoichiro Ueno, president and CEO at Honda Cars India, said.
With robust growth during 2017 backed by good demand for all our products across segments, especially the Honda City and WR-V, the carmaker looked forward to growth momentum.
michaelgonsalves@mydigitalfc.com