,

Tuesday, 14 November 2017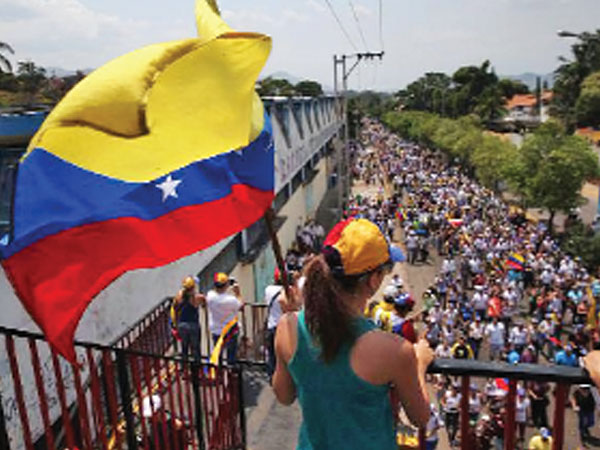 Venezuela is on the verge of bankruptcy, teetering on the precipice. Venezuela's overall debt is estimated at £90 billion ($150 billion) — the legacy of disastrous hard-left economic policies under Hugo Chavez and successor Nicholas Maduro. This could trigger a global contagion and its impact on oil importing India will be severe. As Maduro announced plans to restructure its debt, significantly it has not made any debt payment to many entities, including Indian Oil and gas major ONGC.
Venezuela's state-owned oil firm PDVSA has not made a payment to ONGC since April. Moreover, PDVSA also owes $540 million as a backlog of dividends to ONGC for an investment the Indian company had made on an energy project in Venezuela. ONGC Videsh, which is the foreign investment arm of ONGC, told Reuters that PDVSA had fallen behind on the payments. However, it still seemed to be giving Maduro a benefit of doubt as it said: "They have assured that they are working on it (the due payments). In due course it will be settled and follow-on steps will be undertaken." Venezuela has often used oil to repay debt; it owes billions of dollars to both Russia and China and is paying both with oil. As per the Sunday Express, International banks have either stopped or severely cut credit available to PDVSA.
PDVSA also failed to make a $1.1 billion payment due last Friday. In a speech to the nation late last week, Maduro had admitted that the country's economy is in intensive care since it is unable to make any foreign payments. This is an indication that Venezuela cannot pay its debt, its economy moving from precarious to disastrous.
The Express further stated - Socialist Venezuela is in the midst of economic meltdown after years of high public spending and Government largesse. Once the fourth-richest country in the world with more oil than Saudi Arabia, inflation is now 481 per cent, with a fifth of the population unemployed and a three quarters of the population losing weight due to lack of food. Last week the state electricity company, Corpoelec, defaulted on a $28 million bond payment. And the state oil company, PDVSA, is struggling to make to $3 billion of debt payments due. Spain has pushed for EU sanctions on those close to the President Nicolás Maduro, whom Washington accuses of installing a dictatorship and slapped sanctions on in July, but the EU has been divided until now. The arms embargo adds Venezuela to an EU list that includes North Korea and Syria, where European defence companies can no longer do business and to which the sale of any goods deemed as being used for repression are also banned. Britain sold £1.4 million ($1.83 million) of arms to Venezuela between May 2010 and March 2017, according to The Campaign Against Arms Trade (CAAT).