Heads back to Washington after 11-day, five nation visit; 'I made a lot of friends at the highest levels,' Trump says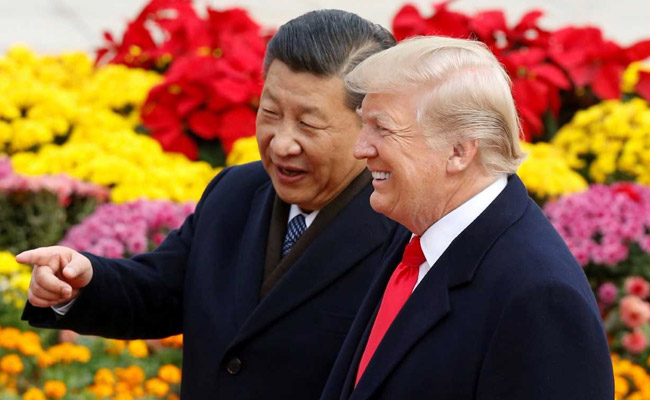 President Donald Trump ended his swing through Asia, hailing progress toward his goal of reducing the US trade deficit.
Trump took off from Manila aboard Air Force One on Tuesday, skipping the final session of meetings hosted by the Association of Southeast Asian Nations. The trip, which included stops in Japan, South Korea, China and Vietnam, brought Trump in contact with dozens of leaders, including the heads of Asia's five biggest economies and a brief encounter with Russian President Vladimir Putin.
"After my tour of Asia, all Countries dealing with us on TRADE know that the rules have changed," Trump said on Twitter on Tuesday. "The United States has to be treated fairly and in a reciprocal fashion. The massive TRADE deficits must go down quickly!"
The president spent the bulk of his public appearances emphasizing the need to reduce trade deficits, and also pushed for Asian nations to buy US military equipment. He publicly advocated his "America first" policies, warning US trading partners that he was ready to take more protectionist steps in a bid to help American businesses and workers.
Trump announced on Twitter that he will be making a "major statement" when he returns to Washington. But while Trump made rhetorical waves during his first visit to the region as president, questions about how much he actually achieved continue to linger.
Business deals announced by the president are tentative agreements that may not be fulfilled. And while the president railed against what he viewed as systemic flaws in the US trading relationship with its Asian partners, he neither publicly requested nor received specific assurances to address issues like market access and intellectual property theft.
'Tremendously Successful'
Instead, the president seemed to relish the efforts by Asian leaders to lavish him with state dinners and ceremonial welcomes. Each of his Asian hosts appeared eager to fete Trump with elaborate parades and entertainment, in efforts that solicited warm praise from the US president – without the expense of actual policy concessions.
The president and senior White House staff say that the red-carpet treatment was itself a win, and underscored new deference and respect for the US in relationships they say were worn thin by former President Barack Obama's efforts within the region. And they argue Trump will be able to capitalise the relationships in the future, parlaying his warm ties with Asian leaders into major concessions on trade, military sales, and foreign policy.
"I made a lot of friends at the highest levels," Trump said Tuesday. Praising himself for a "tremendously successful trip," he said said things had gone well from the moment he walked off the plane.
Nonetheless, Trump left without attending the plenary session of the East Asia Summit, despite earlier extending his stay to include what he called the "the most important day" of the trip. The gathering provides a platform for leaders from the broader region to discuss a range of economic and security issues.
The president returns to Washington facing a battle over tax reform and more congressional hearings probing his administration's ties to Russia.
"Excited to be heading home to see the House pass a GREAT Tax Bill with the middle class getting big TAX CUTS!" he wrote on Twitter.