,

Monday, 11 June 2018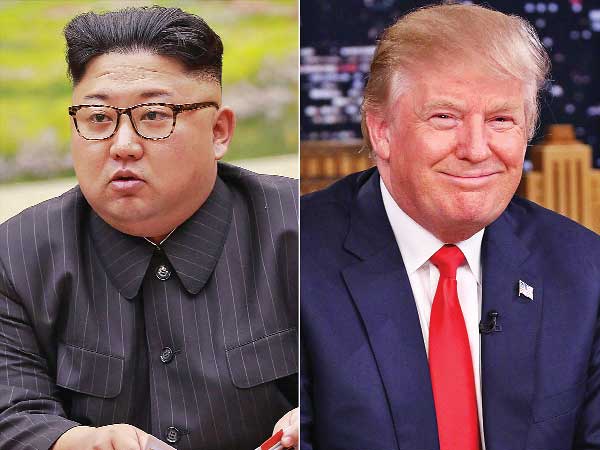 US president Donald Trump is about to see whether his bet on North Korea will pay off: that Kim Jong Un's desire to end his country's economic strangulation and pariah status will prevail over the dictator's fear of relinquishing his nuclear threat.
Trump and Kim have yet to agree even on how to define denuclearisation of the Korean peninsula -- the stated goal of the meeting. The president wants the complete, verifiable and irreversible dismantling of his nuclear weapons programme. North Korea is seeking a security guarantee — possibly including a peace treaty formally ending the Korean War — and the removal of the US's nuclear umbrella protecting allies South Korea and Japan.
Trump said on Saturday that he expects to know "within the first minute" if Kim is serious about giving up his weapons. The plan is for Trump and Kim to be alone for that first minute, aside from translators; they'll later be joined by top aides including secretary of state Mike Pompeo and national security adviser John Bolton on the US side.
Trump arrived in Singapore late on Sunday counting on the pain of current sanctions and the threat of more -- or US military action -- combined with the possibility of financial support and international acceptance to push Kim toward a deal. The US will want to see Kim outline concrete steps toward ending the nuclear programme when the two leaders meet on Tuesday.
"I feel that Kim Jong Un wants to do something great for his people," Trump said at a news conference. "It's a one-time shot and I think it's going to work out very well."
Kim's position
Kim has rejected calls to unilaterally give up his weapons in return for economic aid, and instead has proposed a step-by-step denuclearisation process. His statements and state-run media indicate he wants a deal to ease sanctions, but that he won't give up his nuclear weapons until he feels safe enough to retain power without them.
That could present a formidable obstacle in any negotiations. US officials have insisted Kim must put his country on an irreversible path to disarm before any sanctions are lifted.
Kim arrived in Singapore on Sunday and met with the country's prime minister, Lee Hsien Loong -- only the third world leader he's met face-to-face since taking power in 2011. Singapore is also the furthest Kim has travelled from North Korea.
The summit, the first ever between a sitting US president and a North Korean leader, is a moment that Trump has had in mind for at least a year. After the 2016 polls, then-president Barack Obama told Trump that North Korea was the biggest national security threat he faced, as per a US official.
Since Trump's inauguration, his roller-coaster relationship with Kim has swung from personal insults -- calling each other "dotard" and "little rocket man" -- and threatening nuclear war, to a diplomatic courtship.
'Right time'
In a May 2017 interview, Trump said he'd be "honoured" to meet with Kim if it made sense. "Most political people would never say that," Trump said at the time -- just months after Kim's half-brother was assassinated in a nerve-agent attack immediately blamed on the dictator. "But I'm telling you under the right circustances I would meet with him."
Trump has added to the drama of the historic summit by suggesting the two leaders may reach a peace deal formally ending the Korean War 65 years after the armistice that ceased military hostilities.
Trump has also signalled the summit could collapse within minutes or stretch into future meetings and perhaps even include a follow-up encounter at Mara-Lago. The June 12 meeting could pave the way toward a "new era of prosperity, security and peace," Trump said. On the other hand, "I am prepared to walk away."
Pompeo, Trump's point man in discussions with Kim and his representatives leading up to the summit, told that Kim "has indicated to me personally that he is prepared to denuclearise, that he understands the current model doesn't work."
Still, many foreign policy experts doubt Kim will give up his nuclear weapons.
'His grandfather's goal'
"For Kim, the nuclear weapons are part of his national identity and a part of the cultural, ideological, political infrastructure that keeps him afloat," said Jung Pak, senior fellow at the Brookings Institution's Centre for East Asia Studies.
Wendy Sherman, the Obama administration undersecretary of state who led the negotiating team for the Iran deal Trump since rejected, and who was the Clinton administration's North Korea policy coordinator, said the "litmus test" for any deal Trump can strike with Kim is whether it includes a full accounting of the North Korea nuclear arsenal and ballistic missile programme. "If there isn't a very robust verification monitoring regime, then none of this will be worthwhile," Sherman said. "We do want to emphasise the dangers of declaring mission accomplished too soon. We've seen that movie before."
Days before the summit, Trump dismissed questions about his readiness, saying, "I don't think I have to prepare very much. It's about attitude, it's about willingness to get things done."
Kim showed the world, repeatedly throughout 20-17, that his intercontinental ballistic missile capabilities were more advanced than previously believed. North Korea threatened a nuclear strike if the US tried to remove Kim. Trump and Kim traded threats, with Trump promising "fire and fury like the world has never seen."
The leaders kicked off 2018 by comparing the sizes of their respective nuclear buttons. But in March, South Korea sent two officials to North Korea for the first time in years, and when South Korea's national security adviser visited the White House he came with a surprise message: North Korea wanted to talk to the US and was pledging to hold off nuclear and missile tests.
When North Korea in May freed three Americans detained by the regime, it seemed a summit was on the horizon. But tensions increased after Bolton invoked Libya's denuclearisation as a model for handling North Korea, inevitably focusing attention on Moammar Qaddafi's later overthrow and death in a US-supported rebellion. The North Korean backlash was so strong Trump cancelled the summit, then later relented after a Kim emissary came to the White House with a letter extending good will.